Donald Trump draws US flag wrong, gets trolled on Twitter
Donald Trump draws US flag wrong, gets trolled on Twitter
Written by
Pallabi C Samal
Aug 27, 2018, 01:44 pm
3 min read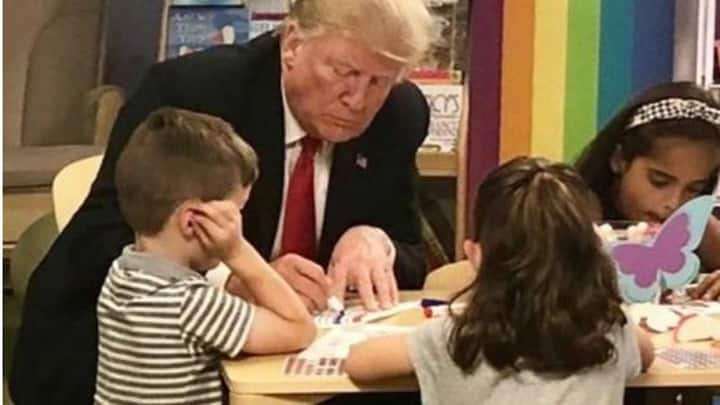 It's been a stressful week for US President Donald Trump, as two of his ex-associates have been arrested on charges of finance violations. May be that's why he forgot how his country's flag looks like- Instead of the usual red and white stripes, he drew a blue one, inviting royal lashings on Twitter. This happened during a visit to a children's hospital in Ohio.
US flag has red-and-white lines, Trumps draws blue line
The US flag, also known as the Old Glory, has 13 red and white stripes and blue rectangle in one corner filled with 50 white stars to represent each state. But, Trump took the liberty to do things his way, as he always does, and botched up the flag, bigly (!). Social media erupted in myriad of reactions, some in support, most in disdain.
'Concentrate on bigger things; he was playing with kids'
Those in support said that there are bigger issues to concentrate on or that he was just playing with the children. Some even went to the extent of saying that he was writing a coded message about John McCain, who died two days ago or that he was paying tribute to the police, who wear blue uniform. But they were outnumbered by trolls, clearly.
'Trying to draw Russia flag?' 'Go back to school, moron'
Most said Trump wanted to draw a Russia flag, which consists of white line on top, blue in middle and red on bottom. FBI is already probing if Russia played a role in the 2016 elections. Many asked him to go back to school, while some said he could have at least taken a look at the flag pin attached to his coat.
Photos of visit unintentionally shared by Secretary of Health
Interestingly, the photos of the visit were shared by Secretary of Health and Human Services Alex Azar, who accompanied Trump and his wife Melania. They visited the Ohio hospital last Thursday to "learn how states and communities are responding to the challenge of opioid addiction."
Trump ridiculed earlier too for forgetting words of patriotic song
This isn't the first time Twitterati brought down Trump for his 'patriotism'. In June, he was ridiculed heavily for forgetting the words of the patriotic song 'God Bless America' during an event to celebrate patriotism at the White House. Last year, he invited criticism for looking cheerful and swaying while singing the national anthem "The Star-Spangled Banner" on the solemn occasion of Memorial Day.