Texas shooting: Trump criticized for thumbs up photo with orphan
Texas shooting: Trump criticized for thumbs up photo with orphan
Written by
Siddhant Pandey
Aug 10, 2019, 05:38 pm
3 min read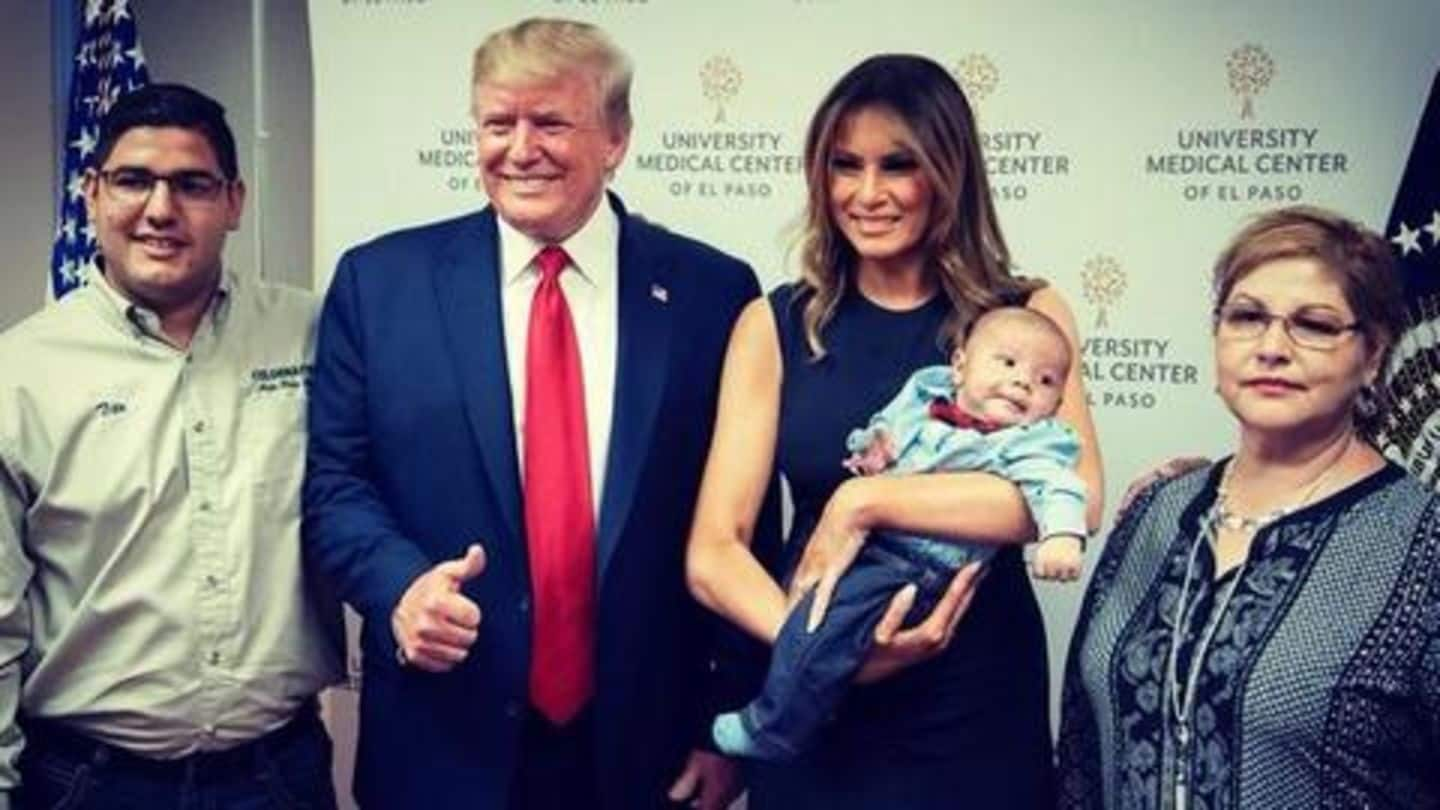 Recently, United States President Donald Trump visited El Paso, Texas, where a gunman killed 22 people in a reported hate crime against immigrants on Saturday. During his visit, Trump was seen grinning and giving a thumbs up while posing for a photo beside his wife, Melania Trump, who held a baby orphaned in the Saturday massacre. The photo is naturally drawing severe flak now.
The 21-year-old shooter targeted Mexicans in racial hate crime
On Saturday, 21-year-old Patrick Crusius drove 10 hours from his hometown near Dallas to the border city of El Paso, and walked into a Walmart store with an AK-47. Crusius killed 22 and injured over two dozen. Hours before, the shooter had posted an anti-immigrant manifesto, which parroted Trump's anti-immigrant rhetoric. He confessed to the police that he targeted Mexicans.
Despite getting blamed for the incident, Trump visited El Paso
While many blamed Trump for inciting the racial hate crime with his inflammatory politics, the President decided to visit El Paso to do some damage repair for the press. He visited the University Medical Center of the Texas city to meet the eight survivors. However, while three were too unfit for meetings or didn't speak English, five refused to meet him, the Guardian reported.
Orphan brought back from home to click photo with Trump
Later, White-House aides had an orphaned two-month-old, named Paul, brought to the hospital from his home to meet Trump. Paul's parents, Andre and Jordan Anchondo, had died shielding him from the shooting. His fingers were broken as his mother's body fell atop him. Trump's aides barred journalists from the hospital, claiming it was "not a photo-op" and proceeded to click photos with the child.
"Baby forced as prop for monster whose hate killed parents"
Criticizing Trump's El Paso visit, Democratic strategist Greg Pinelo tweeted, "A baby who was taken from home and forced to serve as a prop for the very monster whose hate killed her/his parents." Another Twitter user wrote, "Why are Trump and Melania posing, GRINNING, and giving a thumbs up with the infant whose parents were murdered by the shooter in El Paso."
Trump also bragged about attracting large crowds during visit
In a video that's going viral now, Trump could be heard boasting about how during his January visit, he had attracted a larger crowd as compared to the 2020 Democratic contender Beto O'Rourke from El Paso, calling him "crazy". Doctors later said Trump "lacked empathy."
Baby's uncle, Trump supporter, claimed there's no political agenda
However, the baby's uncle, Tito Anchondo, said that he did not think that Trump was "pushing any kind of political agenda" with the visit. Tito, who described himself and his deceased brother as Trump supporters, said he took his nephew to the hospital since he wanted him to meet the President. He added that others were politicizing his family's tragedy.