Nine dead as Russian missile hits military base in Ukraine
Nine dead as Russian missile hits military base in Ukraine
Written by
Abhishek Sharma
Mar 13, 2022, 04:34 pm
3 min read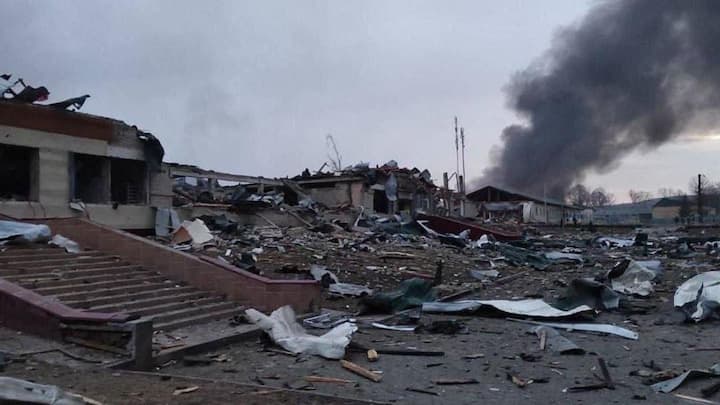 At least nine people were killed and 57 injured on Sunday after a Russian missile hit the Lviv military base in western Ukraine, the Associated Press reported. Maksym Kozytskyi, the governor of Lviv, claimed that Russian troops fired over 30 cruise missiles at the Yavoriv military range, located 30 kilometers northwest of the city of Lviv and 35 kilometers from Ukraine's border with Poland.
Why does this story matter?
In the past, foreign military instructors have been deployed at the Yavoriv International Center for Peacekeeping and Security. The facility has also hosted NATO drills.
Ukrainian officials are reportedly trying to establish if any foreign instructor was present at the base at the time of the attack.
These airstrikes have also brought the Russia-Ukraine war closer to the border with Poland.
Ukraine reiterates demand for no-fly zone
Confirming the incident, Defence minister Oleksiy Reznikov reiterated the demand to impose a no-fly zone over Ukraine to prevent more such attacks. "russia has attacked the International Center for Peacekeeping&Security near Lviv.Foreign instructors work here.Information about the victims is being clarified.This is new terrorist attack on peace&security near the EU-NATO border.Action must be taken to stop this.Close the sky! (sic)," he tweeted.
Mariupol in 'disaster phase now'
Satellite imagery from the port city of Mariupol showed apartment buildings and gas stations on fire. An emergency coordinator for Doctors Without Borders told CNN that Mariupol is in the "disaster phase now." Separately, multiple explosions were heard near the northwestern city of Lviv at 6 am on Sunday (local time). Russia's attacks have recently shifted to the western part of Ukraine as well.
Seven civilians killed while leaving Kyiv
Earlier in the day, seven civilians, including a woman and a child, were killed as Russian forces shot at people trying to leave Kyiv, Ukraine's Defence Ministry said. The deceased were trying to evacuate via a previously "green" corridor, it said. Significantly, the Russian convoy approaching Kyiv lay some 25 km from the heart of the city, the UK's Defence Ministry said on Saturday.
India to relocate embassy to Poland
Meanwhile, the Indian embassy in Ukraine will be temporarily shifted to Poland due to the worsening situation in the country. "In view of the rapidly deteriorating security situation in Ukraine, including attacks in the western parts of the country, it has been decided that the Indian Embassy in Ukraine will be temporarily relocated in Poland," a statement from the Ministry of External Affairs read.
PM reviews security preparedness
In a related news, Prime Minister Narendra Modi on Sunday chaired a high-level meeting to review India's security preparedness and the prevailing global scenario in the context of the ongoing conflict in Ukraine. As per a statement from the PM's office, Modi was briefed on the latest developments in Ukraine, including the details of Operation Ganga to evacuate Indian nationals from the war-hit country.