UN rights chief wants a new panel for Myanmar prosecutions
UN rights chief wants a new panel for Myanmar prosecutions
Sep 10, 2018, 05:35 pm
2 min read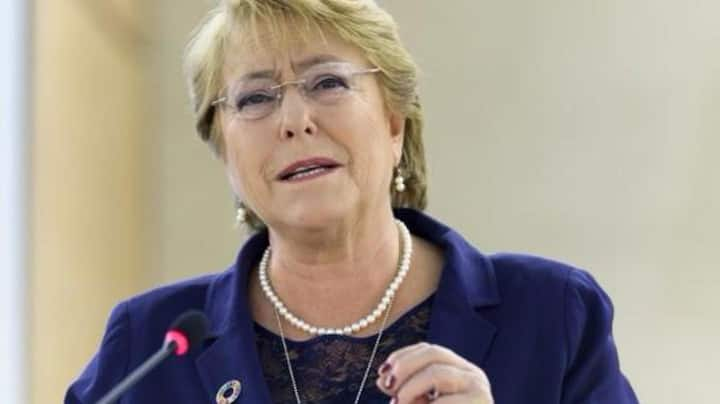 The UN rights chief called for the creation of a new mechanism for preparing criminal indictments over atrocities committed in Myanmar. The head of the UN rights office, Michelle Bachelet, asked the UN Human Rights Council to create an independent international mechanism for Myanmar to collect and analyze evidence of the most serious international crimes, in order to expedite fair trials in international courts.
New panel was previously created for Syrian conflict
"I urge the Council to pass a resolution, and refer the matter to the General Assembly for its endorsement so that such a mechanism can be established," Bachelet said. Such a panel has already been created for the Syrian conflict.
A UN mission found disturbing evidence against Myanmar's army chief
A UN Fact-finding Mission last month issued a report concluding there was enough evidence to prosecute Myanmar's army chief and five other top military commanders for crimes against humanity and genocide against the Rohingya. Some 700,000 Rohingya Muslims fled northern Rakhine state to Bangladesh after Myanmar launched a brutal crackdown on insurgents in Aug'17 amid accounts of arson, murder, and rape by Myanmar soldiers.
Myanmar denies allegations of ethnic cleansing
Myanmar has, however, vehemently denied allegations of ethnic cleansing, insisting it was responding to attacks by Rohingya rebels. The fact-finding mission is asking the UN rights council, which opened today and will be in session through September 28, to renew its mandate for another year. If created, the new mechanism focused on preparing cases for prosecution would comprise a separate group of experts.
Panel to support preliminary examination of ICC Prosecutor
Bachelet, a former Chilean President, stressed today that the panel would also complement and support the preliminary examination of the ICC Prosecutor. The International Criminal Court announced last week that it had jurisdiction to probe the crisis because of the cross-border nature of the alleged deportations of the Rohingya to Bangladesh, a decision Myanmar's government has resolutely rejected.
Bachelet describes ICC decision an important step towards Rohingya crisis
Bachelet welcomed the ICC decision, describing it as an important step towards ending impunity and addressing the enormous suffering of the Rohingya people. "I emphasize the imperative of justice for Myanmar," she said. This was Bachelet's first speech as head of the UN rights office.