US and China sign deal to ease trade tensions
US and China sign deal to ease trade tensions
Jan 16, 2020, 11:20 am
3 min read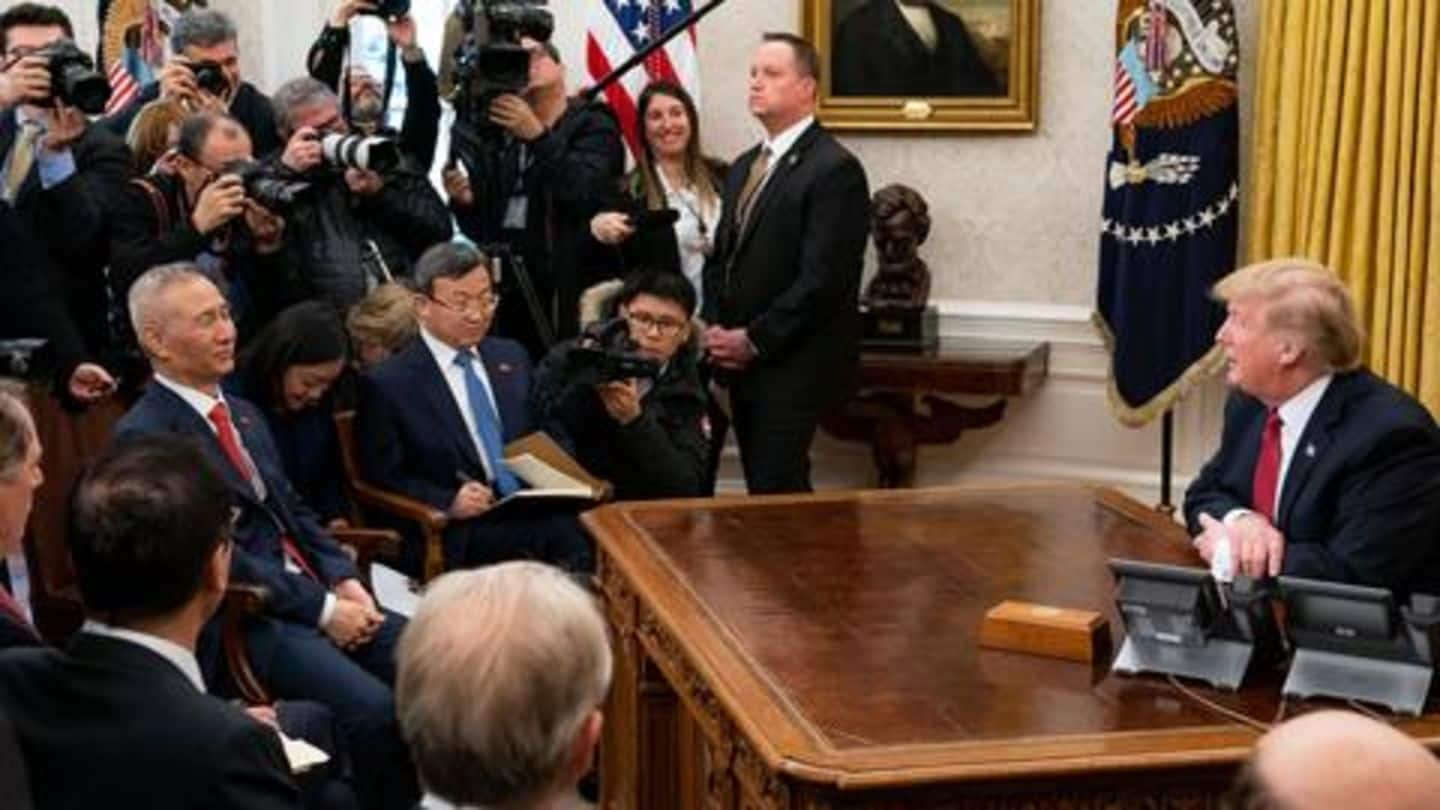 The United States has signed a partial trade deal with China after nearly two years of tough negotiations, which included the suspension of talks for months. The truce that the two largest economies of the world arrived at was termed as "momentous" by US President Donald Trump. "Negotiations were tough on us," the US President, facing an impeachment trial, said.
Trade war hurt US farmers and taxpayers alike
At the center of this deal is Beijing's promise to purchase $200 billion worth of US farm products and other goods and services by 2021. The trade war punished US farmers, especially the ones cultivating soybeans, wheat, and corn. The Trump administration had to pay $28 billion to bail out farmers. Apart from this, the tensions between both countries also cost many jobs.
China to stop forced technology transfer, increase purchases
The initial phase of the trade deal encompasses provisions on intellectual property enforcement and protections against forced technology transfers. China has also agreed to remove roadblocks to American financial services. The US, on its part, won't levy tariffs on an additional $160 billion in Chinese imports, cutting it in half, to 7.5% existing tariffs on $110 billion of goods from the Asian country.
US promised more rollbacks in second phase
The deal was signed by Chinese Vice Premier Liu He, who steered negotiations with US Trade Representative Robert Lighthizer and Treasury Secretary Steven Mnuchin. Before the 86-page agreement was signed, Mnuchin claimed the deal forces China to not quit the negotiation table. "In phase two there will be additional rollbacks," he underlined. Lighthizer said, "We have to make sure this is implemented properly."
The world is watching today, said Trump
Meanwhile, Trump said easing tensions was crucial. "Keeping these two giant and powerful nations together in harmony is so important for the world. The world is watching today," the US President said. Trump said he will remove tariffs only if phase two happens. Thanking his Chinese counterpart Xi Jinping, Trump said he might visit China in the "not-too-distant future".
Agreement rooted in equality and mutual respect: Liu
In his first remarks after the deal was signed, Liu said the agreement was rooted in "equality and mutual respect". "China has developed a political system and a model of economic development that suits its national reality. This doesn't mean that China and the US cannot work together. On the contrary, our two countries share enormous common commercial interests," he added.