Venice sees worst floods in 50 years; 70% city submerged
Venice sees worst floods in 50 years; 70% city submerged
Nov 18, 2019, 03:06 pm
3 min read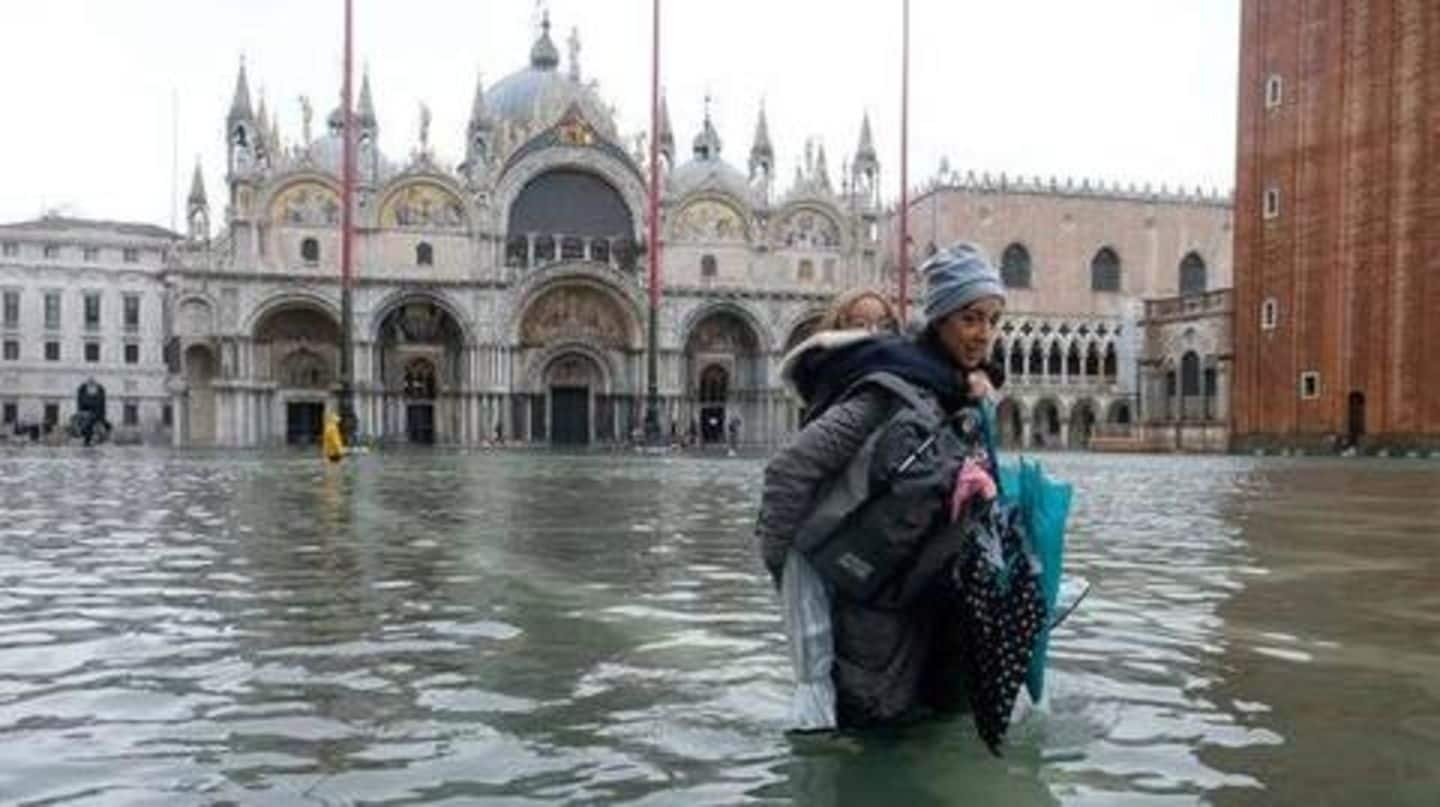 On Sunday, Venice was hit by a record third major tide in one week, while other parts of Italy faced a series of weather woes, ranging from high winds to avalanche. Stores and museums remained closed around St. Mark's Square in the city, in the aftermath of the worst flood in more than 50 years, since the devastating 1966 floods. Here are more details.
An estimated 70 percent of the city was submerged: Report
According to Venice's Tide Office, the peak tide was measured at 1.5 meter (5 ft), a tad lower than Tuesday night's 1.87 meter level. Due to the floods, an estimated 70 percent of the city was submerged, the Associated Press reported. Tourists were seen donning high rubber boots and hip waders to make way through the flooded streets.
Corruption-riddled MOSE project to be blamed?
The recent flooding has again raised serious questions about the city's MOSE flood defense project, an underwater barrier system that's still not operational even after 16 years of construction and € 5 billion of public funding. It was supposed to be ready by 2011.
These are second-worst floods in Venice since 1966
Notably, these are the second-worst floods to hit the city after the 1966 floods, wherein a combination of high tides, rain-affected rivers and severe winds caused the canals to reach a height of a whopping 194 cm. The floods resulted in thousands of residents without homes, and also led to more than $6 million worth of damages to artworks throughout the city.
The flooding has threatened Venice's invaluable artworks
Evidently, floods in Venice can potentially result in huge monetary and cultural losses. A UNESCO World Heritage Site since 1987, Venice houses iconic basilicas and some of the most famous artworks by Italian Renaissance maestros such as Tintoretto, Giorgione, Titian. The recent flood has damaged more than half a dozen tourist sites, including the 11th-century St. Mark's Basilica, the Gritti Palace, and Doge's Palace.
It's a blow to heart of our country: Italian PM
Meanwhile, on Wednesday Italian Prime Minister Giuseppe Conte said, "The disaster that struck Venice is a blow to the heart of our country. It hurts to see the city so damaged, its artistic heritage compromised, its commercial activities on its knees."
Venice's survival depends on our efforts to address climate change
In light of these floods, experts said that Venice's long-term prospects are grim, owing to rising sea levels and climate change. After 2050, the city's ability to survive shall depend upon how much we have done to curb carbon emissions, which are triggering climate change. "What we'd be losing is Venice as a real living place," said Michael Oppenheimer, a professor at Princeton University.