World's largest aircraft destroyed during Russia's invasion of Ukraine
World's largest aircraft destroyed during Russia's invasion of Ukraine
Written by
Pratyush Deep Kotoky
Feb 28, 2022, 06:20 pm
3 min read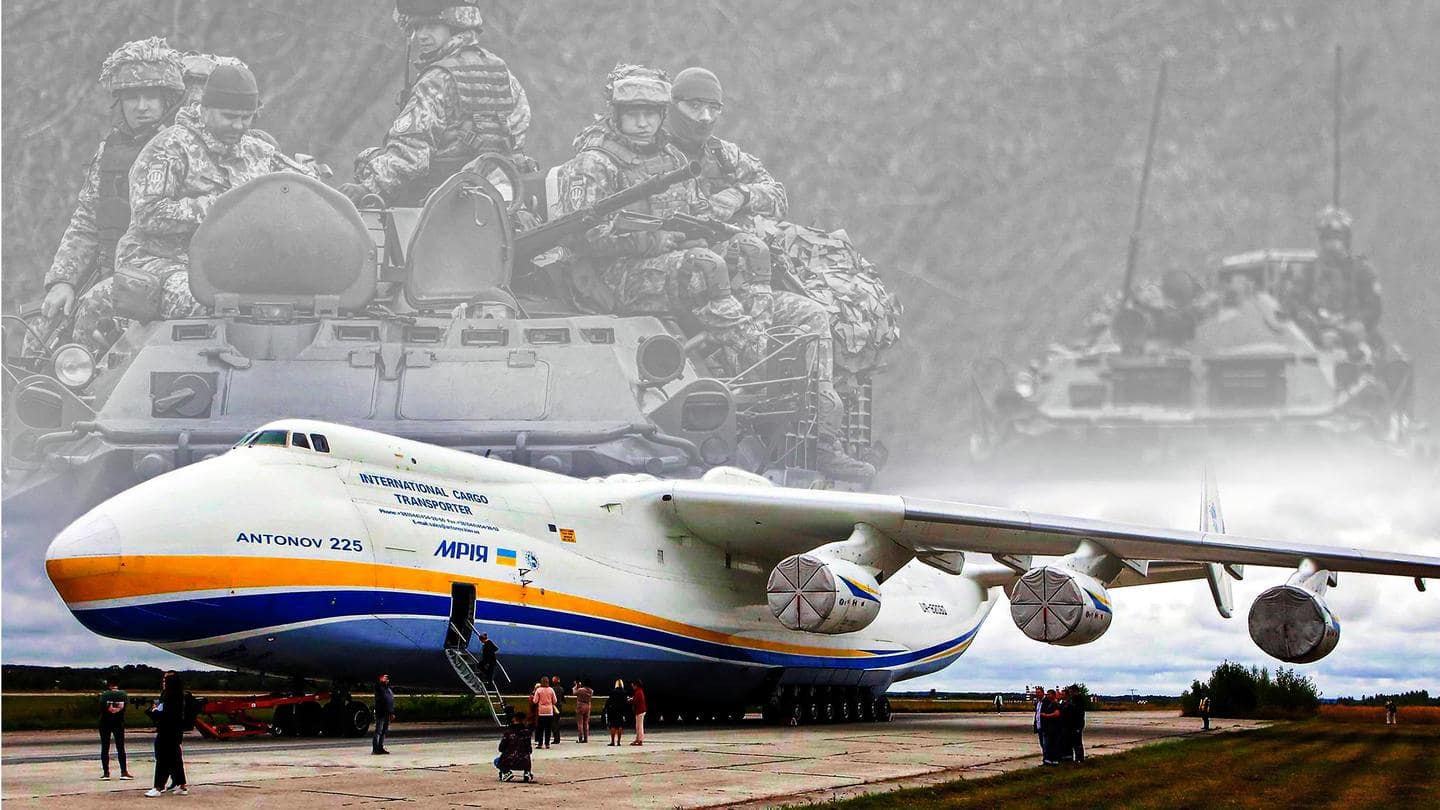 The Ukrainian government on Sunday said the world's largest aircraft, the An-225, nicknamed 'Mriya' or 'Dream', was destroyed during the Russian invasion of Ukraine. The biggest cargo jet in the world reportedly survived the first round of clashes from February 24 to 26. However, it couldn't survive the second phase of the battle between the Ukrainian and Russian forces on Sunday, reports said.
Why does this story matter?
The Cold War-era aircraft had a wingspan almost the length of a cricket field and six powerful turbofan engines.
The cargo plane was a crowd-puller and the only one in its class.
It was also used to carry large consignments of medical supplies as well as industrial materials.
Lately, it was also spotted on active duty during the COVID-19 pandemic.
As per reports, the aircraft was stationed at the Antonov Airport, also known as Hostomel Airport, for maintenance work. Analysis of satellite images and open-source data indicates that the aircraft's hangar was likely hit by a missile from above, India Today reported. The missile reportedly penetrated the roof, leaving a large hole and causing an explosion inside the hangar.
Antonov Airport witnessed several rounds of combat
The Antonov Airport witnessed several rounds of combat, including Russian airborne attacks from February 24 to February 27. On February 24, Russian forces launched an attack on the airport and were successful in taking control of the airfield, local news reports said. On Sunday, another round of fierce fighting took place at the site when Ukrainian forces managed to take it back.
Airfield was severely damaged on Sunday
Satellite images have shown that Antonov Airport was severely damaged on Sunday, with damages on the runway and smoke rising from several places. It is believed that the aircraft was also damaged during this Russian offensive.
What does the analysis of satellite imagery say?
A satellite image--sourced from the European Space Agency's Copernicus services--showed several spots on the ground that had an active fire Saturday. However, it didn't show any heat signatures near the hangar where the aircraft was stationed. Another set of high-resolution images of the airport hangar--collected by Maxar Technology on Sunday--showed its roof was visibly breached with a dense plume of smoke rising from it.
'Aircraft will be restored at the expense of Russian occupiers'
Ukroboronprom, the conglomerate that manages An-225, blamed the Russian forces for destroying their prized asset "Mriya." They further said the aircraft will be "restored at the expense of the occupier [Russian forces]." The legendary aircraft was under repair and did not have time to leave Ukraine, said Yuriy Husyev, Director General of Ukroboronprom.