World's oldest known cave painting found in Indonesia
World's oldest known cave painting found in Indonesia
Written by
Astha Oriel
(Sourced from PTI)
Jan 14, 2021, 04:10 pm
3 min read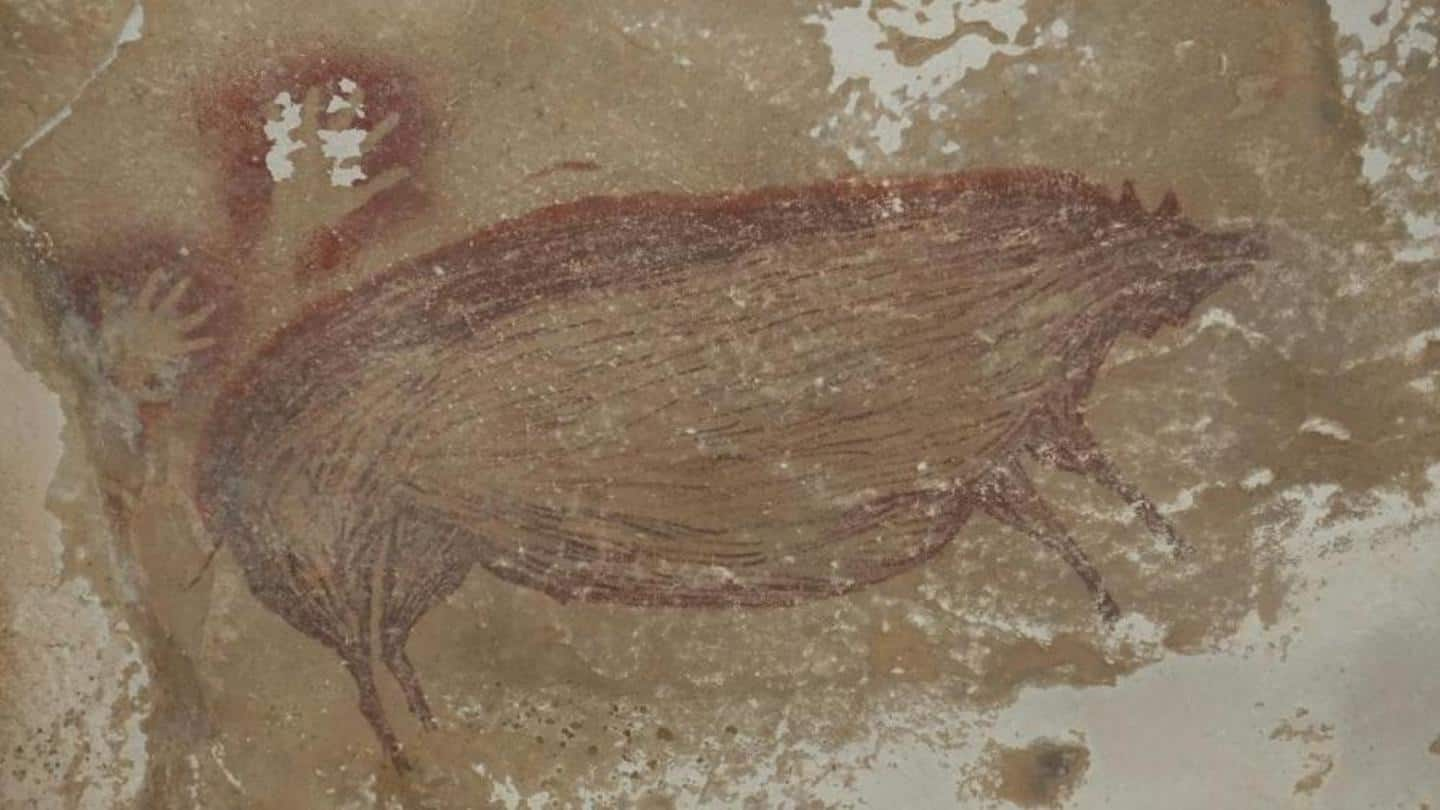 Archaeologists have discovered the world's oldest known cave art - a life-sized picture of a wild pig that was painted at least 45,500 years ago in Indonesia. The cave painting uncovered in South Sulawesi consists of a figurative depiction of a warty pig, a wild boar that is endemic to this Indonesian island.
Finding represents the earliest archaeological evidence of human presence
The finding, published on Wednesday in the journal Science Advances, represents some of the earliest archaeological evidence of modern humans in the region. Professor Adam Brumm from Griffith University in Australia said, "The Sulawesi warty pig painting we found in the limestone cave of Leang Tedongnge is now the earliest known representational work of art in the world, as far as we are aware."
Previously oldest rock art scene discovered by the same team
The previously oldest dated rock art 'scene' at least 43,900 years old, discovered by the same research team at a nearby limestone cave site, was a depiction of hybrid human-animal beings hunting Sulawesi warty pigs and dwarf bovids.
Painting shows characteristic features of adult male Sulawesi warty pig
Brumm said, "It (the painting) shows a pig with a short crest of upright hairs and a pair of horn-like facial warts in front of the eyes, a characteristic feature of adult male Sulawesi warty pigs." "Painted using red ochre pigment, the pig appears to be observing a fight or social interaction between two other warty pigs," he added.
Multiple examples of early rock art in Sulawesi found
A second Sulawesi warty pig image, from the Leang Balangajia cave, was dated to at least 32,000 years ago. The scientists have now dated multiple examples of early rock art in Sulawesi, including depictions of animals and narrative scenes with outstanding execution and rarity worldwide.
Pigs were most commonly portrayed animal in island's art
Basran Burhan, an Indonesian archaeologist and Griffith University Ph.D. student, who led the survey said, "Humans have hunted Sulawesi warty pigs for tens of thousands of years." "These pigs were the most commonly portrayed animal in the ice age rock art of the island, suggesting they have long been valued both as food and a focus of creative thinking and artistic expression," Burhan added.
Expect the art to yield significant discoveries: Researcher
Adhi Agus Oktaviana, study co-author and researcher from Indonesian archaeological research center ARKENAS said, "We have found and documented many rock art images in Sulawesi that still await scientific dating. We expect the early rock art of this island to yield even more significant discoveries."