Philips TAT2206BK TWS earphones review: Good vocal clarity, low bass
Philips TAT2206BK TWS earphones review: Good vocal clarity, low bass
Jun 26, 2022, 01:41 pm
6 min read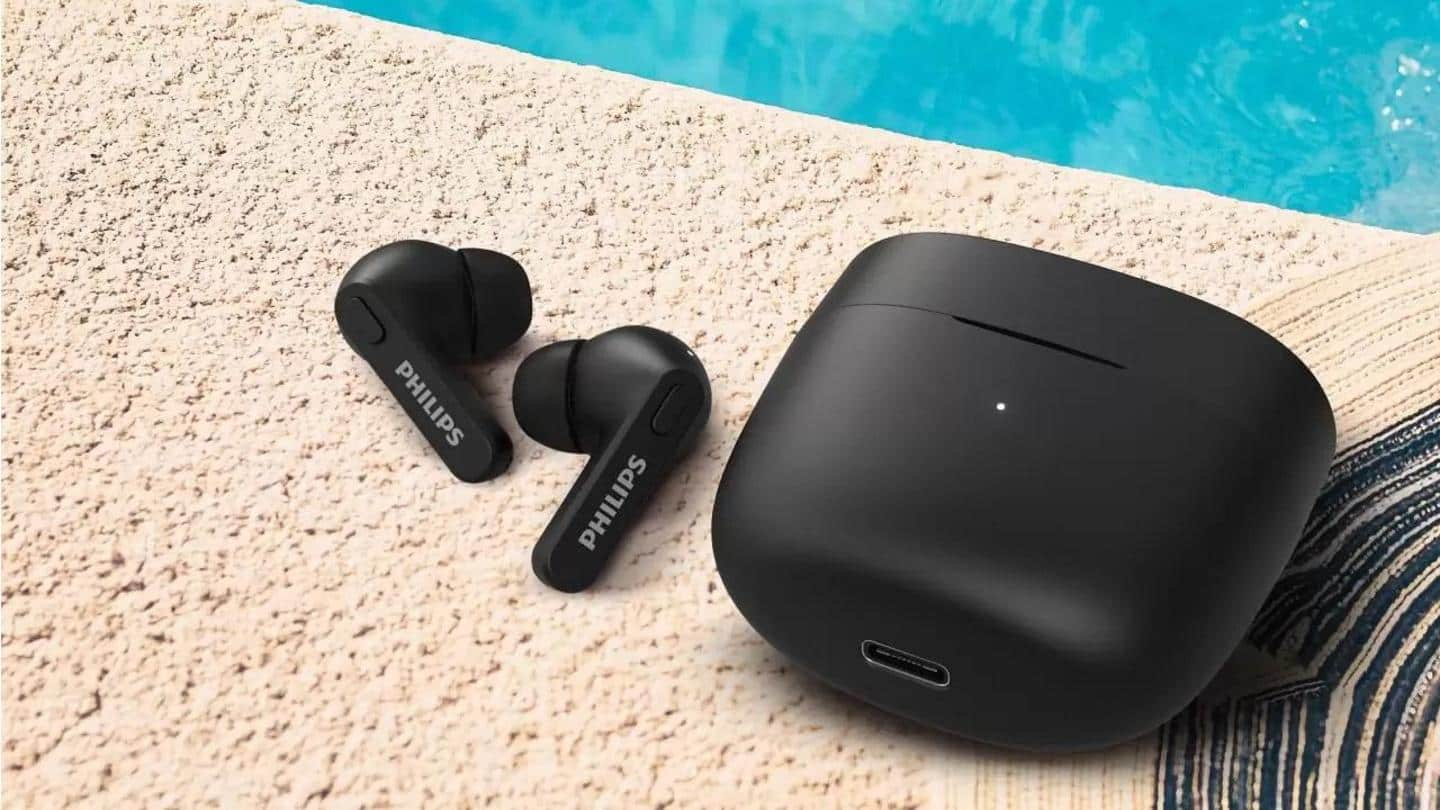 Brands like Realme and Boat have been extremely popular in the budget wireless earphones segment over the past couple of years. Then you have brands like OnePlus, Soundcore and OPPO occasionally challenging their dominance with the odd product here and there. Interestingly, we also came across a recently launched pair of TWS earphones from Philips selling under Rs. 2,500. Philips the brand needs no introduction. But to take on modern budget wireless earphones is not an easy task with some of them offering features like programmable touch controls and active noise cancellation (ANC), among other things. The Philips TAT2206BK earphones flaunt neither. Despite that, it may be a viable alternative in this budget. Read on to find out.
Good build quality, lightweight and comfortable to wear
The build quality of the product is very good with the case as well as the buds sporting a smooth black matte finish. The case is not too big and fairly pocketable. The angled buds fit snugly in the ears without any discomfort and offer decent passive noise isolation with the pre-installed medium-sized silicone tips. There are two more pairs of tips in the bundle in case medium isn't the best for you. The buds stay in place even during jogs and do not stick out of the ears much. Speaking of staying in place, that doesn't seem to happen when the buds are placed in the charging case. Now, typically when you put the earbuds back in the case, they are supposed to disconnect from the source device. These Philips buds are also expected to do the same, but at times they simply don't. On some occasions, they disconnect and reconnect on their own if you shake or move the case a little bit. This points to the magnets in the case not being strong enough to hold the buds in place all the time. It not only reduces the battery life, but at times your calls are routed to the earbuds without your knowledge and you may not hear a thing in the phone's earpiece until you realize what's happening. I expect better from a brand like Philips. Continuing with the case, it has a USB-C charging port at the base and a charge indicator LED at the front.
The Philips TAT2206BK does not boast fancy features like ANC or ENC or even touch controls for that matter. The company has opted for physical buttons instead. Thankfully, they have a soft keypress and one doesn't need to exert too much pressure to get the job done. You do not get a companion app to reconfigure them. You get basic play/pause and jump to previous/next track functionality, but there is no option to adjust the volume from the buds. Each earbud is equipped with a 6mm driver and a microphone. These earphones are Bluetooth 5.0 compliant and have support for AAC and SBC codecs. The earbuds have IPX4 rated splash resistance, so they can survive a bit of sweat or a drizzle, but don't drop them in a puddle. The wireless range is standard with the buds maintaining a strong connection up to 10 meters with a clear line of sight. Battery capacity of each earbud stands at 55mAh, while that of the charging case is 350mAh.
Mids-forward sound profile with good detail but sub-par bass response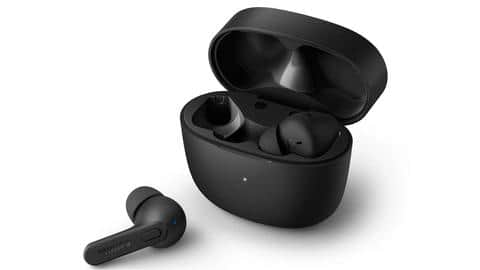 While the sound output of a majority of earphones in this segment is predominantly bass-heavy, that's not the case here. Philips has taken a different route with a distinct focus on mid-range frequencies. The mids-forward sound profile provides ample vocal clarity and instruments sound sharp too. The highs have a good presence too without sounding sibilant. However, the small drivers do not produce an ideal amount of bass. Mind you, they aren't totally bass deficient, and sound fairly balanced when indoors. When outdoors, the bass feels inadequate and the sound lacks warmth. While those who do not prefer bassy output may actually like the sound profile here, it may not appeal to a majority of the audience in this segment who love their bass, especially when listening to music. The buds are sufficiently loud at 50-60% volume. The soundstage isn't too broad but acceptable for the segment. Watching movies or web-series wearing these is not a bad experience at all, and the mids centric sound improves dialogue clarity. Also, there was no noticeable lag between video and audio when consuming content on OTT platforms on my phone. This Philips pair is a good option for listening to podcasts too.
Good call quality, decent battery backup, USB-C charging
The Philips TAT2206BK has just one microphone on each bud but the call quality is quite good. And they also manage to keep the ambient noise in check. People on either end of the call were audible to each other with good clarity, irrespective of whether I was indoor or outdoor. The voice is a bit on the softer side but it is clear enough. While there weren't many complaints from the person on the line, you may need to adjust the direction of the earbud stems for more clarity. The battery backup on these Philips earbuds is decent. The company claims figures of six hours for the buds and 18 hours with the case. During my tests, the buds and charging case combined could deliver close to 15 hours of playback. And the earbuds could go on for close to five hours on a full charge at 50-60% loudness. The charging case can recharge them twice over. The case has a USB-C port. It takes about two hours to charge the case and the buds fully with a standard charger. The fast charging claims are quite modest here wherein a 15 minutes charge can give you close to an hour of play time. These aren't flattering figures, but a good option to have when in a hurry.
Basic TWS earphones that are better suited for vocal-heavy content
The price of the Philips TAT2206BK TWS earphones was close to Rs. 7,000 at launch, but one can purchase the product for Rs. 2,499 on Flipkart and from other retailers with a one year warranty. The pricing isn't bad, but this is not a product for the bass-loving masses. Those seeking better vocal clarity and detail over bass will appreciate this. These earbuds are also pretty good for watching movies or web-series, and one of the better options for calling. If you are looking for the most feature rich option in this budget, one can't look beyond the Realme Buds Q2 that sells for the exact price, and at times 20% lower in online sales. You get a more balanced sound with definitely more bass along with touch controls and a companion app for configuring the controls as well as sound profiles. What's more, you also get more than decent ANC that is rare in this segment. So choose one depending on what matters to you more.
Philips TAT2206BK TWS earphones review: In a nutshell
Review:
The Philips TAT2206BK is a pair of basic TWS earphones that focuses more on vocal clarity than thumping bass.
Good Stuff:
Lightweight and comfortable to wear
Bad Stuff:
No volume control on the buds
The buds do not disconnect even after placing them in the case at times