Sony SRS-NB10 wireless neckband speaker review: Start of something new?
Sony SRS-NB10 wireless neckband speaker review: Start of something new?
Mar 01, 2022, 03:08 pm
6 min read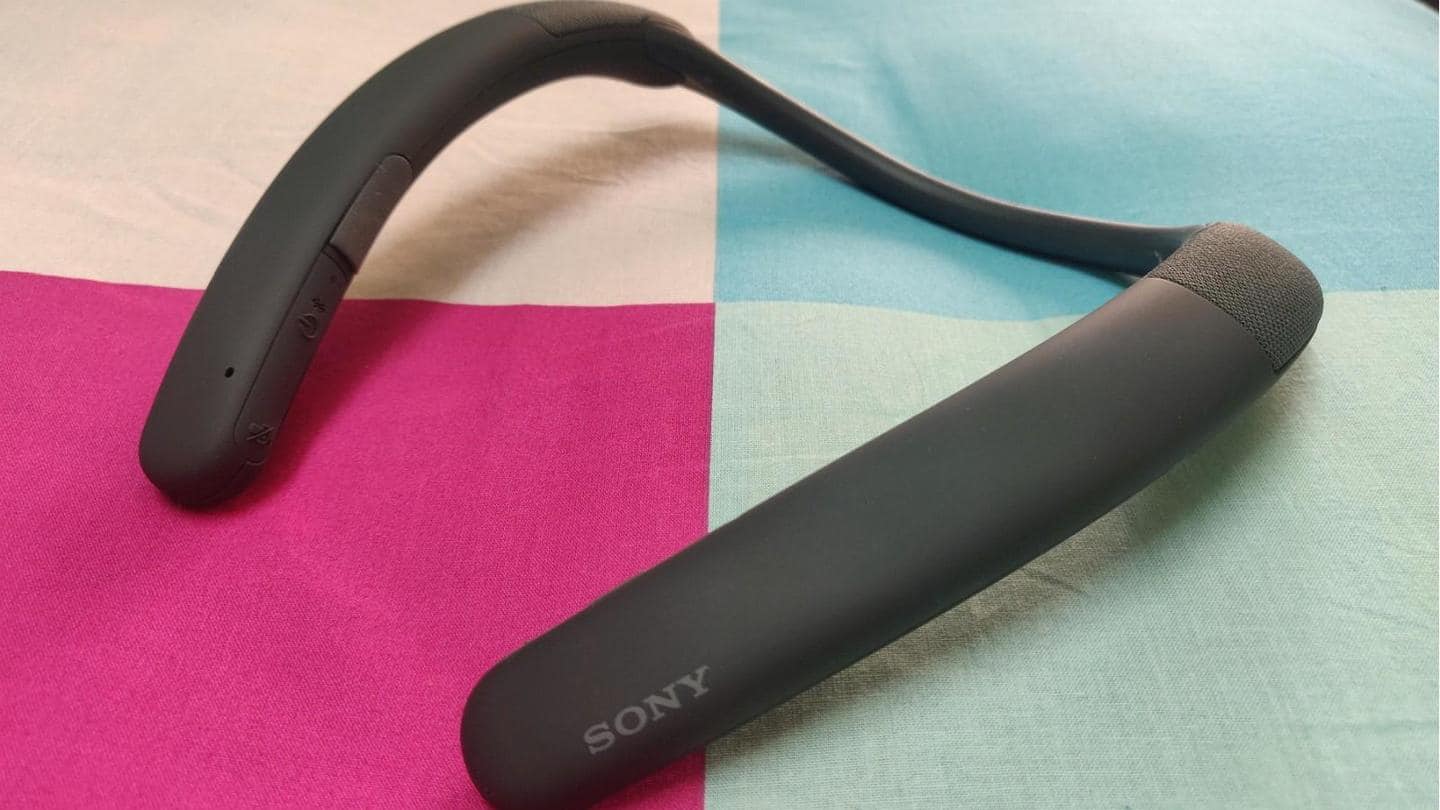 What is a wireless neckband speaker, you ask? I pretty much had the same question on my mind when the product was mentioned on a call for the first time, and then a few more. Is it a wireless neckband or a wireless speaker? Can it replace regular earphones or headphones? How well does it sound? Hope it's not some kind of a boombox that I need to wear around my neck! After having experienced the Sony SRS-NB10 first hand for a few days, most of those questions have been answered. Other queries about the reason for its existence, the applications and more were answered by the company officials. Now it's time for me to tell you everything you need to know about this wireless neckband speaker.
What's a wireless neckband speaker? What are its key features?
No, it isn't like a boombox around your neck, nor does it look like a neck pillow. It is a slightly more thicker version of a wireless neckband, but instead of earphones, you have a couple of compact portable speakers that rest a few inches below your ears. The Sony SRS-NB10 has a U-shaped design, and despite weighing close to 113 grams, it sits comfortably around your neck. The weight distribution is on the money and you do not feel any discomfort. The build quality is quite good and so is the soft-touch matte finish on the charcoal gray variant that I got for review. A pair of full-range speakers pointing upwards is located toward the rear of the neckband, and they align perfectly with your ears. A microphone, USB-C port, volume rocker and other controls are located toward the front along the inner edge. The neckband also has a dedicated button to mute the microphone, which is quite useful on calls or events where you are not expected to speak often. It also spares the rest of the members on the call from the background chatter or ambient noise around you. The SRS-NB10 is essentially a wireless speaker or a headset that you need to pair with your phone or tablet over Bluetooth to listen to the audio or manage calls. It is Bluetooth 5.1 compliant and supports AAC and SBC codecs. It is IPX4 rated sweat or splash resistant, though you aren't expected to go for a run with it, which brings me to my next point.
Can I use it for work and entertainment both?
Work yes, workout probably not. This Sony wireless neckband speaker is mainly meant for calling. It lets you manage long calls without the need to stuff your ears with earphones, thus letting them breathe. The key demographic for this product is people working from home or their personal office space who have to deal with frequent or long calls for the better part of the day. Since it is fully wireless, it doesn't hamper your mobility, and given that it doesn't even touch your ears, it tends to reduce listener fatigue and let you be aware of your surroundings. The next obvious question is whether it can be used for entertainment. Yes, one can play music on this neckband speaker, and it is enjoyable too for casual listening. But it is nowhere in the league of proper wireless earphones or headphones in terms of detail or punch in the audio. You can play some soft music on it while you work or relax. Though lacking in bass, the output is fairly crisp. The experience when watching a movie or a web series is similar. For vocal heavy content, this Sony neckband does a good job, but do not expect a thump in action sequences. I tried watching a few trailers and some YouTube videos wearing the NB10, and the stereo effect was pretty good. But that is as far as I would go with this and switch to a normal headphone or earphones for watching full movies or episodes.
Performance, battery backup
Great for calls, not so for entertainment; impressive battery backup
This wireless neckband speaker is quite impressive for calling. The call quality is very good with the people on the line clearly audible to each other. The microphone transmits your voice pretty well without the other person suspecting the use of a hands-free device at your end. The overall calling experience was more relaxing than using earphones, and yet the conversation was as engaging and clear. Pairing this neckband with a phone is a straightforward process, and the wireless range is impressive too. The company specifies a wireless range of 30 meters, and though I couldn't try it at that distance, the connection stayed solid with absolutely no stutter till a little over 10 meters with no obstruction between the source device and the NB10. There is one major issue though, and it is the lack of privacy. No, I don't mean people can hack into this device but those sitting close to you can easily overhear the conversation, or they would be disturbed by your chatter. And if you lower the volume a bit too much, you may struggle to hear the person on the line clearly. So for important calls or private conversations, it would not be advisable to use this wireless neckband speaker, unless you are alone in the room. The battery backup is another area where the Sony SRS-NB10 excels. The company claims a battery life of 20 hours on a full charge, and it is more or less true. Though I did not have too many long conversations during the course of my testing, I did play some music on it while working and also used it while watching videos. It did last close to 20 hours. It has a USB-C port for charging and supports fast charging too. When in a hurry, a 10-minutes charge can give you an hour of play time, which is not bad at all.
A niche product but a category to watch out for
The Sony SRS-NB10 wireless neckband speaker is priced at Rs. 13,990 with a one year warranty, and can be purchased for close to Rs. 12,000 on Amazon India. The pricing seems a bit on the higher side given its limited applications, but the product is quite unique and we have nothing to make a direct comparison with. This device may not appeal to masses at the moment as it is more work oriented than something meant for entertainment. Having said that, it is not a bad option for someone who doesn't feel comfortable using earphones or headsets all day, especially for long calls. Ear fatigue is a common issue with those who use earphones or headphones for extended periods of time, and it would be quite a relief to have a personal audio device that could deliver comparable sound quality and yet not burden the ears. The Sony SRS-NB10 is barely halfway there yet at best, but definitely a step in the right direction. Hence, this new product category isn't something I would brush aside in a hurry. It may be the start of something very interesting. Let's wait and watch.