Blaupunkt Cybersound 50CSA7007 Smart TV Review: Impressive sound and picture
Blaupunkt Cybersound 50CSA7007 Smart TV Review: Impressive sound and picture
Dec 01, 2021, 11:57 am
9 min read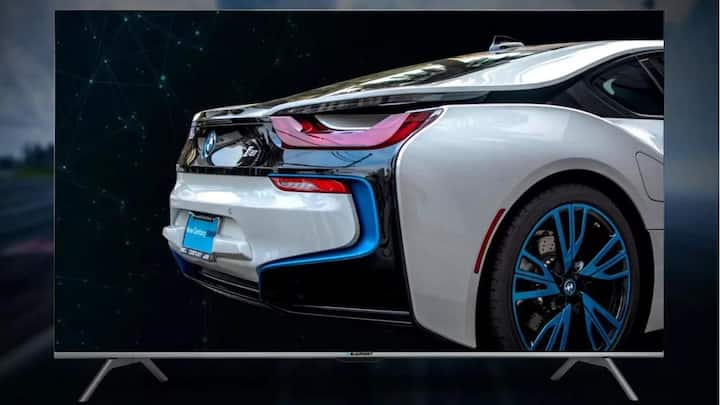 Popular German electronics brand Blaupunkt has recently re-entered the Smart TV space in India via collaboration with Indian TV maker Super Plastronics Pvt. Ltd., which also happens to have the brand licenses for Thomson and Kodak TVs. The Cybersound series of TVs promise a good mix of picture quality and sound, thanks to Blaupunkt's expertise in the audio department. We got the 50-inch variant from the series for review. With an attractive design, a good array of wired and wireless connectivity, support for HDR10+ and more powerful than usual audio output, we have a good prospect on our hands. Let's figure out if the potential translates into performance.
Stylish exterior with standard connectivity options, barring one
This TV sports a near bezel-less design on three sides, which is good to see on a budget TV. The narrow gray bottom bezel has a slim trapezoid chin at the center that hosts the IR receiver and a power LED. The design is quite elegant and the black and gray combination works well. The TV isn't too bulky and some smart design elements make it look slimmer than it actually is. What isn't smart is the placement of ports, which are located closer to the center of the TV rather than near the edge, making them difficult to reach if you choose to wall mount it. All ports can be found along the left edge of the rear module. The TV can be wall-mounted or placed on a desk using the bundled metal mount or plastic stands, respectively. Despite being made of plastic, the stands feel sturdy and hold the TV firmly in place without a wobble. You get a voice enabled remote along with a pair of AAA batteries to power it. Unlike most remote controls these days, the one here is quite bulky and packed with keys, including a number pad. It reminds you of the remotes of yore. Thankfully, it doesn't miss out on a key for any important function; that would have been an irony. It could have done with 50% less buttons though, but most of the important ones, barring power and mute, are located toward the center of the remote. In the connectivity department, you have the standard spread. You get three HDMI ports, one of which supports ARC, two USB 2.0 ports, Optical audio out, A/V input and a LAN port. An analog audio out option like a headphone jack is missing here. Wireless connectivity options include Bluetooth 5.0 and dual band Wi-Fi with support for 2.4GHz and 5GHz networks.
Features and specifications
Impressive feature set for a budget TV sans Dolby Vision
This Blaupunkt Cybersound TV has a 50-inch IPS panel with an Ultra HD (4K) resolution of 3840 x 2160 pixels and a 60Hz refresh rate. It has a rated peak brightness of 550-nits. The TV supports popular HDR standards like HDR10/10+ and HLG with 10-bit color depth. Just like the OnePlus U1S, it is not compliant with Dolby Vision. It is powered by a Mediatek SoC with four Cortex-A53 cores clocked at 1.5GHz each and a Mali-G52 GPU. You get 2GB RAM and 8GB internal storage, a chunk of which is taken up by the Android TV 10 OS and pre-installed apps. Hence, you are left with a little over 4GB space for your other needs like installing more apps. Like all certified Android TVs, it has Chromecast built-in and lets you cast content to the TV from compatible apps on your phone or tablet. Sound output is rated at 60Watts RMS with support for Dolby Digital and DTS:X standards. You get two way Bluetooth here, meaning you can connect this TV to wireless earphones or Bluetooth speakers, or you can use the TV speakers to play audio wirelessly from your phone. A neat feature to have, given that the speakers on this TV are pretty decent. The wireless remote control operates over both IR and Bluetooth. You are prompted to pair it with the TV by pressing the corresponding buttons when you set it up for the first time. Post that, everything other than the power button operates over Bluetooth. You can bring up Google Assistant by pressing the dedicated button and issue voice commands. The voice commands generally work well here.
Android TV 10 with clean UI and quick settings menu
This Blaupunkt TV runs the official Android TV 10 OS and has a stock user interface. Things are pretty standard here and nothing new to report. The user interface is simple and easy even if you haven't used an Android TV before. You have a row of your favorite apps, the shortcuts for which can be added, removed or shuffled around. Other rows display last played or suggested content from various OTT platforms. The UI is responsive and lag-free. Apps for Netflix and Prime Video are pre-installed, and bloatware is kept to a minimum. You get an internet browser and Facebook Watch app along with one or two more apps, and they cannot be uninstalled. Just like the Thomson PATH TV, the options for picture and sound settings are missing from the main Android settings, but thankfully, they are easily accessible here. This TV lets you adjust sound and picture settings on the fly while viewing content from any source. All you need to do is press the Menu button on the remote to bring up the quick settings menu and make the necessary adjustments. You don't need to shut the video or exit the app while you do it. The quick settings are accessible even from the TV's home screen.
Sharp picture, good color reproduction, but average contrast in HDR
The overall picture quality of this TV is quite good for a budget TV. The default picture does need a bit of tweaking from the settings but not as elaborate as in case of the OnePlus U1S. You just need to switch off all the automatic adjustments like dynamic backlight and contrast and set noise reduction and adaptive luma control to low. The panel is reasonably bright but not among the brightest I have come across. As a result, the contrast is average at best, and dark areas in high contrast scenes appear darker than they should. There was noticeable flickering in high contrast scenes, especially when watching the HDR content, but significantly lower in SDR content. The color reproduction is quite impressive, and colors appear vibrant yet natural. The TV claims to support MEMC (motion compensation) but at times motion artifacts are visible in high speed sequences. There is no option to turn it off either. You get a decent amount of picture adjustments from the usual brightness, contrast, sharpness to a little more advanced options like white balance and manual color temperature adjustments. You also have picture presets if you find manual adjustments too complex. 'Standard' preset is the best of the lot coupled with the aforementioned tweaks. You get the same set of presets in HDR and SDR videos. HDR10/10+ videos look sharp on this TV with vibrant colors and good detail, but contrast tends to be a little erratic, especially in dark scenes. There is no Dolby Vision here, and shows encoded in that format on Netflix display similar issues. The 4K SDR content looks equally sharp and the contrast actually feels better. Meanwhile, 1080p videos upscale well and are comparable to their 4K counterparts; 720p videos also look good, but a little low on detail. Anything lower-resolution looks soft. The viewing angles are good given that it has an IPS panel.
Audio, overall performance
Surprisingly good sound after enabling a certain hidden option
Two pairs of bottom firing speakers rated at 60Watts RMS deliver impressive sound output, but only after enabling DTS Studio Sound from the audio settings. For some reason, that's off by default. The output is loud and punchy and enjoyable across a wide variety of content types. It is also among the loudest I have come across in TVs, so much so that it was loud enough even at 20 percent volume at most times. The sound is mainly tuned for better vocal clarity and it delivers on that front. The audio has reasonable warmth (bass) and a lot of detail, and watching movies or web series on this TV is a pleasant experience. The speakers are tuned well out of the box, and you have a handful of sound adjustments to tweak it further. The TV speakers are compliant with Dolby Digital audio as well as DTS:X but there is no Dolby Atmos support here. It obviously doesn't sound as good as a decent soundbar with a subwoofer, but a lot of buyers of this TV may not need a soundbar. The TV takes about 35 seconds to boot when you switch on the power, which is above average for Android TVs. After that, it comes back on in a couple of seconds from standby mode. The default media player managed to play all our test videos with different codecs including 4K videos via USB. Given that this is an Android TV, you can always install VLC player for a better experience.
A well-rounded TV that doesn't dent your bank balance much
The Blaupunkt Cybersound 50CSA7007 TV can be purchased for Rs. 35,999 with a one year warranty on Flipkart. That is a reasonable price for a smart TV with good picture quality, Android TV 10 platform and a pretty good sound output. Support for Dolby Vision and newer HDMI 2.1 ports would have made it even better. Maybe that's asking for too much, or is it? In fact, the Redmi X50 smart TV with comparable picture quality, HDMI 2.1 ports, Android TV 10 and Dolby Vision support does sell for a similar price. However, its sound quality isn't as impressive as the Blaupunkt's. The second option is the Hisense 50A71F that often sells for a couple of thousands lower, and boasts of Dolby Vision and Dolby Atmos compliance with slightly better picture and comparable sound quality. You will have to make do with a generation-old Android TV 9 platform though. If you are looking for a 50-inch TV around Rs. 35,000, neither of these models will disappoint you.
Blaupunkt Cybersound 50CSA7007 Smart TV Review Synopsis
Review:
An affordable Android TV with good picture and even better sound output for the segment.
Good Stuff:
Loud and punchy sound output
Classy design for a budget TV
Dual-band Wi-Fi, two way Bluetooth
Access to picture and sound adjustments on the fly
Android TV 10 with a clean UI
Bad Stuff:
No support for Dolby Vision