AmazonBasics 55-inch 4K Fire TV Review: An impressive Android alternative
AmazonBasics 55-inch 4K Fire TV Review: An impressive Android alternative
Nov 18, 2021, 12:53 am
10 min read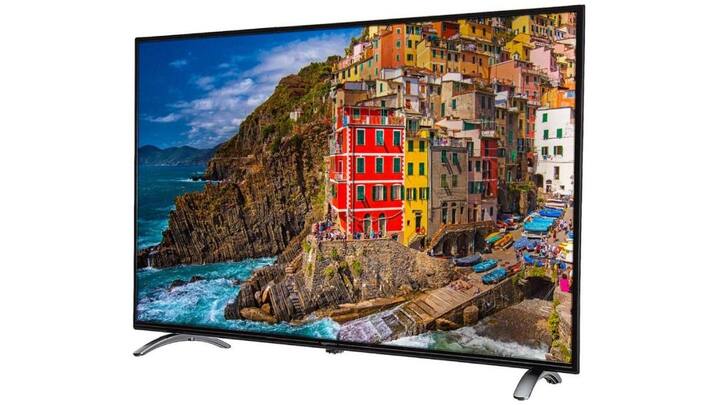 Right from the days before the advent of certified Android TV OS, Amazon's Fire OS has been the platform of choice for consuming different OTT services because of its neat user interface and high quality output. Even today, it remains closer to the top of the food chain, thanks to the Amazon Fire TV Stick line-up, with its 4K variant among the best around. Not too long ago, smart TVs based on Fire OS started arriving in India, but most of them were Full HD TVs at best, when the platform was fully capable of delivering Ultra HD HDR content. Hence, Amazon decided to combine the Fire TV Stick 4K and some good quality Ultra HD panels and launch a smart 4K TV line-up under their in-house brand, AmazonBasics. We got their 55-inch variant for review and it's time to figure out if this TV can do justice to the Fire OS platform and give Android TVs a run for their money.
Standard design but connectivity ports can be hard to reach
AmazonBasics hasn't bothered being too artsy with the design and you get the usual narrow bezels around a 55-inch screen. Given the large screen size, they appear narrower than usual. A metallic gray line on the bottom bezel adds a hint of style to the design. A tiny chin at the center below the company logo hosts a power LED and an IR receiver. The TV can be placed on a desk using the bundled metallic gray stands that look sturdy enough, or you can hang it on a wall. The necessary metal mount and screws are provided in the package. On the connectivity front, you get two USB ports (one USB 2.0 and one USB 3.0), three HDMI ports, an A/V input, optical audio out, IR port and a LAN port. The necessary A/V cable and an IR receiver are bundled along. All ports are placed on the left side of the center module but not closer to the edge of the TV, making them quite difficult to reach if you wall-mount the TV. Design is not just about making the product look good but also making things ergonomic. The company does not specify if the HDMI ARC (Audio Return Channel) feature is present on either of the ports. If not, it makes the list of audio out ports quite short, given that this TV misses out on an analog audio output like a 3.5mm headphone jack and a coaxial A/V out. No complaints about the wireless connectivity though. You get Bluetooth 5.0 and dual band Wi-Fi with support for 2.4GHz and 5GHz networks.
Impressive feature set with support for popular HDR formats
This AmazonBasics TV has a 4K panel with a resolution of 3840 x 2160 pixels and a 60Hz refresh rate. It is powered by an Amlogic SoC with a quad-core processor clocked at 1.95GHz and Mali G31-MP2 GPU. You get 1.5GB RAM and 8GB of internal storage, some of which is taken up by the Fire OS, leaving you with a little more than half the space for your apps and data. All popular HDR formats like Dolby Vision, HDR10 and HLG are supported. Audio output is rated at 20 Watts RMS with support for Dolby Digital as well as Dolby Atmos. Unlike official Android TVs, you do not get Chromecast here but the TV lets you mirror content from your phone or tablet using Miracast. The wireless remote control is similar to the one you get with Amazon's Fire TV Stick 4K, but with a few extra buttons. Other than the usual, you get a quick settings button and hotkeys for Netflix, Prime Video and Amazon Music. A dedicated button for apps library is a good addition. The remote is voice enabled, and you need to keep the microphone button pressed to summon Alexa and issue voice commands. Alexa works as well as she does on Fire TV Sticks. The build quality of this remote is quite solid and the AAA batteries required to power it are bundled in the package. The remote comes pre-paired with the TV and saves you the trouble of doing it manually. The power button on the remote works on IR, while the rest of the functions operate over Bluetooth. So, you only need to point the remote toward the TV when switching it on or off.
Updated version of Fire OS with newer and fluid UI
Since this TV is based on the same platform as that of the Amazon Fire TV Sticks, the user interface is pretty much the same with a few extra options like input sources, media player for playing content from USB drives and TV settings. You also get the latest Fire OS interface on this TV, that's clearly an upgrade from its previous iteration. But what is even better is the OS version on this TV (7.2.5.2) is more recent than what is available on the Fire TV Stick 4K. To start accessing the features of this TV, you need to login with your Amazon credentials. You will need to register and create an id in case you don't have one already. Apps for all popular streaming services like Netflix, Prime Video, Apple TV, Disney+ Hotstar etc. are available on Fire OS. This platform also grants you access to the sound, picture and other settings of this TV on the fly from any app or source. It doesn't matter if you are watching something on an OTT app or through an HDMI source like DTH or even through a USB drive, just press the settings button on the remote and you can access the aforementioned options. You can always ask Alexa for assistance too, be it weather updates or searching for content. The media player on this AmazonBasics TV supports most of the popular video codecs and can play 4K videos as well from a USB drive. The user interface of this TV is fluid and generally lag free.
Good contrast, excellent color reproduction, picture adjustments on the fly
The picture quality of this TV is impressive. The picture is on the softer side and quite easy on the eyes. Don't get me wrong; by softer I do not mean dull or washed out but something without unnaturally boosted colors or brightness. The panel has just the right amount of brightness and your eyes don't get fatigued easily. The on-screen motion feels smooth and void of any ghosting or artifacts. The color reproduction of this TV is good too with close to natural colors. If you prefer extra sharpness or more vivid colors, there are a lot of picture adjustment options that can be accessed by simply pressing the settings button on the remote. You have the usual settings to adjust brightness, contrast, color, sharpness etc. to advanced options for color temperature, noise reduction, dynamic contrast and more. This TV is compliant with Dolby Vision and HDR10, and though the company doesn't explicitly mention HDR10+ support, it does a good job of decoding it in shows on Prime Video. Dolby Vision and HDR10+ Ultra HD content looks lively on this screen with good contrast and excellent detail for a budget TV. Details in dark areas were clearly visible and there was no flickering in high contrast scenes either. The black levels on this TV though could have been a tad deeper. Each of the HDR formats have Bright, Dark, Standard, Dynamic and custom picture presets. The first three options generally work well in most cases. Dynamic preset makes the picture unnaturally vivid for my liking. 4K SDR as well as Full HD content look vibrant on this TV too with accurate colors and ample detail, 720p videos are watchable too. Anything with a lower resolution looks washed out and pixelated, as is the case with most 55-inch TVs. The viewing angles are broad with only a marginal color shift when watching it from sharp angles.
Average TV speakers, limited audio outputs, but good all-round performance
A pair of TV speakers can deliver 20 Watts RMS audio output. The sound quality is pretty standard for TV speakers, but nothing special. The output is loud enough at 50% volume but the clarity is average at best. It is more than acceptable for watching sports, news or even a few web series, but it doesn't have the thump or the detail to make action movies or music enjoyable. The vocal clarity is fine and the audio has a hint of warmth, which is good. But it lacks the punch that you get in TVs like the Hisense 55A71F or in certain models with a built-in soundbar. The speakers are tuned well out of the box, and the TV offers you a bunch of sound adjustments to tune it further. You can also sample the handful of audio presets available here to see if it sounds better for you. The TV speakers claim to support Dolby Atmos, but keep your expectations in check. I have never seen TV speakers perform miracles despite Dolby Atmos certification, and these are no different. More than the sound quality, I had a bigger issue with the limited audio outputs available here. You only get optical out and Bluetooth. So when looking to connect a soundbar or speaker system to this TV, make sure they have either of those inputs. Beyond this, most of the things about this TV function as expected without a hiccup. The TV takes about 45 seconds to boot up when you switch it on from the power socket, which is average for most smart TVs. After that, if you switch it off from the remote, you can wake it up almost instantaneously from standby mode.
The pleasant picture quality alone makes it worth your money
The AmazonBasics 55-inch 4K Fire TV is available for purchase on Amazon India for Rs. 39,999 with a one year warranty, and you get an additional 12 months warranty on the panel. It is not a bad price at all for what this TV offers. Other than a large screen, you get a smart TV with a reliable platform, a nice UI and solid app support. The picture quality is excellent for the segment with support for popular HDR formats and lots of picture adjustments. Audio quality is not its forte and you will have to make do with the limited audio outputs. Despite that, I will happily recommend this TV for its picture quality alone. But before you buy it, you should also take a quick look at its competitors. It is bound to face stiff competition from a couple of Android TV models around the Rs. 40,000 mark. The Realme Smart TV SLED 55 has a similar picture quality that is easy on the eyes but doesn't support Dolby Vision. The Hisense 55A71F is a great all-round option that not only supports Dolby Vision, but has equally impressive picture quality and much better sound quality. It's a photo finish between the Hisense and this Amazon TV.