Thomson 42PATH2121 Smart TV Review: Is it worth buying?
Thomson 42PATH2121 Smart TV Review: Is it worth buying?
Oct 07, 2021, 01:28 am
9 min read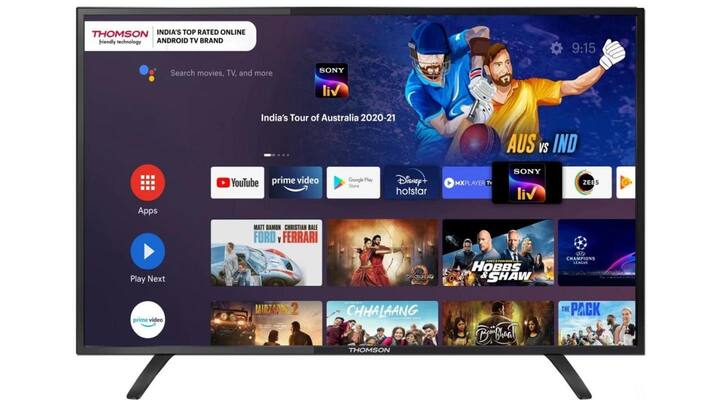 The popular screen sizes for Full HD TVs in India are 40 and 43-inches. 42-inch TVs used to be a thing almost a decade ago and Thomson is looking to bring it back in their PATH series of Android TVs targeted at budget conscious buyers. And even better, they have priced the 42-inch model similar to competing 40-inch TVs. The Thomson 42PATH2121 TV also has a feature rarely seen in budget TVs, and at the same time, it promises compatibility with your older gadgets like a DVD player or speaker system. Let's figure out if it performs well in areas that matter.
Generic design with a variety of input and output ports
As mentioned, this is a budget TV and the company hasn't bothered with a bezel-less design. Instead, it has opted for a generic one with not too thick plastic bezels around the screen; I don't think the target audience would mind. A power LED can be found at the bottom left of the screen, and the module also hosts an IR receiver. The TV can be wall-mounted or placed on a desk using the bundled mount or plastic stands. The stands are well-built and hold the TV firmly in place. The connectivity options are fairly elaborate on this TV but the placement of ports could have been smarter. Two USB ports and two sets of coaxial analog A/V inputs are located along the left edge of the rear module, while three HDMI ports (one of which supports ARC), an optical audio out, coaxial audio out, headphone jack and a LAN port can be found along its bottom edge. Connecting devices to HDMI ports can be a task if you place the TV on a desk or if you wall mount it and install a soundbar below it. Given that this is not a large TV, the side ports may not be too difficult to reach. But it is always better to have the ports closer to the edge. Wireless connectivity options include Bluetooth 5.0 to connect wireless audio products and surprisingly, we have dual band Wi-Fi here with support for 2.4GHz and 5GHz networks. 5GHz Wi-Fi is extremely rare in budget TVs, and it's quite generous of the company to offer it on this model.
Standard feature set for a budget smart TV
In this model, you get a 42-inch panel with a Full HD resolution of 1920x1080 pixels and a 60Hz refresh rate. The supposed IPS panel has a rated brightness of 500-nits and doesn't claim to support any HDR formats, which is fine with me. Most budget Full HD TVs aren't so great with HDR rendering anyway. So no HDR is better than erratic HDR that you cannot control. This TV is powered by an Amlogic chipset with four ARM Cortex A53 cores that can go as high as 1,400MHz and a Mali-450 MP GPU. You get 1GB RAM and 8GB of internal storage, a part of which is consumed by the Android TV 9.0 OS. Sound output is rated at 30Watts RMS. Like all certified Android TVs, it has Chromecast built-in and lets you cast content from compatible apps on your phone or tablet to the TV screen. The wireless remote control that Thomson bundles with this TV has an uncanny resemblance to the Amazon Fire TV Stick remote, but comes with a few extra keys. The overall build quality is decent but can't say the same for the D-pad which is a bit too wobbly. The voice enabled remote communicates over Bluetooth once paired with the TV. The remote has hotkeys for Prime Video, YouTube and SonyLIV along with home, back, mute, menu buttons, input selection, volume control and a D-pad. A pair of AAA batteries to power the remote are bundled.
Unnecessary UI tweaks that aren't really smart
This Thomson TV runs Android TV 9.0 OS and has a stock user interface without any third party launcher. The learning curve isn't steep at all. You get the usual row of your favorite apps that you can add, remove or shuffle, along with rows that display last played or suggested content from various OTT services. There is Google Play Store available here that gives you access to thousands of other apps barring a major one. The Prime Video app is preinstalled along with certain Google services including YouTube, but there is no Netflix app on this TV. You can neither download the app from the Play Store, nor can you cast content from the Netflix app on your phone or tablet to this TV. While the user interface appears standard, certain important options are inexplicably missing from Android settings, most notable being Picture and Sound adjustments. On the Realme TV that we recently reviewed, the options were present in the settings, though you couldn't access them on the fly from any OTT service. Thomson takes it two steps further. You simply cannot tweak the picture or sound from anywhere other than from an HDMI input. You cannot access picture or sound settings in USB mode either. Outside of an HDMI source, if you wish to adjust the brightness, contrast, backlight or saturation, you need to get off the home screen or pause whatever you are watching and choose any HDMI input. There, you can access these settings by pressing the Menu button on the remote, make the necessary changes and get back to the Android home screen, start the OTT service or app again and continue watching. If the picture is still not good enough, repeat the process. The same is applicable for audio settings too. It is quite frustrating, to put it mildly.
Average picture quality with below par contrast, limited picture adjustments
The picture quality of the Thomson 42PATH2121 smart TV is average at best, and just about passable for a budget TV. The panel is bright and the color reproduction is pretty decent. The colors look saturated but can be tweaked a bit using the above mentioned method. The contrast is below par, and there isn't much one can do to get it right. I did try hard to find the right balance, but the picture would either appear too bright or a bit dark with loss of details in dark areas on the screen. Also, it is hard to ignore the flickering in high contrast scenes. While I liked the skin tones on the Realme TV, I cannot say the same for this one. They have a yellowish tinge even when not using 'warm' color tones, and they look washed out at times. One can also notice blur and motion artifacts in scenes with significant movement. That may be a result of either an erratic motion compensation engine or slower response time of the panel. The limited and basic picture settings available here do not help in fixing these issues. Speaking of the panel, the spec-sheet mentions that this TV has an IPS panel but I doubt it. IPS panels are known for their excellent viewing angles, and they aren't so great here. There is a noticeable color shift when viewing the TV from even a 45 degrees angle. Reds turn to pink as you move further away. After a lot of adjustments (and patience) 1080p Full HD and 720p HD content looks decent on this TV. DTH content (especially HD channels) are perfectly watchable too. One useful aspect of this TV is the presence of analog inputs that are becoming increasingly rare on newer TVs. They can be used for connecting your older devices like a DVD player to this TV.
Lackluster sound output on TV speaker
The total audio output of this TV is rated at 30Watts RMS. The TV speakers can get fairly loud at close to 40 percent volume but they sound shrill and lacking in bass. The dialogue clarity is acceptable but the overall audio feels lackluster. The sound quality is fine for watching news, sports or some basic dialogue heavy content. But music and action movies or web series are far from enjoyable on the TV speakers. You get a handful of sound presets and a 5-band equalizer to play around with, but don't expect a turnaround. The good part is this TV has multiple audio-out ports ranging from analog to digital to wireless, and I would highly recommend plugging in a soundbar or even your older 2.1 channel computer speakers if you have them lying around. That would greatly help the overall TV viewing experience here. The TV takes about 40 seconds to boot up when you switch it on from the mains, which is standard for Android TVs. Post that, another UI bug creeps up on you. For some reason, the TV shuts down if you press the power button on the remote, instead of going into standby mode. You need to change that from the power settings that are again available only when you select an HDMI input, when it should have been present in standard Android TV settings. The preinstalled media player can play almost all video formats with various codecs including 4K videos that it scales to 1080p, which is a good thing. But you cannot use the D-pad to navigate through the video. You can always install VLC Player for a better experience. Voice commands through the remote work well, despite the voice assistant being slightly slow to respond.
Might as well opt for a better 40-inch TV instead
The Thomson 42PATH2121 Smart TV can be purchased on Flipkart for Rs. 22,999 with a one year warranty. While the pricing is fine, I cannot recommend it unless you are looking for an Android TV with analog audio and video ports to plug in some of your older gadgets, and absence of Netflix doesn't bother you. Else, spend Rs. 2,000 to 4,000 more on a much better 43-inch TV. If budget is a constraint, it would be wiser to sacrifice the additional couple of inches of screen space and opt for a 40-inch Android TV with better picture, sound, UI and Netflix. Couple of options that come to mind are the Hisense 40A56E or the Xiaomi Mi TV 4A. As for Thomson, they should focus more on their OATH Pro series of smart TVs that are far superior to the PATH series models and offer better value for money despite a relatively higher price.