Bengaluru gets pilot air purifier at Hudson Circle by BBMP
Bengaluru gets pilot air purifier at Hudson Circle by BBMP
Mar 02, 2019, 07:06 pm
2 min read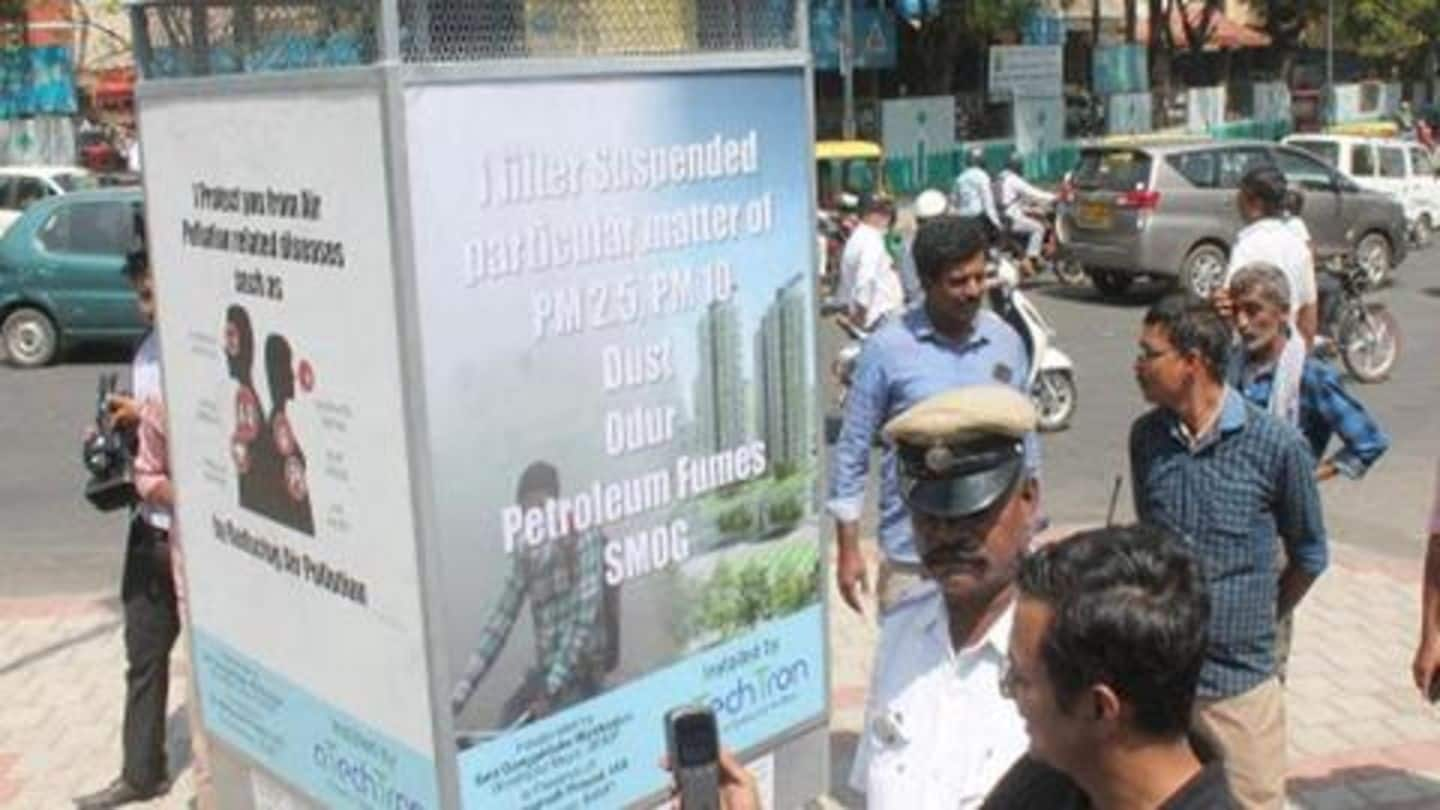 In its recent budget, the Bruhat Bengaluru Mahanagara Palike (BBMP), had announced that it will be spending Rs. 2.5 lakh/purifier on installing air purifiers across various junctions in the city. Bengaluru needs air purifiers at 44,000 junctions, as per the civic agency's plans and on Thursday, the BBMP installed one at Hudson Circle, in a bid to control air pollution. Here's more on this.
Air purifier needed to clean once in 20 days
According to Executive engineer, Chandrashekhar, from BBMP's multipurpose engineering department, the Hudson Circle air purifier is a pilot project. He said the purifier will be needed to clean once in 20 days as around 2-3kgs of dust will be collected by then. "A report will be placed before BBMP council, and the civic agency will take a final call on the installation," he said.
Bengaluru's vehicular population is 80L, increasing by 10% every-year: Mayor
Gagambike Mallikarjun, Bengaluru's mayor, said the city's vehicular population stands at 80 lakh and keeps increasing by 10% every year. "Air quality is an alarming issue and we need to tackle it. The BBMP had announced in its budget its objective to install air purifiers at various junctions and the first of them has been put up," she told media.
'Bengaluru situation isn't like Delhi's, but we are taking precautions'
The Hudson Circle air purifier covers an area of 60 feet and has been installed by a private agency. According to N Manjunatha Prasad, BBMP Commissioner, air purifiers are important for the city. "The situation in Bengaluru is not like the same in Delhi, but we are still taking steps to ensure things don't deteriorate," the commissioner said.
Environmentalist asks why not plant trees, promote mass-rapid transport, instead
Meanwhile, noted environmentalist, AN Yellapa Reddy, questioned why BBMP and other civic bodies didn't go for the alternative option of planting trees. He said that instead of plucking trees for new construction projects like road widening, the government should promote mass rapid transport. He was saddened by the fact that over the years, Bengaluru has lost its green cover at an alarming rate.