Adani Enterprises files papers for India's largest FPO: Key facts
Adani Enterprises files papers for India's largest FPO: Key facts
Jan 18, 2023, 03:19 pm
2 min read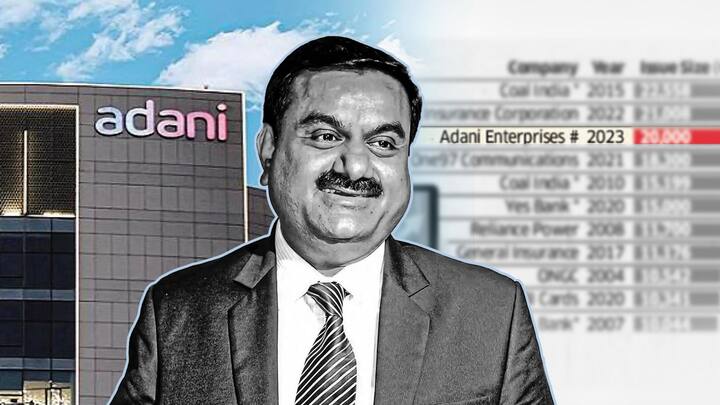 Adani Enterprises has filed papers for a follow-on public offer (FPO) with the Securities and Exchange Board of India (SEBI). The company aims to raise a whopping Rs. 20,000 crore through the FPO. This will be India's largest FPO, bettering YES Bank's Rs. 15,000 crore in 2020. Per The Economic Times, the company could launch the public issue in the last week of January.
Why does this story matter?
Adani Enterprises will be the second company from the Adani Group to seek funds from the public. Earlier this month, Adani Wilmar came out with an initial public offering (IPO) of Rs. 3,600 crore. The FPO would fuel the conglomerate's ambitious plans for the future. Being the incubator of the conglomerate, Adani Enterprises plays a big role in the group's roadmap for the future.
An FPO, just like an IPO, is a way for a company to raise money. It is also known as a secondary offering. It is an issuance of shares by a company that is already listed on a stock exchange. The purpose of an FPO is to either raise additional capital or reduce existing debt. There are two kinds of FPOs: dilutive and non-dilutive.
The company might issue partly paid-up shares
Adani Enterprises announced an FPO in late November after its board of directors approved raising funds by way of a further public offering through a fresh issue of equity shares. The company could issue partly paid-up shares as part of the FPO. According to The Economic Times, retail investors might get a discount in the secondary offering.
The firm plans to dilute 3.5% of stake through FPO
The FPO of Adani Enterprises will be dilutive in nature. The company plans to dilute a 3.5% stake through the FPO. Currently, the promoter shareholding in the company stands at 72.63%, which means free or public float stands at 27.37%. Gulf investment funds like AIDA and Qatar Investment Authority have reportedly shown interest in investing in Adani Enterprises.
Adani Enterprises is the incubator of the conglomerate
Adani Group has laid out plans to invest $150 billion over the next decade in businesses including green energy, data centers, aerospace, defense, and healthcare. In its role as the incubator of the group, Adani Enterprises will spin off companies in different sectors. Each of these companies will generate free cash flow. The FPO is the beginning of this ambitious plan.