How is Ashutosh Kumar improving Indian ed-tech space with Testbook.com
How is Ashutosh Kumar improving Indian ed-tech space with Testbook.com
Written by
Chandraveer Mathur
Mar 08, 2021, 07:26 pm
5 min read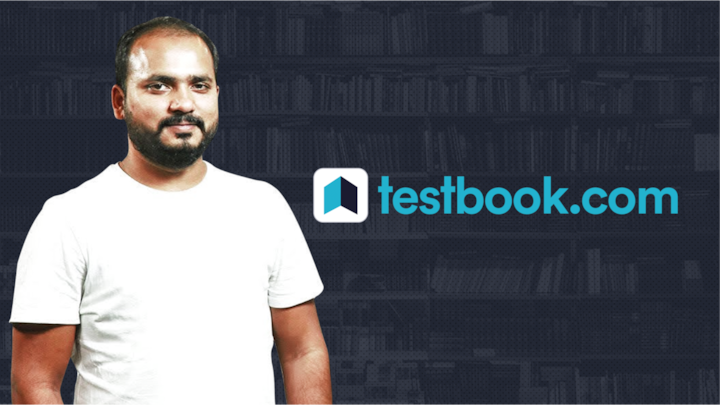 Ashutosh Kumar is the CEO and co-founder of Testbook.com, a Mumbai-based Education Technology (ed-tech) start-up. The platform claims it has seven million monthly active users and attracts around 900,000 new users each month. With an aim to deliver high quality outcome-based learning to students, Testbook has grown from strength to strength. In his conversation with NewsBytes, Kumar shares his journey and insights.
Kumar began teaching physics after joining IIT Bombay in 2007
Kumar hails from a town called Madhubani, Bihar. He prepared for IIT-JEE in Kota, Rajasthan and joined IIT Bombay in 2007. He remembers not being able to speak in English when he arrived in Mumbai. Taking a mentor's advice, he travelled to Ukraine and Germany for more exposure. Further, inspired by how teachers can change students' lives, he began teaching physics at coaching institutes in 2008.
He realized coaching institutes can't cater to every student
Time as an exchange student abroad not only bolstered Kumar's English proficiency, it also gave him the courage to dream big, he says. Upon returning, he realized Indian coaching institutes just coach the front-benchers and toppers. Cut to 2012, Kumar and his then-roommate and now-business partner, Narendra decided they would spend the next 15 years changing the education sector for the better.
Kumar started Testbook.com in 2014 with three other IITians
Kumar co-founded Testbook in 2014 with fellow IITians Praveen Agarwal, Narendra Agarwal, and Manoj Munna. Both Praveen Agarwal and Munna were in the same hostel as Kumar, and had an entrepreneurial streak. The problems they set out to solve were the ways to fix the dearth of good teachers, and the disparity in facilities available to students from rural and urban backgrounds.
Kumar says ed-tech has two crucial ingredients: Content and technology
Kumar says that building a company from scratch was an uphill task, especially "without a single penny" in his pocket. Although many internet companies were starting up in 2014, he still managed to get good developers on board. The other piece of the ed-tech puzzle is good content. Kumar thinks he was lucky to find good talent for marketing and content as well.
Testbook's outcome-driven approach, comprehensive content base sets it apart
Kumar explains that ed-tech is an emerging industry in India. Although Testbook has been around for close to seven years now, interest in video-based learning has picked up just recently. Testbook claims its outcome-driven approach combined with its one-stop nature as a platform sets it apart from the competition. Today, the platform offers preparation material for over 250 central and state government exams.
Data-backed decision making is imperative for students in India
Testbook gives students comprehensive results including strengths, weaknesses, and benchmarks relative to the toppers. It even shows students how the topper attempted the test. Kumar explains that data-backed decision making is important in India's hypercompetitive environment where the chances for selection in government exams are less than one percent. Testbook claims 38,000 of its students got placed in government jobs in 2020.
Students' scores improve significantly after interacting with assessments on Testbook
On average, Testbook claims its four month-long courses see 25 to 26 percent students getting placed. Kumar added that offline ecosystems place only around three percent of the students. Additionally, he claims that students' scores improve significantly after attempting the tests on the platform regularly. He says small improvements during preparation directly reflect in the candidate's performance, which can make or break their chances.
Biggest advantage of ed-tech: Students can learn from country's best
Furthermore, he says that although nothing can replace the personal touch of the offline ecosystem, data helps students take informed decisions. He emphasizes that the biggest advantage of ed-tech is that the best teachers from anywhere in the country can teach students across geographies, thus levelling the playing field for poorer students.
Testbook planning partnerships with colleges to teach students industry-relevant skills
Talking about future plans, Kumar says the company is in talks with colleges to train students with in-demand industry skills. The platform will soon allow students seeking private jobs to find opportunities directly on Testbook, which is a game changing feature for them. Kumar says that with public-private partnerships and educational content personalization taking center stage, ed-tech space will grow tremendously in this decade.
Testbook has secured investment from Matrix Partners, S. Chand Group
Kumar says government support to ed-tech start-ups could revolutionize education in India. So far Testbook has raised four rounds of investment. Initial investment came in 2014 from LetsVenture, a pool of angel investors. The latest round of Series-B investment was raised in 2020. Testbook has also received investment from Matrix Partners (famously invested in Ola) in 2017 and S. Chand Group.
Kumar says the future of ed-tech lies in personalized learning
Kumar maintains he has been in the education sector for close to ten years now. According to him, the future of ed-tech lies in personalized learning which adapts to each student. Lastly, he quips that a platform like Testbook which integrates learning content with advice based on data could transform the way students approach exam preparation.