Mukesh, Nita and Ambani kids get Income Tax notices: Report
Mukesh, Nita and Ambani kids get Income Tax notices: Report
Sep 14, 2019, 12:21 pm
2 min read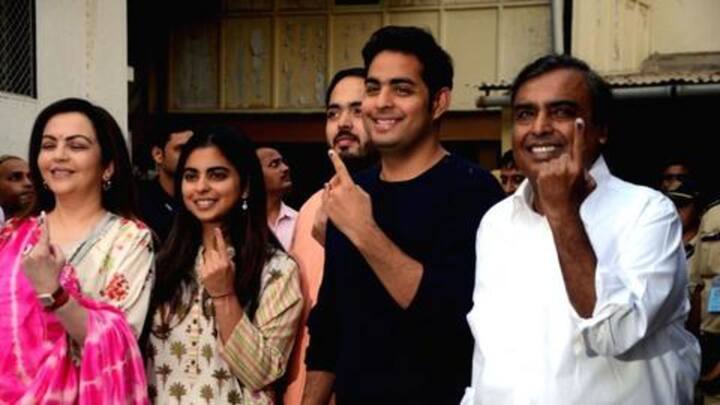 Reliance Industries head honcho Mukesh Ambani, his wife Nita, and their three children- Akash, Anant, and Isha, have received notices from the Mumbai leg of Income Tax Department, Indian Express reported on Saturday. The notices to the affluent business family were served on March 28, 2019, under Black Money Act 2015. However, a spokesperson told the daily they haven't received any such communication.
Ambanis got notices for alleged "undisclosed foreign income and assets"
The move was "closely guarded" and Ambanis received notices for their alleged "undisclosed foreign income and assets". Reportedly, the Income Tax Department started its probe way back in 2011, when it received details of some 700 Indians holding accounts in Switzerland's Geneva. During 2015's Swiss Leaks, it was revealed that the actual number of people holding such accounts is 1,195.
Before serving notice, I-T Department launched extensive investigation
Further, the report added the Reliance Group was linked to a cluster of 14 HSBC Geneva bank accounts, which have a combined balance of $601 million. An Income Tax report dated February 4, 2019, revealed the Ambanis have been named as "ultimate beneficiaries" of one of these 14 entities, called the Capital Investment Trust. The March notice had details of this report only.
Notices were served after CBDT gave clearance
Now, Reliance may have denied receiving any such notice, but IE claimed the documents were served after many talks between Mumbai unit and the top brass of the Central Board of Direct Taxes (CBDT). Thereafter, the final clearance was given.
Ambanis didn't disclose details of their holdings
This is what the I-T Department learned-- Capital Investment Trust was created in 2003, and its initial funding was just $1,000. It owned an entity named Thames Global Limited, which in turn, controlled Infrastructure Company Limited and Antalis Management Limited based in the British Virgin Islands. Allegedly, the Ambanis didn't disclose they had holdings in Capital Investment Trust, and in Infrastructure Company Limited.
The first date of hearing was in April
The notice underlined that after provisions were introduced in the 2012 Finance Bill, assesses are required to disclose details of all foreign bank accounts. Not only this but they also have to reveal about Trusts, as well as immovable property/assets they own outside India. The assesses (Ambanis) were asked to produce documents to support their claims. The first date of hearing was April 12, 2019.