Ola strikes Rs.2,600 crore deal with Mahindra
Ola strikes Rs.2,600 crore deal with Mahindra
Sep 09, 2016, 03:07 pm
2 min read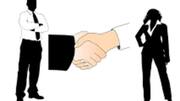 Online cab aggregator, Ola Cabs, announced a partnership with Indian automaker Mahindra and Mahindra on Thursday. The deal, worth Rs.2,600 crore, would help finance vehicles for over 40,000 Ola drivers in the next two years. This is the second tie-up for Ola Cabs, after it had struck an alliance with Nissan India for procuring cars in November last year.
Ola Cabs is one of India's most popular online cab-hailing services that was founded six years ago and is currently valued at over $5 billion. The company, based out of Bangalore, has grown to generate over Rs.418.25 crore in revenue. Competing against foreign rivals like Uber, Ola has now expanded to gain a cab network of over 2,00,000 cars spread across 100 cities.
Mahindra and Mahindra is one of India's biggest automakers, and is part of the Mahindra Group. The multinational company traces its roots to Ludhiana, where it was founded in the mid 1940s. Now ranked as one of the top companies in India, it has achieved revenues touching $11 billion last year. The company is led by Anand Mahindra, who presently serves as Chairman.
Ola-Mahindra partnership called 'One-Mahindra'
"It's a collaboration of the two ecosystems - what we have created is a package called One-Mahindra, which brings the strength of our federation," Anand G. Mahindra, Chairman of the Mahindra Group, told media reporters.
What are the deal specifics?
The deal will see Mahindra and Mahindra's insurance arm, along with its used car and bike division, sell its products to the cab aggregator. The company is targeting the sale of over 40,000 units by 2018 to generate revenues of Rs.2,600 crore. The alliance will prove to be a big boost to Mahindra, which is currently seeing sales of only 200 units a month.
Promoting micro-entrepreneurship
The Ola-Mahindra alliance will help a massive number of drivers gain access to 100% financing when buying the automaker's cars or other used cars which are under its used cars division, Mahindra First Choice.