Uber's employee, now a billionaire, was hired through a tweet
Uber's employee, now a billionaire, was hired through a tweet
May 13, 2019, 12:44 am
3 min read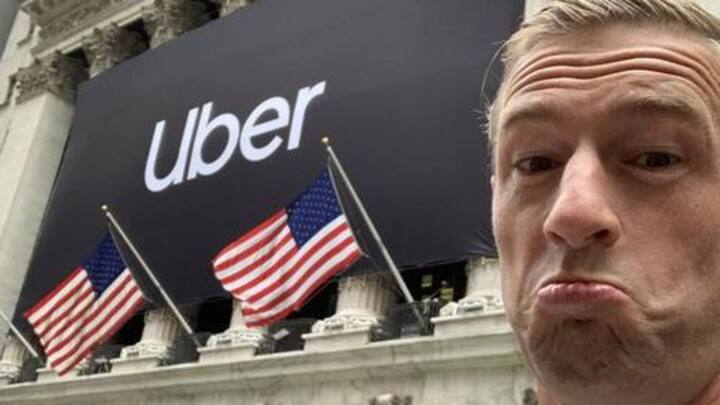 Ryan Graves is today the founder and CEO of investment firm Saltwater Capital, and a very rich man. According to Forbes, Graves' net worth is around $1.5 billion (Rs. 10,490 crore). However, for Graves, who was the first employee hired by Uber, the road to being a billionaire started with a single tweet. Read on to find out more details.
Back in 2010, Graves was working as a leader in a management training program in information technology at General Electric. By a stroke of luck, Travis Kalanick, co-founder of Uber, which was just another start-up back then, was looking to hire, and Graves sent a tweet to Kalanick, expressing interest in the opportunity. On March 1, 2010, Graves was welcomed on-board at Uber.
Graves' 2010 tweet to Kalanick
Graves 'hit the ground running,' said Kalanick
Speaking about this serendipitous turn of events, Kalanick wrote in a 2010 blog post, "I was hitting Craigslist, Twitter, and other channels looking for the right candidate." He added, "What resulted was the Awesomest job post and response I've ever seen." Kalanick, whose net worth is estimated to be $5 billion (Rs. 34,966 crore), said that Graves "hit the ground running," once hired.
He learned the start-up game fast, said Kalanick
"From the day he got going, we spent about 15-20 hours a week working together going over product, driver on-boarding, pricing model, the whole nine. He learned the start-up game fast and worked his a-- off," Kalanick wrote in the 2010 blog post.
After his seven-year stint as SVP, Graves resigned
Graves continued with Uber as the CEO for about a year, before moving onto becoming the senior vice president of global operations, a position he held for about seven years. However, in August 2017, Graves filed his resignation from Uber merely two months after Kalanick was made to resign following the discovery of sexual harassment and discrimination at Uber through investigations.
Graves now lives with his family in Hawaii
Interestingly, Graves continues to sit on the board of directors of Uber, which is now a multi-billion dollar empire. Reportedly, Uber's valuation is estimated at $75 billion (Rs. 524,493 crore) based on its $45 a share IPO on Thursday. Graves also runs his investment firm founded by him, Saltwater, and lives with his family at their residence in Hawaii, Forbes reported.
Here are a few equally extraordinary stories of success
As remarkable as Graves' story sounds, it's hardly unique. Adam Lyons, the 25-year-old founder of The Zebra, a car-insurance start-up, pitched his business to Mark Cuban, a "shark" investor on reality series Shark Tank, over a cold email and ended up getting an investment. Hafthor Bjornsson, who plays Gregor Clegane/The Mountain on Game of Thrones, was asked to audition through a Facebook DM.