Sensex slips to 51,823 points, Nifty settles below 15,450
Sensex slips to 51,823 points, Nifty settles below 15,450
Jun 22, 2022, 03:56 pm
2 min read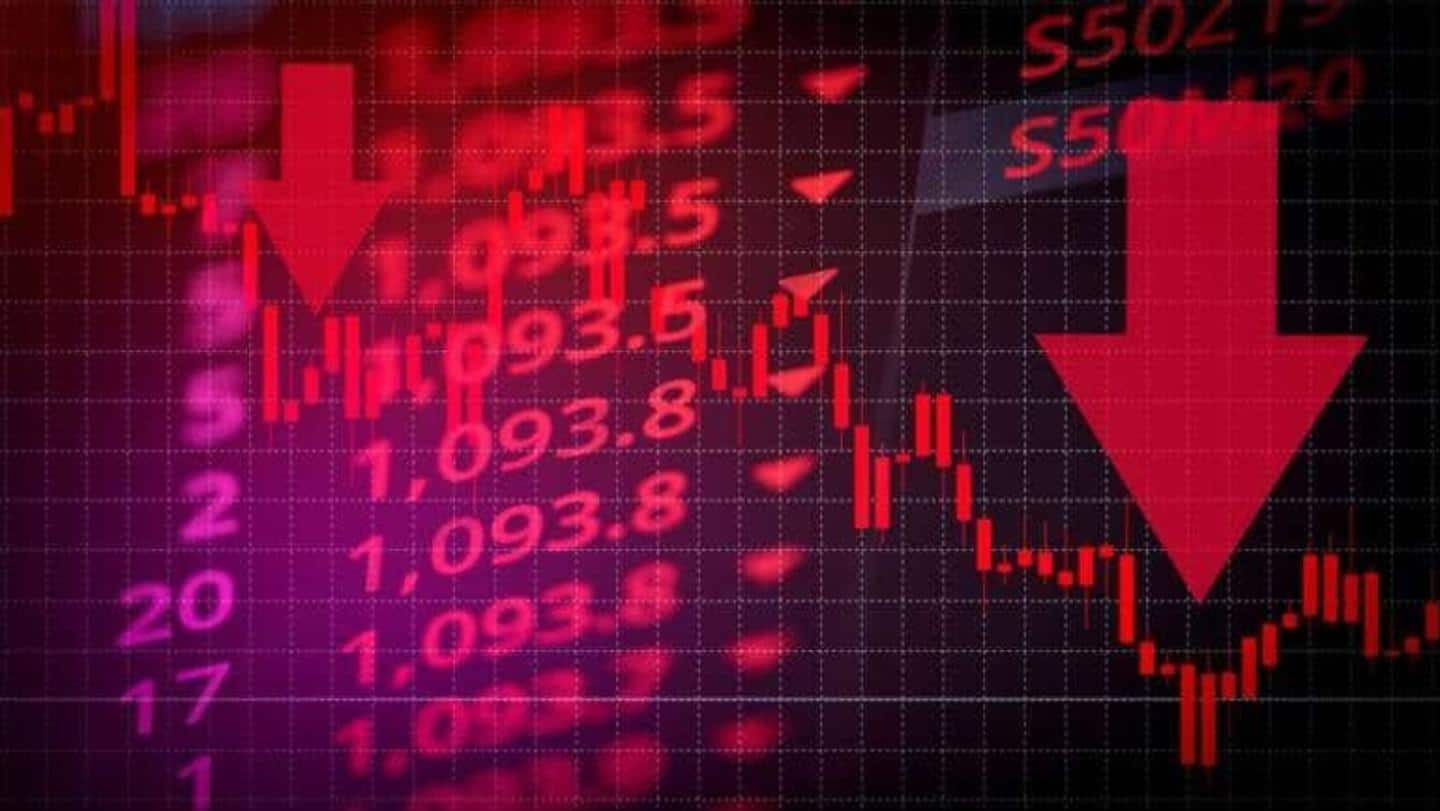 On Wednesday, the benchmark Sensex and Nifty indices witnessed a fall after a two-day relief rally. The Sensex plunged 1.37% to 51,823 points, while the Nifty fell 1.46% to 15,413 points. The midcap indices were also in a bearish mode as the Nifty Midcap 50 plunged 111.85 points, or 1.57%, to 7,119.7. Here are more details on the markets' performance on Wednesday.
Who were the biggest gainers and losers?
BPCL, Hero Motocorp, and TCS emerged as the top-performing stocks on Wednesday, edging up 1.56%, 1.01%, and 0.34%, respectively. Among the top losing sectors were NIFTY METAL, NIFTY MEDIA, and NIFTY COMMODITIES, which slipped by 5.12%, 3.63%, and 2.76%, respectively. Among the biggest stock losers were Hindalco, UPL, and Tata Steel, which plunged 6.72%, 6.2%, and 5.28%, respectively.
INR goes down 0.32% against the US Dollar
The Indian rupee (INR) on Wednesday weakened against the US Dollar, plunging 0.32% to settle at Rs. 78.33. On the other hand, the gold futures witnessed little movement, ending flat at Rs. 50,685, while the silver futures tumbled by 1.31% to Rs. 60,470. Separately, the crude oil futures also slipped by 4.16% to settle at $104.69 per barrel.
Take a peek at the global markets
Coming to Asian markets, the Hang Seng Index on Wednesday slipped 551.25 points, or 2.56%, to 21,008.34, while the Nikkei rose 96.76 points, or 0.37%, to 26,149.55 points. Meanwhile, in the US market, NASDAQ closed on a positive note, gaining 2.51% to 11,069.3 points.
How are the popular cryptocurrencies performing?
The world's most popular cryptocurrency Bitcoin is selling at $20,405.59, which is down 3.72% compared to yesterday. Meanwhile, Ethereum is down by 5.82% and is currently trading at $1,090.82. Tether, BNB, and Cardano are listed at $0.9991 (flat), $214.47 (3.38% down), and $0.4717 (5.62% down), respectively. Finally, Dogecoin is trading at $0.0626 which is the same value as yesterday.
Fuel prices in Delhi and Mumbai remain unchanged
The fuel prices in Delhi remain unchanged on Wednesday, with diesel priced at Rs. 89.66/liter and petrol costing Rs. 96.76/liter. Meanwhile, in Mumbai, diesel costs Rs. 97.26/liter and petrol is priced at Rs. 111.33/liter.