India will become $3 trillion economy in 2019: Nirmala Sitharaman
India will become $3 trillion economy in 2019: Nirmala Sitharaman
Jul 05, 2019, 03:06 pm
4 min read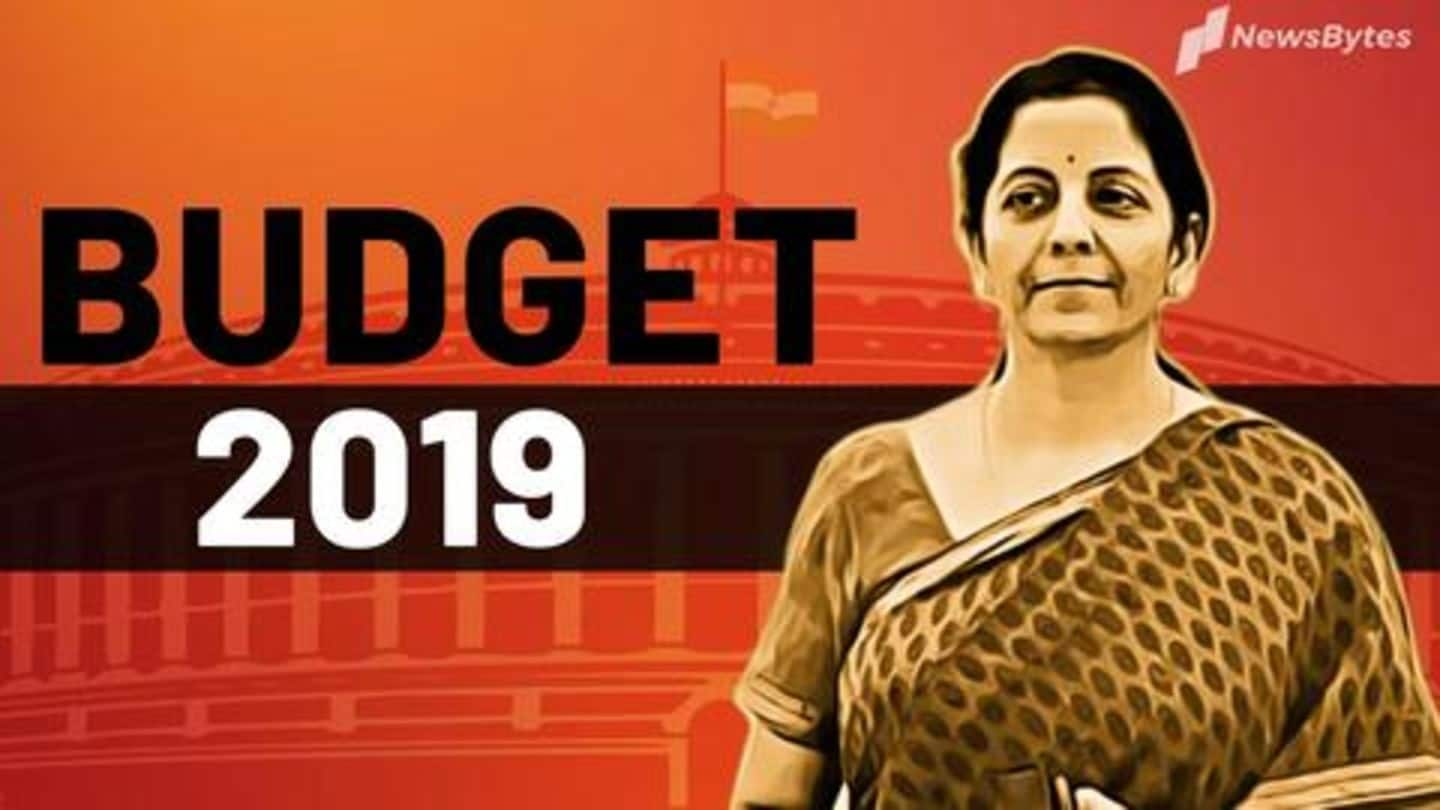 In her maiden budget speech, Finance Minister Nirmala Sitharaman said India will become a $3 trillion economy in 2019 itself. Her statement falls in line with Prime Minister Narendra Modi's vision of turning India into a $5 trillion economy in the next five years. Sitharaman said India is now the sixth largest economy in the world, courtesy PM Modi's efforts. Here are more updates.
Sitharaman proposes opening up FDI in aviation, insurance, and media
Right of the bat, Sitharaman said the Centre is considering opening up FDI (Foreign Direct Investment) in aviation, insurance, and media. To achieve this purpose, the government could organize an annual investors' global meet in India to invite industrialists, sovereign wealth funds and VC funds. She also claimed that despite global headwinds, FDI inflows have remained robust.
Sitharaman came with gifts for traders, announced pension scheme
In a move which is sure to make traders happy, Sitharaman said Pradhan Mantri Karam Yogi Maan Dhan Yojana will be extended to 3 crore retail traders, who have an annual turnover of less than Rs. 1.5 crore. Under the scheme, these traders will receive a pension of Rs. 3,000/month after they turn 60. To avail the benefits, they will have to show their Aadhaar and bank account details.
Now, NRIs will get Aadhaar without waiting for 180 days
In yet another decision which will benefit many, Sitharaman said NRIs having Indian passports will get Aadhaar card on arrival. Earlier, they had to wait for 180 days. Separately, she said it was time to focus on increasing minimum public shareholding in the listed companies. She has asked SEBI (Securities and Exchange Board of India) to raise the current threshold of 25% to 35%.
Will form 10,000 new farmer organizations: Sitharaman
Claiming that Centre has its minds set on the agricultural sector, Sitharaman said all schemes of the Centre will focus on "Gaon, Garib, and Kisan". "We will support private entrepreneurship in driving value addition to farmers produce & those from allied activities too, like bamboo, timber and also for generating renewable energy. We also hope to form 10,000 new farmer organizations," she added.
Sitharaman claimed 9.6 crore toilets have been constructed since 2014
"9.6 crore toilets have been constructed since Oct 2, 2014. More than 5.6 lakh villages have become open defecation free. We have to build on this success. I propose to expand Swachh Bharat mission to undertake sustainable solid waste management in every village," she said.
Interestingly, Gandhipedia is being developed to teach Gandhian values
Additionally, in an interesting announcement, Sitharaman said the government is developing a Gandhipedia to "sensitize youth and society at large on positive Gandhian values". Painting a good picture of the future, she added, "By 2022, the 75th year of Indian independence, every single rural Indian family, except those who are unwilling to take the connection will have electricity and a clean cooking facility."
Government will start 'Study In India' program to attract foreign-students
Notably, Sitharaman's first budget wasn't only about infrastructure and taxes, as she set aside Rs. 400 crore to create "World Class Institutions". "Three institutes - two IITs and IISc are in top 200. We will continue making concerted efforts in this regard," she said. The Centre will also start a "Study In India" program to encourage foreign students to study in Indian universities.
One woman/SHG group can take loan upto Rs. 1L
Sitharaman said the Centre believes the country will progress with more women participation. "I draw attention to the women of India, Naari tu Narayaani. I propose to expand the Women SHG interest subvention program to all districts in India." Sitharaman also announced that one woman in every self-help group will be made eligible for a loan up to Rs. 1 lakh, under Mudra scheme.
Meanwhile, the 'Naari tu Narayani' thought resonated with Hema Malini
Sitharaman's road-map included PMAY, labor laws, and piped water
In a bid to standardize registration and reduce disputes, the Centre will streamline multiple labor laws into four labor codes, announced Sitharaman. From FY20-22, 1.95 crore house will be constructed under Pradhan Mantri Awas Yojana (PMAY), revealed Sitharaman. She promised every rural household will get piped water by 2024. Further, she claimed that cargo movement in Ganga will increase four times in the next four years.