Delhi Govt plans to get legal charging points for e-rickshaws
Delhi Govt plans to get legal charging points for e-rickshaws
Jun 13, 2017, 04:10 pm
3 min read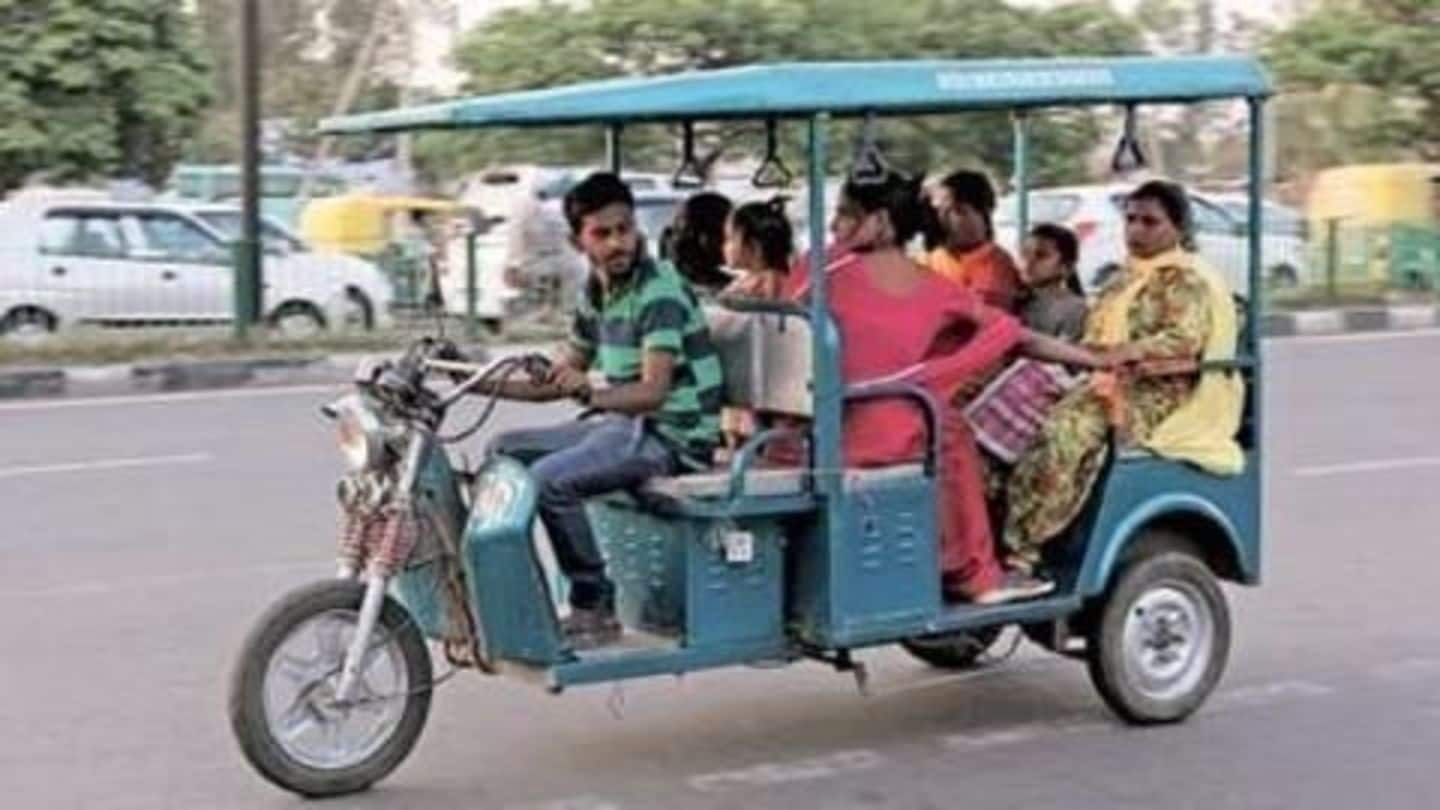 The Delhi government plans to provide authorized charging points for e-rickshaws. The first site chosen for this is Raghubir Nagar in west Delhi. With not a single authorized charging point in the city, e-rickshaw pullers/owners opt for unauthorized 'garages' that mostly use domestic connections and charge Rs. 100 for a single round of charging. Keep reading for more from Delhi.
NH-24 to Lodhi Road proposed tunnel to ease Delhi's traffic
Delhi government's PWD has proposed constructing a 2.5km-long tunnel between NH-24 and Lodhi Road in order to handle the increased traffic volume after NH-24 widening gets completed. The proposal has been sent to the National Monuments Authority as there are many monuments on the proposed route. According to NHAI, traffic volume is expected to double after expressway completion.
Delhi JNU's committee decides to ease timings of 'dhabas'
Following JNUSU's protest against closing of 'dhabas' on campus by 11pm, JNU's Campus Development Committee (CDC) decided that the timings should be relaxed. Students' Union claimed that the administration was forcing the dhabas to shutdown by sending the guards at midnight. During the meeting, they came to the conclusion that the dhabas serving tea and snacks could stay open till later at night.
Delhi traffic cops prefer cameras to track offenders over chase-to-challans drive
Delhi traffic cops have decided to go slow on chases and instead act smartly by using cameras. The overall prosecutions have risen despite a dip in chase and challan figures from 2,400 per day in 2013 to about 500 every day last year. The reason is that fleeing offenders often risk the safety of pedestrians and other motorists in order to avoid fines.
Delhi govt plans to achieve 100% literacy rate, says Kejriwal
Addressing AAP volunteers, Delhi Chief Minister Arvind Kejriwal said that his government will work towards achieving 100% literacy rate in Delhi. The government wants to bring in reforms that make government schools just as good as the public schools. Kejriwal also talked about the party's vision of bringing in a quota system for the Delhi students in DU colleges who will get financial aid.
Police busts fake company's racket of selling cheap phones as 4G handsets
The police nabbed a gang of 10 persons who bought cheap mobile phones from Gaffar market and sold them across Delhi-NCR as 4G handsets. The prime accused Akash, who was running the operation under the fake company 'Voice Tele Services', and duping people is absconding. The accused has been booked under sections of cheating and forgery. The gang was produced in Ghaziabad court.
Man tries to rob his grandparents at gunpoint in Delhi
In a failed robbery attempt, a 20-year-old man allegedly attacked his grandparents and tried to rob them of their money. The couple fought back by raising an alarm which led to neighbours coming to their rescue. They nabbed the grandson Rajat and his friend Rishabh. The police said that the grandmother was injured.