Couple jumps red-light, tries fleeing, almost runs over traffic constable
Couple jumps red-light, tries fleeing, almost runs over traffic constable
Written by
Siddhant Pandey
Aug 09, 2019, 05:16 pm
3 min read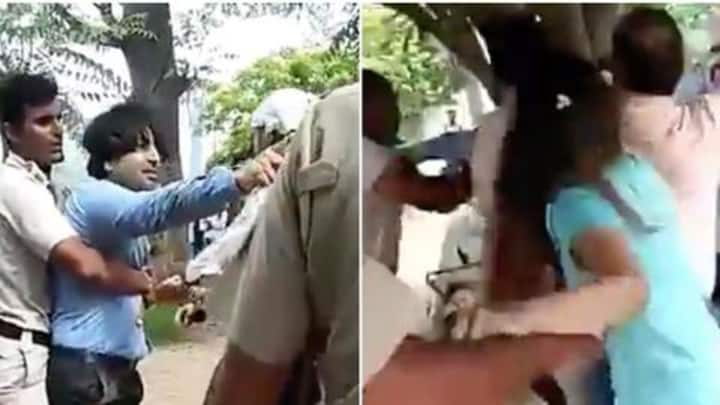 In a shocking incident of road rage, a couple in Gurugram tried to run over a traffic policeman, after the latter asked them to stop for jumping a red light. The incident took place on Sohna Road at the Vatika Chowk in Sector 54, Gurugram, at 9:45 am yesterday when traffic police constable Sunil Kumar spotted them jumping the traffic signal. Here is more.
Couple attempted fleeing while their driver showed documents to cop
According to The Times of India, the couple—Anamika and Rahul—was seated in the back when their driver stepped out of the silver Honda City to show documents to the cops after trying to jump the red light. Meanwhile, Anamika and Rahul got to the front, with the former occupying the driver's seat, and started driving, even trying to run over a cop.
Anamika drove car with intention to kill me, says cop
In a statement recorded with the Sector 50 police station, the cop said, "Anamika drove the car with an intention to kill me on the directions of her husband," TOI reported. Kumar added, "The car hit me but I managed to save my life by clinging on to the bonnet of the car. I was dragged for around 50 meters."
Couple stopped, they assaulted cops and hurled abuses
After dragging the cop for a few meters, the duo stopped their car as there was a traffic police bike parked on the road, the report added. Once out of their vehicle, the couple started hurling abuses and assaulting Kumar and others too. Kumar alleged they threatened him, saying, "You've been pardoned today but if you ever stop our car again, you'll be killed."
Duo also assaulted journalists; broke their camera
As the altercation escalated into a brawl between the couple and the cops, a few journalists gathered and advised them against misbehaving with cops. However, the couple started abusing the journalists too, assaulted them, and broke one's camera as they tried to film the incident.
Here's a video of the incident
Case registered at Sector 50 police station under various sections
A case was registered with the Sector 50 police station. They've been booked under IPC Sections 186 (obstructing public servant in discharge of public functions), 307 (attempt to murder), 323 (causing hurt), 332 (voluntarily causing hurt to deter public servant from his duty) and 353 (assault/criminal force to deter public servant from discharge of his duty), 427 (causing damage) and 506 (criminal intimidation).
Car was impounded, police have initiated legal proceedings
Subsequently, their car was impounded. Rahul, 32, is an engineer, while Anamika, 28, is a chartered accountant. They are residents of a condominium in Sector 90, Hindustan Times reported. DCP (traffic) Himanshu Garg told TOI that they have initiated legal proceedings against the two.