Does Delhi have a 'saggy' flyover?
Does Delhi have a 'saggy' flyover?
Jan 24, 2017, 08:54 pm
3 min read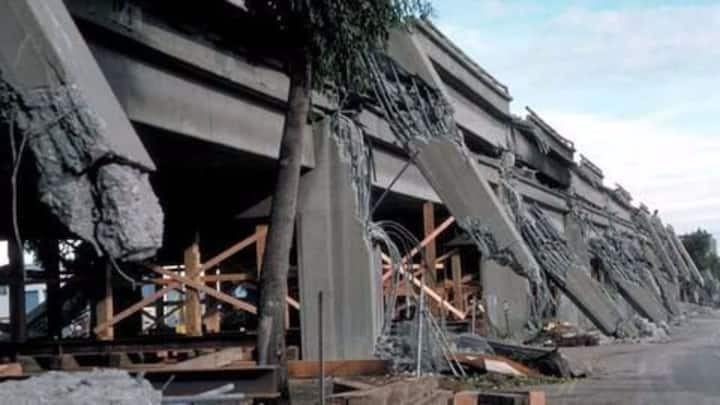 A portion of flyover wall of Bhikaji Cama place appears to have 'sagged' and a wide gap is visible. The gap came about when Delhi Metro was digging under the flyover. Despite commuters raising an alarm, PWD's reaction was lukewarm: PWD officials said there was no cause for concern and flyover was safe for use. To know what else happened in Delhi, tap in!
New railway station and bus depot for Gurugram
Haryana minister, Rao Narbir Singh said Gurugram will soon get a modern railway station and a new bus depot built at Garhi Harsaru and Narsinghpur. Singh said facilities at the railway station will resemble those at Indira Gandhi International airport and bus depot will be built across 10 acres. Singh hopes Gurugram's station and bus depot will be a model for other cities.
Horrific accident in Delhi cantonment
In a horrific accident in Delhi Cantonment, a truck collided with a bus transporting a marriage party: nineteen people were injured and three of them critically injured. The accident occurred at around 2 AM today morning in West Delhi and the collision led to the bus overturning. The truck driver is currently absconding and it is not yet known how exactly the accident happened.
JNU Chief Proctor resigns
JNU's Chief Proctor, AP Dimri, tasked with conducting inquiries into discipline issues on campus has resigned citing "differences" with administration. Dimri was leading several inquiries including one concerning an attack on student Najeeb Ahmad who has been missing since October. Recently, 4 show-cause notices were issued by Dimri to ABVP members who allegedly attacked Ahmad. Dimri has refused to give reasons for his resignation.
Fake AIIMS doctor arrested
Avinash Anand, 37-years old, was arrested on Monday at Safdarjung Hospital. He was impersonating a senior doctor and pretended to be from AIIMS Trauma Center: he was reportedly fleecing patients at both Safdarjung and AIIMS hospital. Anand was caught carrying around fake identity documents and many bank deposit slips as well. Investigations are currently ongoing but no case against him has been registered yet.
Gurugram residents and their civic woes
Residents of Gurugram's Sector 45 are a hassled lot. Roads are dotted with potholes and cave-ins; sewage overflow has also been collecting on broken roads. Despite raising concerns with civic authorities for over two years, residents are yet to see their problems resolved. Joint Commissioner of Municipal Corporation of Gurugram said they were aware of residents' problems and will start repairs on February 15.
Pankaj Singh denies allegations of dynasty politics
Senior BJP leader, Rajnath Singh's son, Pankaj Singh, was announced as candidate from Noida to contest UP elections. Pankaj Singh insisted that his candidature was not a result of dynasty politics as he started working with the party as an ordinary worker and then worked his way up. However, Singh's candidature led to some resentment among local cadre who were denied tickets from Noida.