Apple, AR Rahman collaborate to open Music labs in India
Apple, AR Rahman collaborate to open Music labs in India
Oct 11, 2017, 08:16 pm
3 min read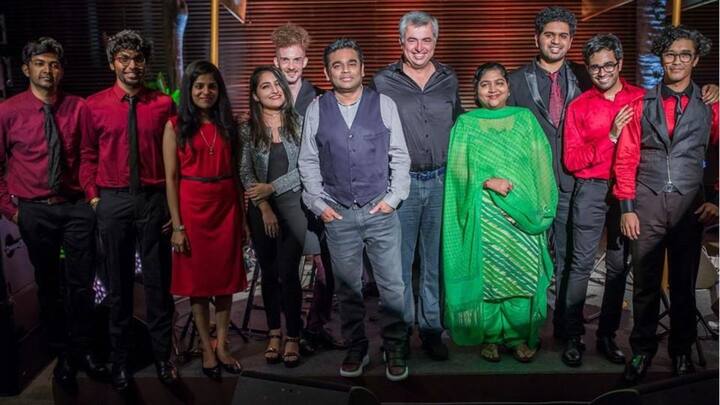 Apple Music is soon going to open two Mac Labs in India in partnership with Oscar-winning music maestro AR Rahman. They would be set up at Rahman's KM Music Conservatory (KMMC) in Chennai and its upcoming Mumbai campus. The labs would train students in creating music using Apple's digital audio workstation, Logic Pro X, a professional music creation app for the Mac. Read more!
Excited to be journey together with Apple: Rahman
AR Rahman said: "Music is a healer for today's world and we share the same affinity and love of music with Apple Music. For over 20 years, I've been a loyal Logic Pro user and am excited to be on this journey together with Apple."
Apple Music to provide 10 musical scholarships
Apple's Senior Vice President of Internet Software and Services, Eddy Cue, and AR Rahman jointly made the announcement in Mumbai. The Cupertino tech giant's music streaming arm would also contribute to fund ten full-time musical scholarships to underprivileged students. Rahman said the labs and the scholarships at KMMCs would make an "invaluable contribution to helping to develop the talents of tomorrow's musicians and composers."
Humbled to be in presence of AR Rahman: Cue
Apple SVP Eddy Cue said, "Apple Music and the KM Music Conservatory share a deep love in discovering, sharing and nurturing musical talent and we're proud to be supporting such an institution that is investing in the future arts and music community."
KMMC founded to expand horizons of musicians
AR Rahman founded the KM Music Conservatory in 2008 in Chennai to "expand the horizons" of musicians in India. Apple noted the institution continues to respect as well as strengthen the art of Indian music. It also provides students with "internationally competitive" education in Western music, music technology, and production. Students are provided with strong artistic, intellectual, and technical foundation for professional music careers.
Apple said: "In India, he's (Rahman's) been a musical tour de force like no other since the 1990s. Experimenting with traditional Indian instruments and Western genres, AR Rahman has a unique musical style." The award-winning music composer/singer/songwriter completed 25 years in the industry in May.
Apple Music's plans to expand reach in India
Apple Music is keen to expand its services, reach as well as visibility in India while facing tough competition from domestic music streaming services like Saavn and Gaana. In September, Apple Music collaborated with Radio City 91.1 FM to offer curated playlists with regional songs. Last year, it partnered with app-based taxi service Ola for providing music inside the cabs.