Malaika is special, but we aren't getting married: Arjun Kapoor
Malaika is special, but we aren't getting married: Arjun Kapoor
Apr 25, 2019, 03:16 pm
4 min read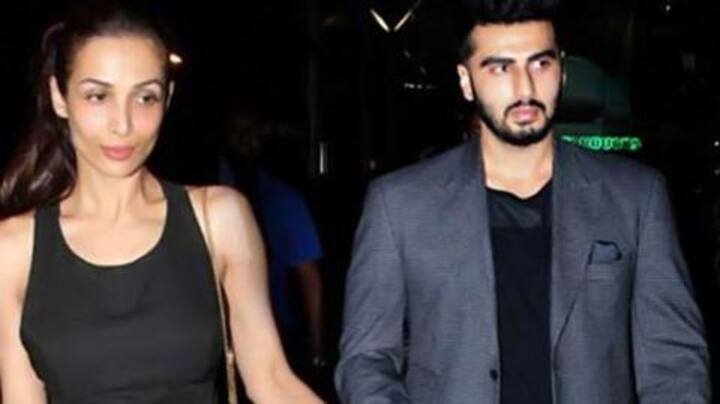 They will get married in a church this April. No no wait, it is in June. Guests list would include stars like Kareena Kapoor Khan and her sister Karisma, and they have already started selecting their dresses. These kinds of reports almost made speculations around Arjun Kapoor-Malaika Arora's wedding sound true. But now the horse (read Arjun) has spoken, and rubbished these rumors.
'Take my word, I'm in no hurry to get married'
While admitting that Malaika is special to him without divulging any further, Arjun said pretty clearly that marriage is not on the cards for him as of now. When asked if he is getting married in June, the actor replied, "No, I am not. I'm 33 and you have to take my word when I say, I'm in no hurry to get married."
When Arjun gatecrashed Malaika's apparent bachelorette party in Maldives
Rumors surrounding the duo started last year when they were seen holding hands in Milan. Since then, they were frequently spotted together on many occasions. Even recently Arjun gatecrashed Malaika's Maldives vacation and pictures of them enjoying their time flooded social media in no time. Notably, the Maldives trip was termed as Malaika's bachelorette party, and apparently had her entire girl gang in attendance.
'Speculation is harmless. But don't like to respond to it'
Now that Arjun has clarified that they will not get married soon, will the speculations stop? A big question indeed. Talking about the same, Arjun said, "Speculation is harmless. But I admit, I don't like to respond to it all the time." "It gets tiring for the people involved to constantly react. There has been so much gossip on this subject," he pointed out.
Have no grudge, people doing their jobs, says Arjun
However, the Gunday actor doesn't hold anything against anyone and acknowledges that everyone is doing their respective jobs. "The media and the paparazzi are doing their job. The people reading the 'gossip' are doing their job. No one is to blame," he emphasized, adding that he also has a job to do: Acting. "I have to be an actor first," he said laughingly.
Arjun currently shooting for 'Panipat,' promoting 'India's Most Wanted'
"Honestly, through all this, the only constant has been that I have been shooting for Panipat," Arjun noted. He further said, "I have been at work every day and I am shooting continuously until May 31, except perhaps for a few days, when I will be promoting, India's Most Wanted." When prodded about marriage, the actor said "Marriage is a big commitment."
'I've no desire to justify my life beyond a point'
"I will do it when I'm ready," the 33-year-old said, while replying diplomatically when asked about Malaika. "I don't have anything to discuss. I have nothing to hide. What the world is seeing, they are seeing. However, I have no desire to justify my personal life beyond a point. It is important to have good people around me and I feel fortunate," he added.
There is no truth to these silly speculations: Malaika
Earlier, Arjun had said that marriage is not something to hide and "when there is something to talk about, you will all know." Even Malaika repeatedly denied these marriage rumors and blamed it on media, saying, "There is no truth to these silly speculations."
I like Arjun this way or that way, said Malaika
The duo has also been careful about expressing their fondness for each other openly. This February, after months of rumors, Malaika just managed to spill, "I like Arjun this way or that way." This happened during Koffee With Karan 6 finale, which had a jury comprising Malaika, Kirron Kher, Vir Das and Mallika Dua, and they were asked to choose the season's best performers.