Sanjay Leela Bhansali to produce film on Balakot airstrike
Sanjay Leela Bhansali to produce film on Balakot airstrike
Dec 13, 2019, 09:27 pm
2 min read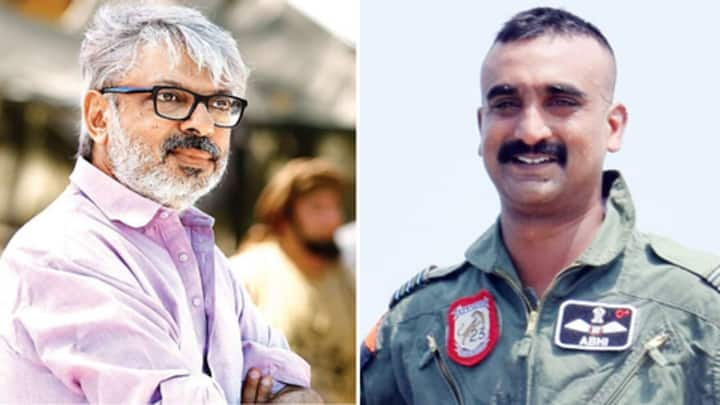 Filmmaker Sanjay Leela Bhansali, in collaboration with T-Series' Bhushan Kumar, will be producing a film based on the Balakot airstrike, that was carried out by the Indian Air Force (IAF) earlier this year. The movie will be written and directed by National Award-winning director Abhishek Kapoor. Previously, Vivek Oberoi had also announced a film revolving around the Balakot airstrike. Here are more details.
Mahaveer Jain and Pragya Kapoor will also co-produce
Bhansali and Kumar will bring the movie, in association with Mahaveer Jain and Abhishek's wife Pragya Kapoor. The film was announced on Friday by Kumar and Bhansali Productions on Twitter. Making the major announcement, Kumar penned, "A story of grit, determination and valour! Proud to announce 2019 Balakot Airstrike, a tribute to the brave hearts of our country."
A story that celebrates accomplishments of the IAF: Bhansali Productions
I'm determined to do justice to this story, said director
Talking about the film, Bhansali said, "It is a story of bravery, patriotism and love for the country." Meanwhile, director Abhishek said, "I remember the emotions that ran through the entire country when the (air)strike was carried out. I am determined to do justice to this story." Notably, Abhishek has previously helmed acclaimed movies like Rock On!!, Kai Po Che, and Kedarnath.
This is the second planned project based on Balakot airstrike
Previously, in August, actor Vivek Oberoi had announced a movie on the same topic, titled Balakot: The True Story. A trilingual film, it will be produced in Tamil, Telugu, and Hindi. The movie will be filmed in Agra, Delhi, and Jammu and Kashmir.
Balakot aistrike was launched by IAF on February 26
The Balakot airstrike was launched by the IAF on February 26. The attack targeted terror camps of Pakistan-based terrorist outfit Jaish-e-Mohammad (JeM) in Balakot region of Pakistan's Khyber Pakhtunkhwa province. The airstrike was carried out in retaliation to a February 14 terror attack by JeM in Pulwama, Jammu and Kashmir, in which 40 CRPF soldiers lost their lives.