'Bigg Boss 13' follows 'Coolie No. 1,' ditches plastic completely
'Bigg Boss 13' follows 'Coolie No. 1,' ditches plastic completely
Sep 25, 2019, 04:01 pm
3 min read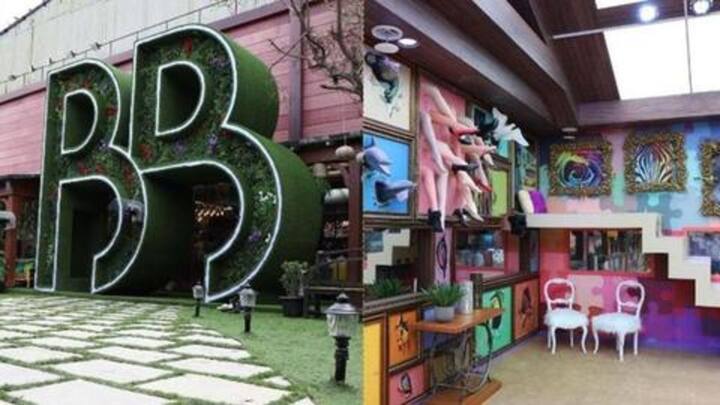 Recently an event was hosted to launch Bigg Boss 13, which saw its host Salman Khan making a striking entry in a metro titled Celebrity Express. He conquered over all with his jigs, and wits, while making several announcements about this edition of the show. One among them is their decision to be eco-friendly, and completely ban the use of plastic on the sets.
Salman makes entry in 'Celebrity Express' or 'Sitara Express'
'Bigg Boss' house made of fiber, different plaster of paris
The controversial reality show, which is set to begin from September 29, will see a set made of "more fiber and different plaster of paris (POP)." Omung Kumar, who has designed its sets, said, "We are reducing the use of plastic, we know it is heavy on the pocket, but we are doing our bit. This is done basically to reduce pollution."
'Coolie No. 1' was Bollywood's first to promote plastic-free initiative
"Plastic and thermocol were easier, simpler, lighter and cheaper but, we need to think about the larger picture. We've used more fiber and different plaster of paris, which is long-lasting," said Kumar, while hoping that "people will follow us." However, Coolie No. 1 makers were the first in Bollywood to promote the plastic-free initiative. They discarded all the plastic, and opted for steel bottles.
Yaha hoga saara drama aur tedhapan, Colors introduces 'BB' house
500-600 workers worked for six months to erect the sets
To note, this time, Bigg Boss has also undergone a venue change from Lonavala to Film City (Goregaon, Mumbai). This has given Kumar a larger space, as Film City is spanned across 18,500 sqft. He revealed that over 500-600 workers worked day in and day out for a stunning six months to erect the sets. Kumar himself finished the flooring over sixty days.
"Welcome to 'Bigg Boss Museum' is this year's theme"
Talking more about the house, he said that it has been themed around what he called a "museum." "This time the set is very young and colorful. While designing it, we created so many colorful installations that we decided to call it a museum. Welcome to Bigg Boss Museum is this year's theme. The participant is also a character of the museum," Kumar said.
Why has the art director kept the 'BB' kitchen sober?
In a conscious decision, he has kept the kitchen sober "so that the contestants can bring color to it." "I know utensils will be broken over there and a lot of tandav is going to happen. Kitchen is the place where their own colors will come out. This way, we play with the minds of the contestants. That is how a reality show works."
But, why isn't Salman happy with 'Bigg Boss' venue change?
Salman, meanwhile, expressed his unhappiness over the venue change. He highlighted that though in kilometers, Film City is nearer to his house (Galaxy Apartments) as compared to Lonavala, but given Mumbai's heavy traffic, "it takes a good two-and-a-half to three hours, sometimes even more." When asked how he'll fare as a Bigg Boss contestant, he said, "For me, it would be a cakewalk."
Salman thinks "Commoner and celebrity" don't have "much difference"
This season will have no commoners, and only have "celebrities, who are very big on television, across various industries," Salman said. He however remarked, "I don't think there is much of a difference between them. Commoner and celebrity are just terms. Everybody is a commoner, everybody is a celebrity. Once they enter the house and you watch them on TV, they become a celebrity."