Latest teen fad: The Charlie Charlie Challenge
Latest teen fad: The Charlie Charlie Challenge
May 27, 2015, 12:14 pm
2 min read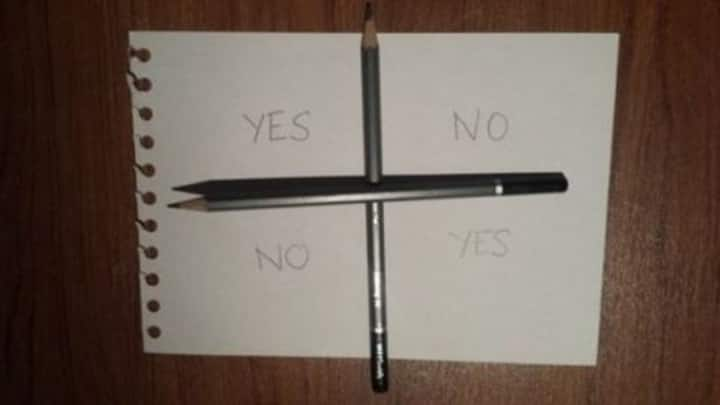 "The Charlie Charlie Challenge" has taken social media by storm. Teens all over the world are playing this game in which they conjure up a demon by saying, "Charlie, Charlie, are you here?" The players place two pencils on a piece of paper in the shape of the cross with the words 'yes' and 'no'. The pencils then move to indicate Charlie's answer.
How did the Charlie Charlie Challenge start?
Twitter user @_kluh was the first one who used the hashtag #CharlieCharlieChallenge. It immediately gained momentum on almost all social media platforms including tumblr, vine, instagram etc. Many social media stars in the US are responsible for increasing the popularity of this Ouija-board like game and making it a bizarre virtual ritual.
Who is Charlie and where is he from?
Many people have claimed Charlie to be a Mexican demon. But BBC has debunked all these Mexican origins by saying that the game has nothing to relate it with Mexican folklore. Maria Elena Naved of BBC Mundo dismissed all these Mexican relations by saying, "Mexican demons are usually American inventions."
Let's play Charlie Charlie!
More than 2 million people have used the hashtag #CharlieCharlieChallenge in 48 hours.
Priest warns teens to stay away from Challenge
Father Stephen McCarthy of St. John Neumann and Mario Goretti Catholic High School in Philadelphia, has warned teens to not indulge in this demonic challenge. He remarked, "The problem with opening yourself up to demonic activity is that it opens a window of possibilities which is not easily closed. Please be sure to NOT participate and encourage others to avoid participation as well."
Eerie aftermath of the Charlie Challenge
People all around the world have reported weird experiences after their encounter with the Mexican demon of the Charlie Challenge. From rattling doorknobs and cracking mirrors to mysterious scratching noises and untimely power cuts, people have had all kinds of weird and spooky experiences to share.