#ComicBytes: The saddest deaths ever in history of DC Comics
#ComicBytes: The saddest deaths ever in history of DC Comics
Written by
Siddharth Tyagi
Jun 28, 2019, 07:01 pm
3 min read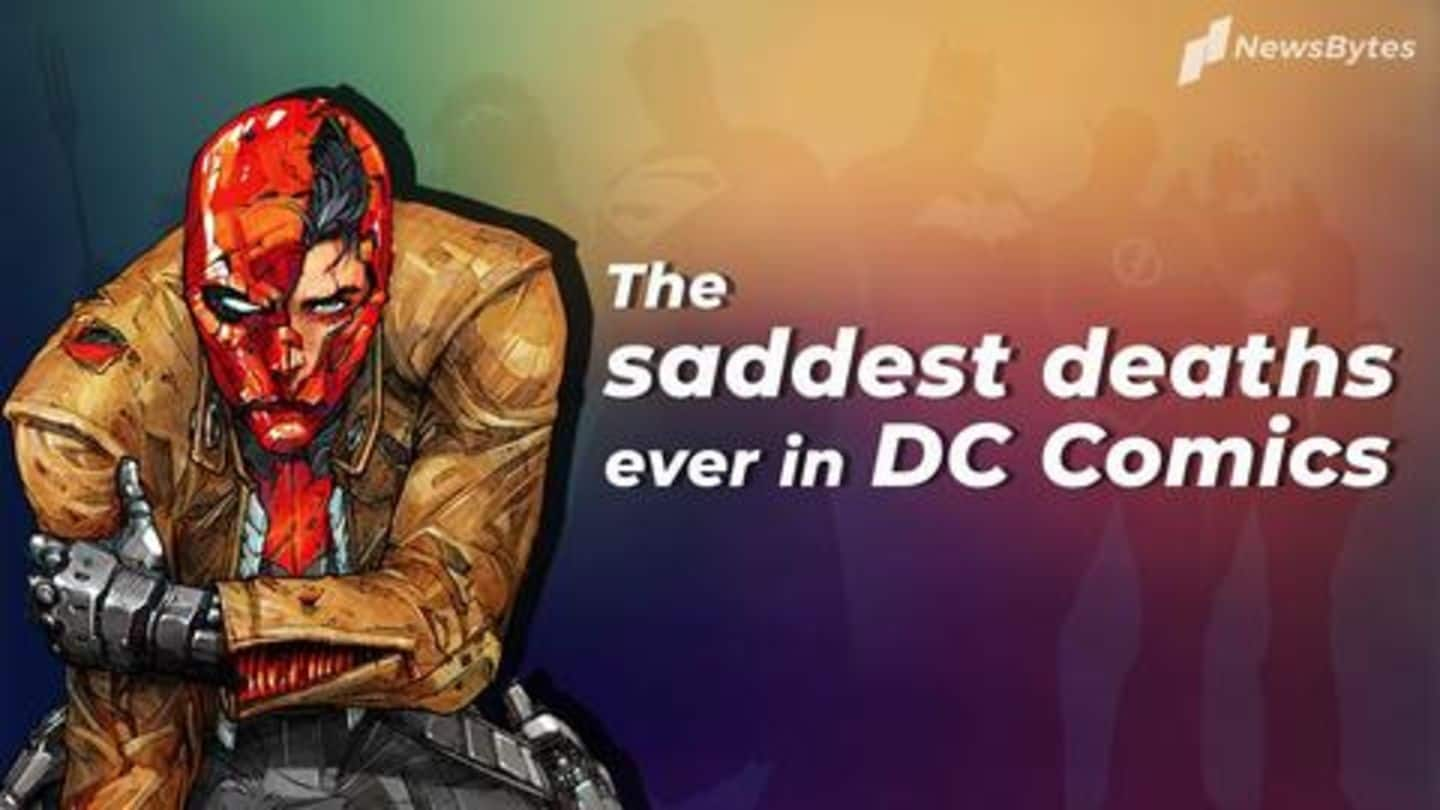 DC Comics are known for some harsh storylines, especially with Batman and The Justice League. While deaths in comic books are seldom permanent, their immediate effects can be hard to cope with. Sometimes when one character dies, other characters undergo a drastic personality change (for example, Jason Todd and Batman). Read on to know five such tragic deaths that greatly affected the DC Universe.
Jason Todd's death changed Batman's entire personality
Jason Todd was the second Robin, taken in by Batman after Dick Grayson assumed the identity of Nightwing. Jason had a sad past and was raised by a truly evil mother who later sold him out to Joker. The clown prince of crime beat him up with a crowbar and left him to die in an explosion. And, Batman's personality took a darker turn.
The disturbing and unexpected death of Superman
The greatest superhero of all time died a heroic death, saving the Earth from Doomsday. The gears were set in motion when the monster Doomsday appeared and wreaked havoc on Metropolis. Superman had to go all out to stop him and in the end, both died after a devastating battle. Superman's death was a huge deal because superhero deaths were largely uncommon back then.
When the villain Black Manta killed Aquaman's infant son
I am pretty sure that when it comes to messed-up deaths, this one tops every chart out there. Black Manta committed the worst possible crime when he killed Arthur Curry Jr. aka Aquababy (Aquaman's infant son) by slowly suffocating him in an air chamber. The shocking event took place way back in 1977. After this, Aquaman's relationship with his family was forever ruined.
Green Lantern's girlfriend got slaughtered, stuffed in a refrigerator
After the first Green Lantern (Alan Scott) retired and the second (Hal Jordan) became a villain, the mantle was passed on to Kyle Rayner. He was a simple guy, quite different from his predecessors. When the villain Major Force slaughtered his girlfriend Alexandra and stuffed her body in a fridge, it changed him and led to a real-world debate on female portrayal in comics.
Barry Allen's sacrifice saved the entire universe
The most beloved Flash was leading a tragic life at one point. His wife was murdered by his arch-enemy, he was facing a trial for the aforementioned arch-enemy's murder, and time travel was messing with the entire DC Universe. And then, by Murphy's Law, Crisis On Infinite Earths happened: Anti-Monitor tried to destroy the universe but Flash intervened and sacrificed himself to save everyone.