This is how Sonam Kapoor met husband Anand Ahuja
This is how Sonam Kapoor met husband Anand Ahuja
Jun 30, 2019, 01:14 pm
3 min read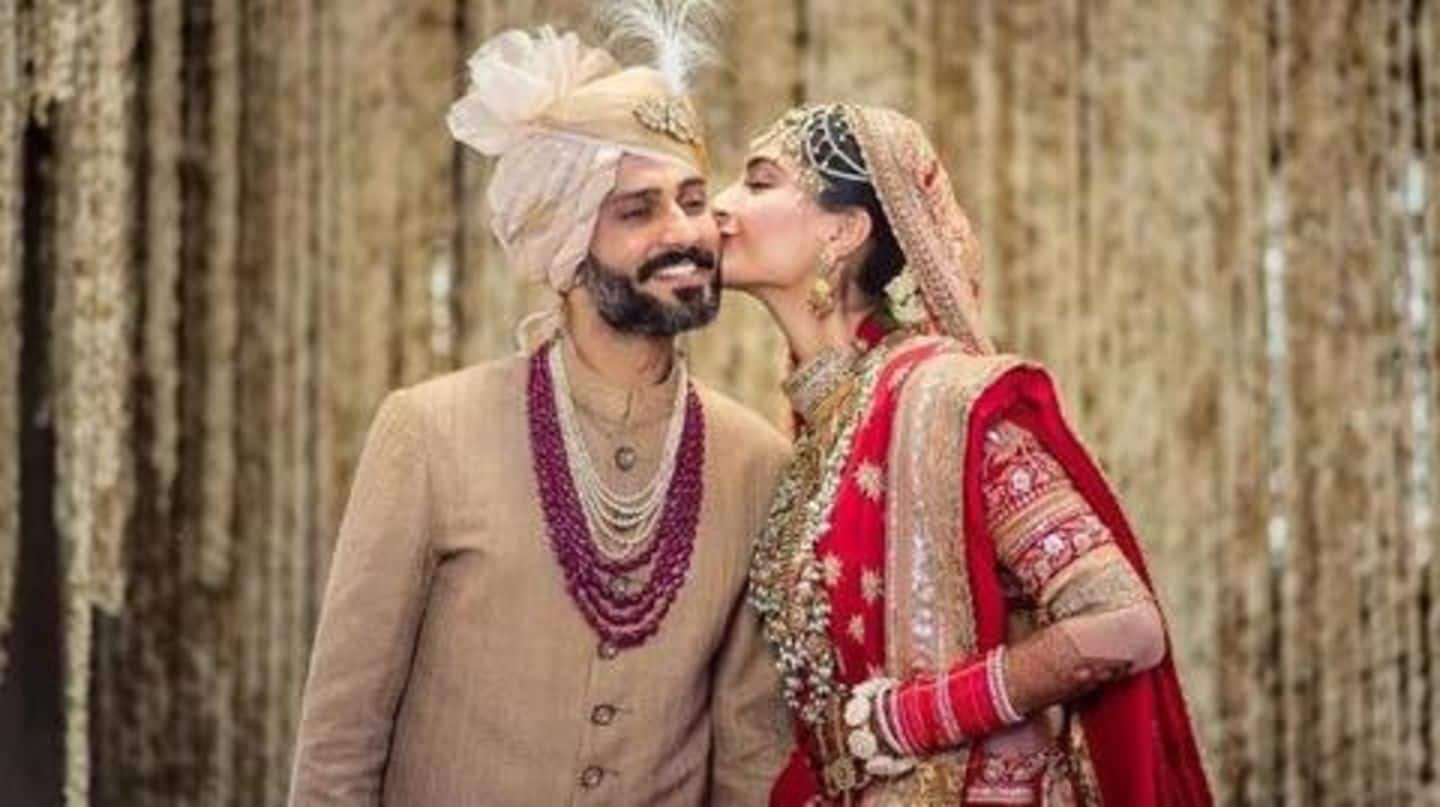 It was a dreamy affair when Bollywood beauty Sonam Kapoor tied the knot with long-time boyfriend Anand Ahuja in a grand ceremony in Mumbai, last year. Looking back, as Sonam recalls, their relationship didn't start the way one would image. As it happened, Sonam's friends were actually trying to set her up with Anand's friend. Here's how it all began.
Sonam was supposed to meet Anand's friend, liked him instead
"One evening my friends conned me into visiting a bar. I went there quite irritated. When I reached there... I saw Anand and his friend. His friend was tall like me, liked reading like me and was a huge fan of Hindi movies," Sonam recalled. "He was an educated and a nice guy. But he reminded me too much of my brother," she quipped.
Interestingly, Sonam ended up talking to Anand the whole time
"Sometimes, people believe that when they have similar interests, they can be together. No one would think of Anand and me together because Anand is totally different," believes Sonam. "I ended up speaking to Anand... the whole evening. Anand was trying to get me to talk to his friend... like being the middle man. But we ended up talking more," she added.
Finally, this is how the power couple sealed the deal
"Then one day, I got a Facebook request from Anand saying, Hey! Are you still single? Because so and so is still single and if you're ever in London, please connect with him." In response, Sonam gave Anand a scolding for messaging her so late in the night. However then, the two started talking on the phone and met again.
Weeks later, this is how Anand stole Sonam's heart
A couple of weeks later when Sonam asked Anand if he still wanted her to talk to his friend, he adorably replied, "No, No! Not at all. Talk to me. I'm keeping you for myself."
Pictures: Sonam-Anand were recently in Japan for their "honeymoon/anniversary/birthday" trip
Separately, Sonam will next be seen in 'The Zoya Factor'
On the work front, Sonam Kapoor will next be seen in The Zoya Factor, a romantic-comedy based on Anuja Chauhan's 2008 novel by the same name. The story revolves around a girl named Zoya Solanki, who becomes a lucky charm for the Indian Cricket team during the 2010 Cricket World Cup. Directed by Abhishek Sharma, the film also stars Dulquer Salmaan in the lead.