'Panga' review: An endearing concoction of sport and family drama
'Panga' review: An endearing concoction of sport and family drama
Jan 24, 2020, 04:18 pm
4 min read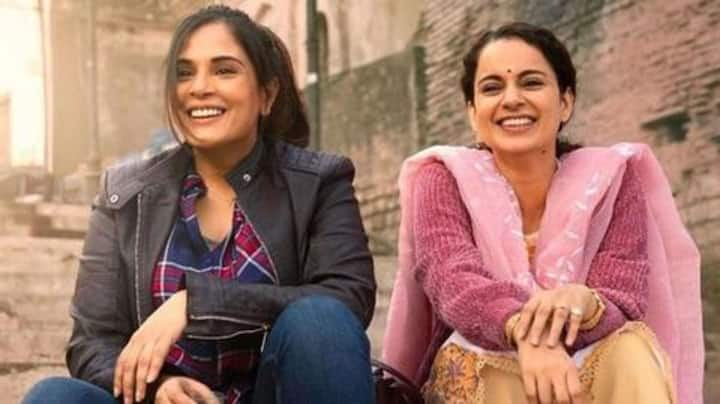 When a woman becomes a mother, a lot changes both inside and outside of her. While many new dreams take shape, many others start losing breath. A similar conflict is sketched out in Ashwiny Iyer Tiwari's (Nil Battey Sannata, Bareilly Ki Barfi) third Hindi film Panga, which turns out to be as amazingly enchanting as her previous outings, if not more. Here's our review.
'Panga' brings to life the story of Jaya Nigam
Staying true to her knack of filming stories that are equal parts entertaining and meaningful, Tiwari's latest film brings to us the story of Jaya Nigam (Kangana Ranaut). A mother, a wife, and a daughter, Jaya does everything that these identities demand her to do - cooking for her family, helping her son with his homework, taking care of his medicines, and...a lot more.
Former national-level Kabaddi player, Jaya had to forgo her dreams
But the conflict here is that these weren't the only things Jaya could have done. Jaya, who works as a railway employee, an "aam karamchaari", as her boss tells her, was back in her time a national-level Kabaddi player, who had to let go of her dreams following an unexpected pregnancy. Jaya is married to Prashant (Jassie Gill), and has a son named Adi.
Soon, we meet the younger Jaya, the fierce Kabaddi champion
We are introduced to the younger Jaya, the same warm-hearted woman but an equally fierce sportsperson, after she misses her son Adi's (a brilliant performance by Yagya Bhasin) sports meet at school, due to her mundane day job and her unsympathetic boss. Adi is upset, but that only makes Prashant bring to his notice all the sacrifices Jaya made for the two of them.
Kangana gives out a heartfelt performance, Jassie not so much
As Jaya, Kangana gives out a heartfelt performance. She's so good playing her character that it seems her eyes are doing the talking- there is a sense of shyness in them as she first meets Prashant, and a blazing glow whenever she is on the Kabaddi mat. On the other hand, Jassie, with his fluctuating Hindi and rather indifferent expressions, is disappointingly mediocre.
Jaya makes an unlikely comeback to the sport
In spite of all her challenges, one thing that favors Jaya throughout the film is perennial support from her family. It is her family, more so her son Adi who motivates her to make a comeback, at 32, which Jaya's mother (the fantastic Neena Gupta) asserts is the time for players to retire. "Toh kya 32 me comeback nahi hota," Adi asks his father.
Richa Chadha as Jaya's best pal is delightful
Another pillar of support that Jaya is blessed with is her friend and former Kabaddi teammate Meenu (Richa Chadha), who also doubles up as her personal coach upon her return to the sport. Richa as the tomboy-ish and bold Meenu is a delight to watch. Some of the best moments of the film are reserved for when Jaya and Meenu share the same frame.
A family coming together for a long-lost dream
Panga is a beautiful and emotionally wrenching story of a family coming together for a long-lost dream. In a Queen-esque moment, Kangana utters, "Meri life me kuch normal kyu nahi ho sakta," as her family pushes her to go back to achieving her dream. She soon shifts to Kolkata to prepare for national team selection, as Prashant and Adi struggle to manage without her.
A beautiful blend of sports drama and family drama genres
Through Panga, Tiwari manages to craft an unforgettable cinematic concoction of the sports and the family drama genre, in a way that is both emotionally satisfying and aptly entertaining. The only other time this was successfully done in a mainstream Bollywood film in recent years was, interestingly, by Tiwari's husband Nitesh in his 2016 film Dangal. We go with 4 out of 5 stars.