'Judgementall Hai Kya' review: Quirky tale backed by powerful performances
'Judgementall Hai Kya' review: Quirky tale backed by powerful performances
Jul 26, 2019, 07:34 pm
3 min read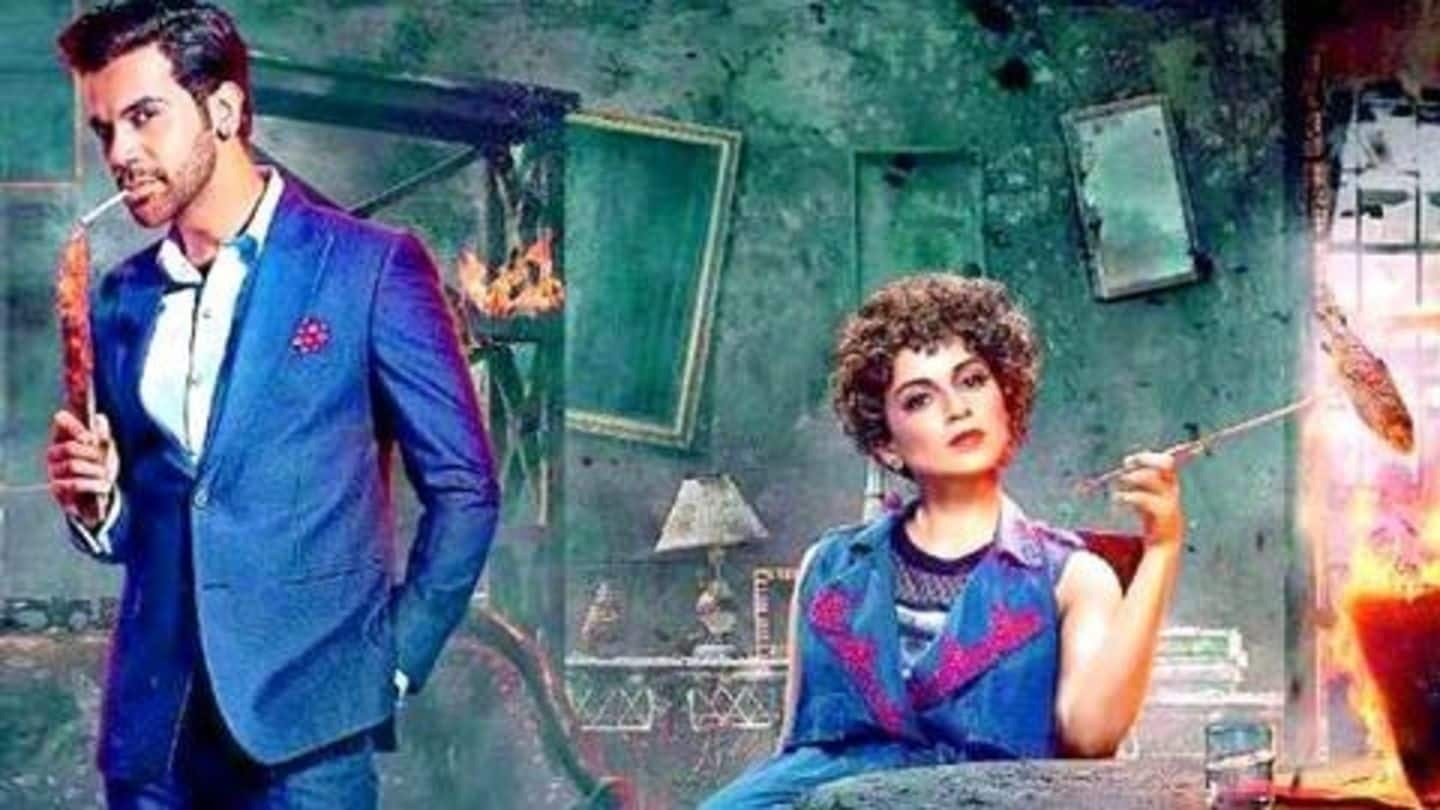 Braving to tread the road not taken is one thing, but to prove yourself right by triumphing along the path deserves a tip of the hat. This is what director Prakash Kovelamudi's dark-comedy film, Judgementall Hai Kya has achieved. Written by Kanika Dhillon and produced by Ekta Kapoor, this quirky tale starring Rajkummar Rao and Kangana Ranaut deserves all the praise. Here's our review.
A mentally unfit girl welcomes new neighbors
To begin with, we are greeted by Bobby Batliwala (Kangana), a young, mentally challenged girl, disturbed by a traumatizing event from her childhood that killed both her parents. Her constant babel and hysteria is evident in a peculiar relationship with her henpecked boyfriend, her terror of cockroaches, among other things. But things go really out of line when she welcomes a couple as neighbors.
Bobby's antics make it a wacky and fun experience
A series of odd events happen after Bobby reluctantly agrees to host a new couple, Keshav and Reema, as their landlady. But her life starts to lose grip when she becomes overtly obsessive about the charming Keshav (Rajkummar). Bobby's antics and this (unhealthy) obsession make this film a wacky experience, which is equal parts engaging and hilarious.
A tragic accident sets into action a mayhem of events
In the middle, Reema, Keshav's wife dies of a tragic accident, which sets into action a mayhem of speculations and events, wherein Bobby (convinced that Keshav is the culprit), desperately tries to put him behind bars, while the man struggles to prove his innocence. Although, in the second half, the process does feel dragged and absurd in parts, it still gets the job done.
The most impressive part about the film is its writing
Probably, what works best for this outstandingly outlandish film, which is clearly atypical of the usual Bollywood drama (shoddy biopics, toxic messages, nonsensical crowd pullers), is its courageous and tight writing. Kanika Dhillon (Manmarziyaan) has done a fabulous job, by bringing such difficult characters alive so convincingly and pulling off an offbeat script with great ease. Take a bow, girl!
Kangana and Rajkummar skilfully direct this film toward success
Kangana as Bobby, a young girl suffering from acute psychosis is all over the place. You will laugh with her, get charmed by her, and at times, even feel for her. It is undeniably one of her best performances till date. On the other hand, Rajkummar as the mysterious and charming Keshav is super confident and compelling as always. What talent!
Many fine actors lend a supporting hand
Judgementall Hai Kya has of a host of other fine actors, who lend a supporting hand to the film. The pack includes Amyra Dastur (as Reema), Amrita Puri, Brijendra Kala, Satish Kaushik, and Hussain Dalal, among others.
Final verdict: 'Judgmentall Hai Kya' is a must watch
If you have been craving a break from regular Bollywood offerings, this finely written and amazingly enacted film should be your next outing. An experimental idea, far out storytelling, and brilliant performances from all the actors make this film a must watch. In short, Judgementall Hai Kya comes off as a refreshing shift from the exhausting Bollywood brand of mediocrity. Final verdict: 3.5/5 stars.