'The Sky Is Pink' review: High on emotions, lacks entertainment
'The Sky Is Pink' review: High on emotions, lacks entertainment
Oct 11, 2019, 06:59 pm
4 min read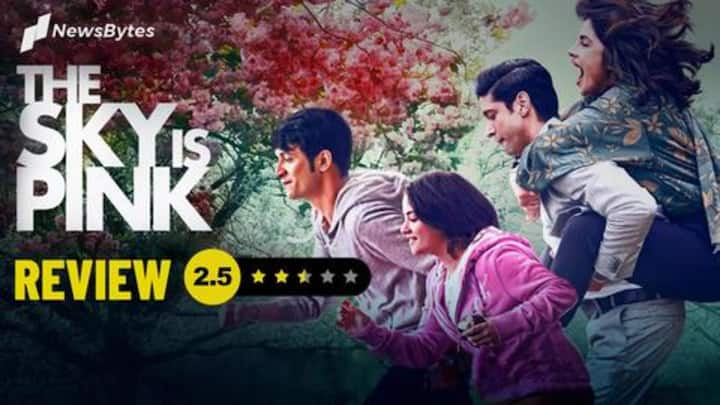 Life, it's unfair. But I believe that's mainly because it lacks a script. And since that's not the case with films - they should be fair, both to the story and to the audiences. Well, this isn't unfortunately the case with The Sky Is Pink, directed by Shonali Bose (Margarita with a Straw) and starring Priyanka Chopra and Farhan Akhtar. Here's our review.
'The Sky Is Pink' draws inspiration from Aisha Chaudhary's life
The Sky Is Pink is based on the life of Aisha Chaudhary, a Delhi-based motivational speaker and author (My Little Epiphanies), who died at 18 due to pulmonary fibrosis, a respiratory disease that causes scars in lung tissues, thereby leading to serious breathing problems.
It has Old Delhi, a couple, and an unplanned pregnancy
The Sky Is Pink spans more than two decades in the life of a indivisible couple - Niren Chaudhary/Panda (Farhan) and Aditi Chaudhary/Moose (Priyanka). The story is narrated by their deceased daughter, and the hero of the film, Aisha (played by the flawless Zaira Wasim). It begins in a humble Old Delhi-based joint family, when the reluctant couple is greeted by their third pregnancy.
Aisha is born, but with a rare medical condition
No points for guessing - the couple eventually decides to take the plunge and so Aisha is born, but not in the way any parent would like to invite their child. She, like her elder sister who couldn't survive either, takes birth with a rare genetic disorder called the Severe combined immunodeficiency (SCID) - Baad mein google kar lena, a carefree Aisha instructs us.
Aisha connects a chord, but eventually meets the end
The family, desperate to get Aisha rid of her sickness, shifts to London for her treatment. However, they do return, years later, but their dear daughter contracts the dreadful pulmonary fibrosis. As a result, we see Aisha walking around with movable oxygen supplies for the remaining length of the film. After connecting a chord with everyone around (including the audience), Aisha ultimately greets death.
'The Sky..' celebrates Aisha; Zaira is a treat to watch
In spite of all her challenges, Aisha is spunky and nonchalant. The character breathes life in this film, not as much as was needed though. And the amazing Zaira (Dangal) lends such freshness and grace to the character - that the retired actress is beyond blame here. One is left wishing that there was more of her to come in the future.
The film touches you in parts, but that's not enough
Perhaps, what works best for this film, that promised so much before it actually hit the screens, is that it does touch you in pieces. Some moments involving the dying protagonist and the way she bonds with her family are surely special. But the emotions feel overdone and at times, even imposed, leaving little room for entertainment (yes, everyone needs a bit of it).
And then, it's pretty long and boring
Since it's so heavy on emotions, and offers little fun to the viewer, the process feels boring and a bit too lengthy. To be honest, I felt pretty sleepy by the time the film was cut for intermission. However, one thing that's quite enjoyable is the ardent chemistry between Priyanka and Farhan. The duo has previously worked together in Dil Dhadakne Do (2015).
Priyanka and Farhan in fine form; Rohit Saraf is impactful
Talking of Priyanka and Farhan, it can be safely said that both of them have matured over the course of their filmography, which is very much evident in this one. Priyanka does the heavy lifting as Aisha's benign mother, while Farhan plays the father everyone secretly wishes for. Rohit Saraf as Aisha's elder brother is effective, despite having a short screen time.
'The Sky..' is an exhausting attempt at gaining sympathy
Perhaps because it tries so hard to make you cry, The Sky Is Pink forgets about every other aspect, and eventually comes off as an exhausting attempt at gaining sympathy. At one point, our protagonist utters 13 saal baad bhi hamari life slow motion me hi chal rahi thi - somehow, I felt the same about the film as well. Final verdict: 2.5/5 stars.