'Runway 34' teaser promises tight aviation thriller with haunting music
'Runway 34' teaser promises tight aviation thriller with haunting music
Written by
Shreya Mukherjee
Mar 15, 2022, 12:47 pm
2 min read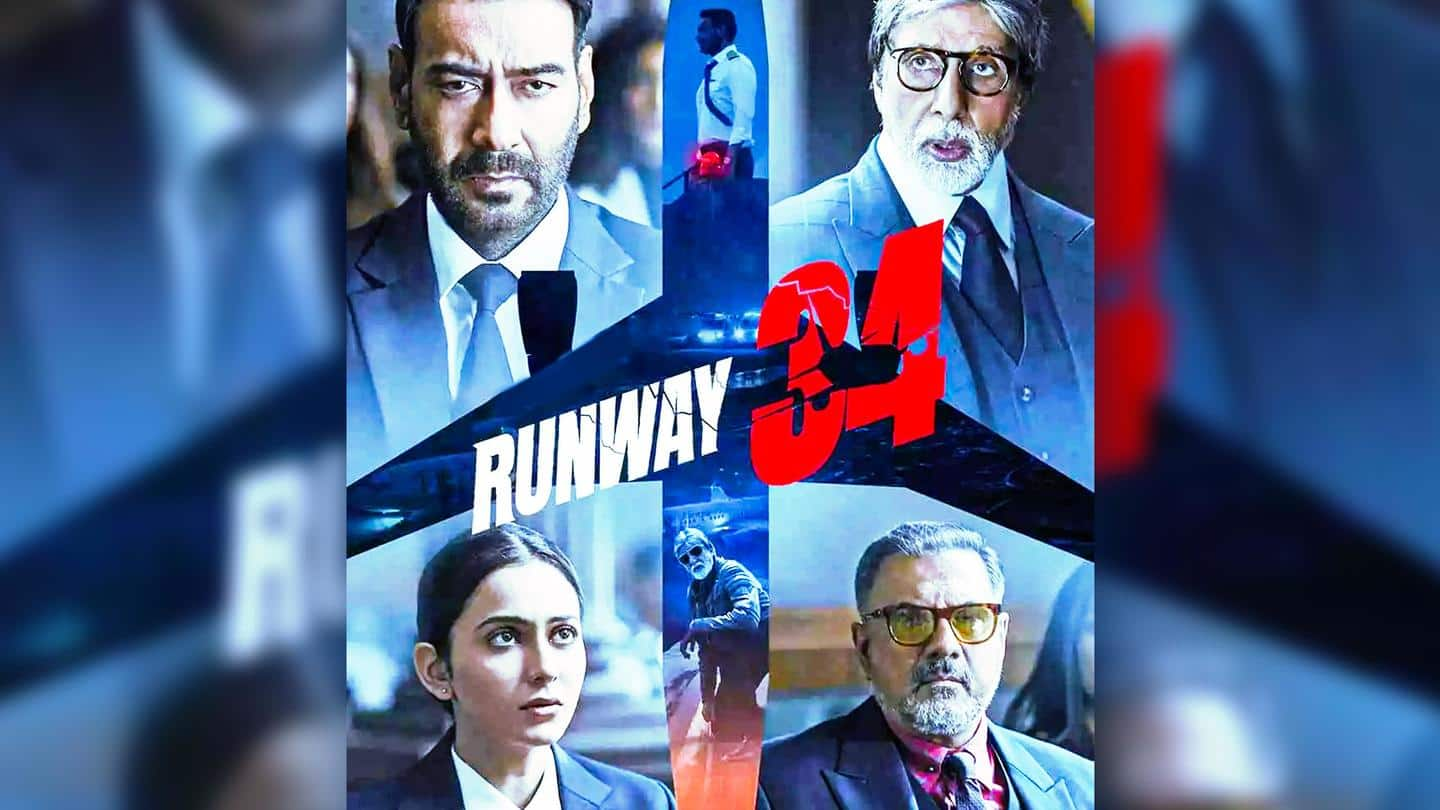 As promised, director and producer Ajay Devgn dropped the teaser for his upcoming thriller drama and third directorial Runway 34 on Tuesday. Makers dive us right into the middle of a tense situation in the short clip and we are promised high-octane thrilling elements. Alongside lead star Devgn, Rakul Preet Singh and Amitabh Bachchan also get featured in the teaser. Here's a breakdown.
The around-50-second-long clip opens with the shot of an airplane struggling to maintain buoyancy in a thunderous sky. Cut to inside the cockpit, we see a tense Singh as someone from the control room says it's raining heavily, there's poor visibility, and that's it's "impossible to land here." The camera moves to capture her co-pilot Devgn, who says: "We didn't get any such information."
Will we uncover a sabotage story here?
Devgn's dialog paired with haunting music suggests there has been some miscommunication that led to this dangerous situation. Then Big B, donning a sophisticated look, shows up in the teaser, saying: "The law of gravity: a thing will fall with the same speed with which it went up." His lines sound ominous. So is he playing the antagonist who somehow sabotages the plane's flight?
Mark your calendars, full trailer is dropping on March 21
As we know, the story is based on a 2015 incident where a Doha-Kochi flight avoided a mishap caused by poor visibility. Alongside Devgn, Singh, and Bachchan, Boman Irani has a prominent role as he also made it to the new poster revealed on Monday. The teaser gave us one more update: The trailer for the Devgn-directorial will be out on March 21.
Meanwhile, no promotional material yet for its competitor, 'Heropanti 2'
Runway 34 will be hitting big screens on April 29, targeting Eid. On the same day, Tiger Shroff's much-anticipated action flick Heropanti 2 is also premiering. And contrary to Runway 34, no promotional clip for the Ahmed Khan directorial is out yet. Last update came in February and it was a poster featuring Shroff and Tara Sutaria. Heropanti 2 is backed by Sajid Nadiadwala.
'Heropanti 2' is still booked to be April 29 release