Salman roars as Chulbul Pandey in 'Dabangg 3' motion poster
Salman roars as Chulbul Pandey in 'Dabangg 3' motion poster
Sep 12, 2019, 04:10 pm
3 min read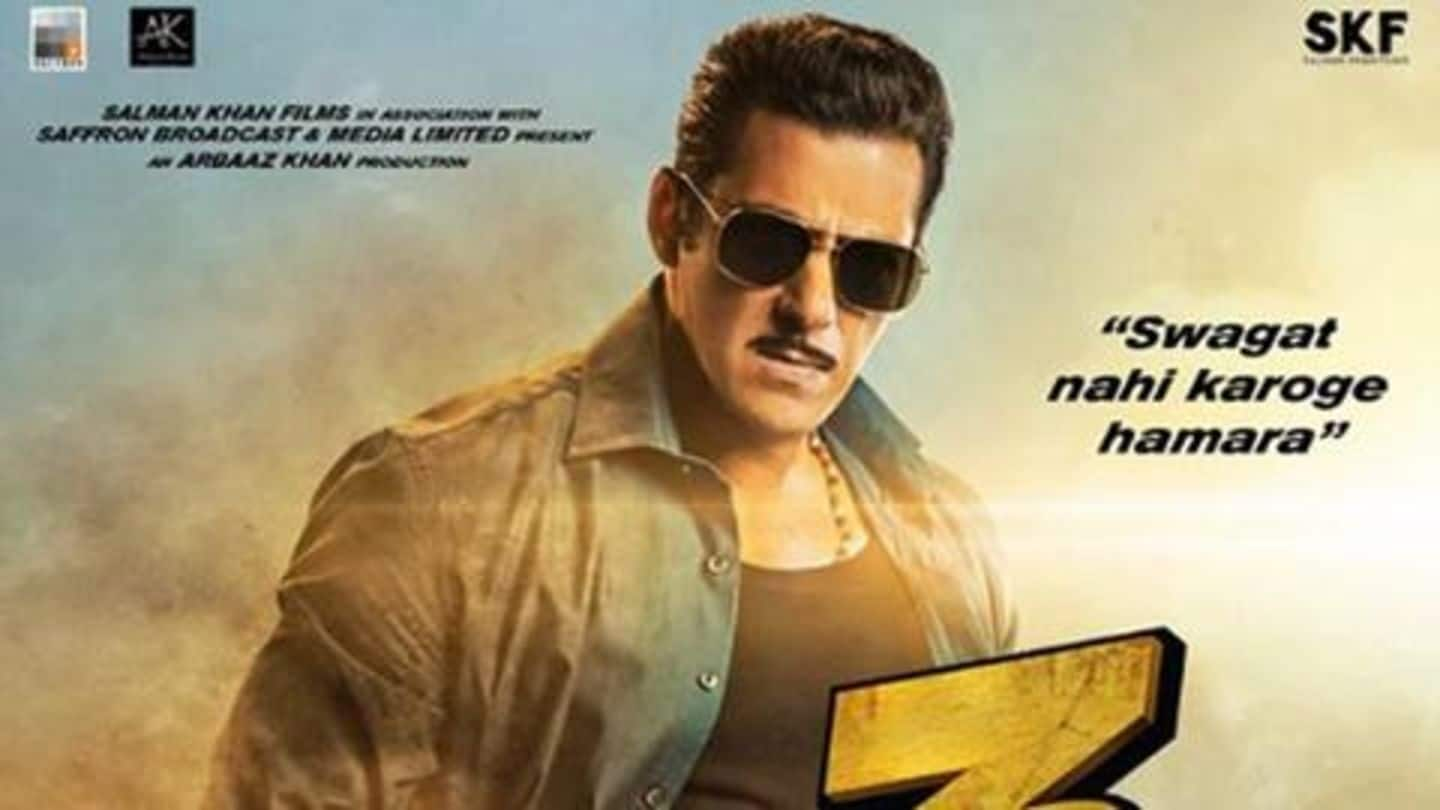 Salman Khan's Dabangg 3 is all set to hit theaters in less than 100 days. As usual excitement surrounding the film is contagious, and to further it, the makers recently unveiled its first motion poster. Notably, the poster was released in four languages: Hindi, Tamil, Telugu and Kannada, as it marked the return of the superstar as police officer Chulbul Pandey, with a swag.
Swagat toh karo humara, says Chulbul Pandey
In the Hindi motion poster, Salman is seen walking on top of a muddy glass platform, as the camera pans underneath him. Wearing a dark-colored shirt, denim pants, and the trademark Chulbul Pandey moustache, Salman is seen sporting a fierce expression, as he kicks out petty things. The video has him saying "Swagat toh karo humara" with Hud hud Dabangg playing in the background.
"Aa Rahe Hain! Chulbul Robinhood Pandey. Theek 100 din baad"
For every language, the motion posters have different one-liners
As mentioned earlier, the motion poster was also released in the other three languages (Tamil, Telugu and Kannada), and for each of them, Salman has dubbed himself. Also, for each of the motion posters, the team came up with different one-liners. For instance, in Tamil, Salman says, "Jallikattu kaalai ready," while in Telugu, he says "Aatakaina... vetakkaina...ready (Ready to dance and hunt)."
Salman to soon shoot an exciting climax for 'Dabangg 3'
On a related note, Salman will soon be shooting an exciting, action-packed climax for the movie. In fact, he also underwent rigorous training for the shirtless fight opposite antagonist Kiccha Sudeep. Reportedly, the climax will feature some freehand fight combat scenes, which will be shot next week. The 53-year-old actor had to alter his workout regime to maintain his flexibility in those scenes.
'Dabangg 3' to show how Chulbul became present-day Robin Hood
Dabangg 3 will also have two parallel tracks focusing on the past and present lives of Chulbul. For the sequences that require Salman to look younger, he has been training relentlessly for over six months to get that perfect shape. "Ever since the film's shoot started, he started working on his physique, and added multiple tough exercises in his routine," a source had stated.
Sonakshi, Arbaaz to reprise their roles in the third installment
Talking about the cast, the third installment of the Dabangg franchise will also star Sonakshi Sinha and Arbaaz Khan. They will be reprising their respective roles of Rajjo and Makkhi. However, Vinod Khanna, who passed away in April 2017 due to bladder cancer, will be replaced by his younger brother Pramod. Pramod will essay the role of Chulbul's father, Prajapati Pandey, in Dabangg 3.
'Dabangg 3' is Prabhu Deva's second collaboration with Salman
Dabangg 3 will be helmed by Prabhu Deva and will mark his second collaboration with Salman. The actor-director duo had earlier collaborated for 2009 release Wanted, which was a box office hit. Dabangg 3 is slated to hit the theatres on December 20 this year.