Feeling low and depressed? Watch these seven inspirational films
Feeling low and depressed? Watch these seven inspirational films
Written by
Pallabi C Samal
Sep 17, 2019, 03:51 pm
3 min read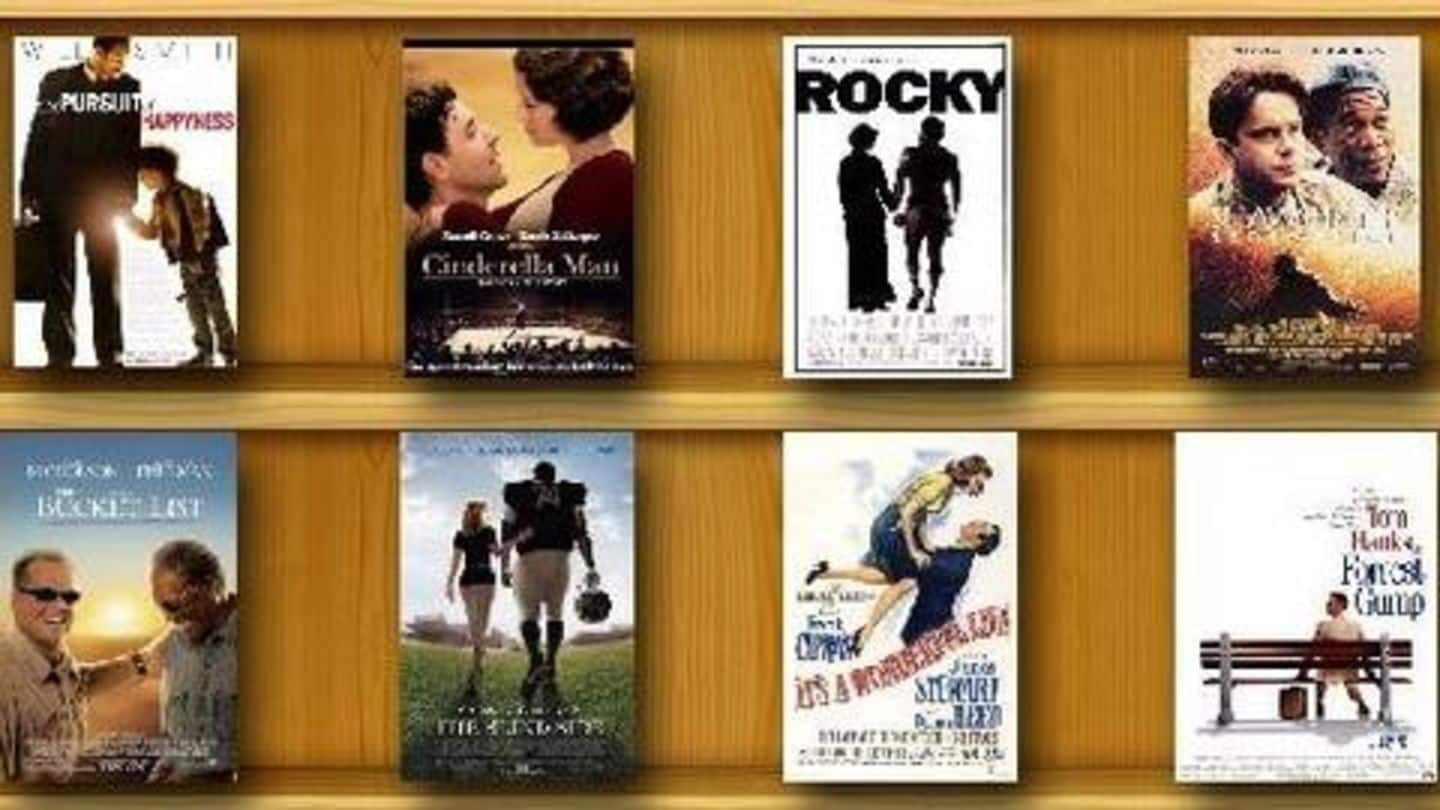 Films are there to entertain us, plant thoughts in our minds, and also to inspire. There are several flicks that focus on how an underdog or a loser (in societal terms) finds his/her calling, and then sets foot towards achieving it. So, here are seven best inspirational movies that will push you towards that one goal, after which life would seem fulfilled.
'The Pursuit of Happyness': All about a beautiful father-son bond
"You got a dream... You gotta protect it," is one of the sharpest dialogs that defines The Pursuit of Happyness. The film shows how a father struggles to give his son a good future despite having no home and financial stability. The 2006 autobiographical drama that earned Will Smith his second Oscar nomination will move you emotionally, making you reach out for tissues.
'The Shawshank Redemption' gives new direction to life and hope
When you type "Best Inspirational Films" on Google, The Shawshank Redemption will be among the first ones. The 1994 release shows how a friendship between two prison inmates, Andy Dufresne (Tim Robbins) and Ellis "Red" Redding (Morgan Freeman), gives a new meaning to life and hope to them. Though it failed miserably at the box office, over the time, it gained a cult following.
Ignore its bad reviews, watch 'Eat Pray Love' nonetheless
Ignore the bad rating this Julia Roberts headlined film has garnered on IMDb (5.8) and Rotten Tomatoes (5.16). Watch Eat Pray Love for the sheer brilliant message it tries to give: How willing to push one's envelope and limit opens up new horizons of life, love and optimism. A biographical romantic drama, this flick is based on author Elizabeth Gilbert's book by same name.
'Slumdog Millionaire' shows us the strength of love
Another novel adaptation, Slumdog Millionaire makes us realize the strength love gives. A British-Indian Oscar winner, this Danny Boyle directorial chronicles the life of Jamal Malik, an 18-year-old slum dweller from Juhu, Mumbai, who is on the hot seat of Kaun Banega Crorepati. Jamal is in search of Latika, his childhood love, whom he gets united with after he answers the last KBC question.
'The Karate Kid': Be confident, overcome your fears, emerge victorious
The Karate Kid shows us how one needs to be confident in oneself to conquer over his/her fears, and emerge victorious. This Jaden Smith-Jackie Chan starrer also showcases that kung fu can be taught in two different ways: One through love, benevolence with the necessary aggression, and another through brash moves and brutality. While Jaden plays the pupil, Jackie plays Mr. Han, his coach.
Ang Lee's 'Life of Pi' isn't just a survival drama
Life of Pi wasn't just a survival drama. It also tries to impart important life lessons. The animals involved in the 2012 film- zebra, hyena, orangutan, and tiger- have their own symbolism, which we realize as the plot unfolds. For example, the zebra represents the sailor, the hyena is the cook, the orangutan is Pi's mother, and the tiger, Richard Parker, is actually Pi.
'Forrest Gump': Do not let anything interfere with your happiness
An enormous success at the box office, Forrest Gump has been described as being "culturally, historically, or aesthetically significant." Though open to interpretations, this Tom Hanks starrer sure taught us how to find your power, and not let anything interfere with your happiness. This optimism from Hanks' character was unexpected, as he had low IQ, and was bullied for his physical disorder.