The awe-inspiring real-life story of 'Soorma' Sandeep Singh
The awe-inspiring real-life story of 'Soorma' Sandeep Singh
Written by
Mudit Bhatnagar
Jul 01, 2018, 09:35 pm
2 min read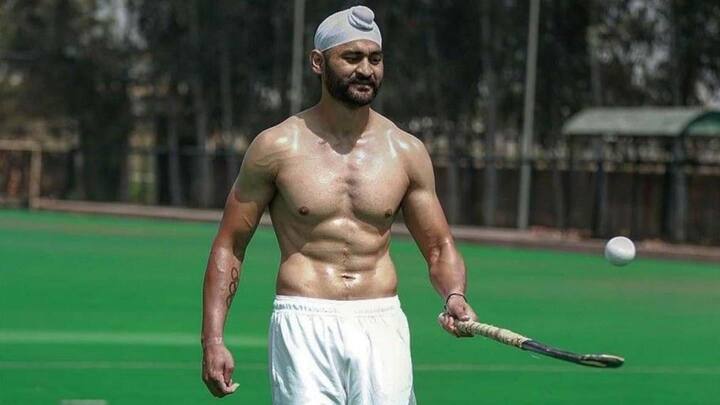 Diljit Dosanjh starrer 'Soorma' is set to bring to the fore an incredible tale of determination, courage, and perseverance. Based on the life of Indian hockey legend Sandeep Singh, the film traces his "greatest comeback story" that teaches us to never give up on our dreams. Here is an account of the major events of his life.
A penalty corner specialist, Sandeep made his debut in 2004
People say that 'not all heroes wear capes', it's true, some hold a hockey stick in their hands. Hailing from Shahabad town in Kurukshetra, Sandeep first represented India in 2004 in the Sultan Azlan Shah Cup in Malaysia. In the same year, he helped India to lift the Asia Cup and announced his arrival in style.
He came to be known as 'Flicker Singh'
Sandeep was regarded as one of the most dangerous drag-flickers in his heydays. He could drag flick at the speed of 145km/h, which is said to be the highest in the world. Therefore, he was given the name 'Flicker Singh'.
Sandeep met with a life-threatening accident
On August 22, 2006, a tragedy struck and Sandeep's hockey career seemed on the verge of an unforeseen end. He was accidentally shot inside the Delhi-Kalka Shatabdi Express while traveling to New Delhi to join the national team for the World Cup in Germany. The bullet had fractured his lower rib and punctured his pancreas.
He defied all odds with his sheer determination
After being wheelchair-bound for two years, Sandeep fought against all odds and got back on his feet again. He made a heroic comeback in the national team in 2008 and was made the captain of the Indian hockey team the very next year. It was under his captaincy that India won the 2009 Sultan Azlan Shah Cup and qualified for the 2012 Olympics.
Sandeep is currently a DSP in the Haryana Police
Sandeep played his last game for India in 2014 and is currently a DSP in the Haryana Police. However, his passion for hockey is intact as he now aims to mentor the aspiring players who want to master the art of drag-flicking.