In filmy video, SRK teaches us how to fight coronavirus
In filmy video, SRK teaches us how to fight coronavirus
Mar 23, 2020, 04:51 pm
3 min read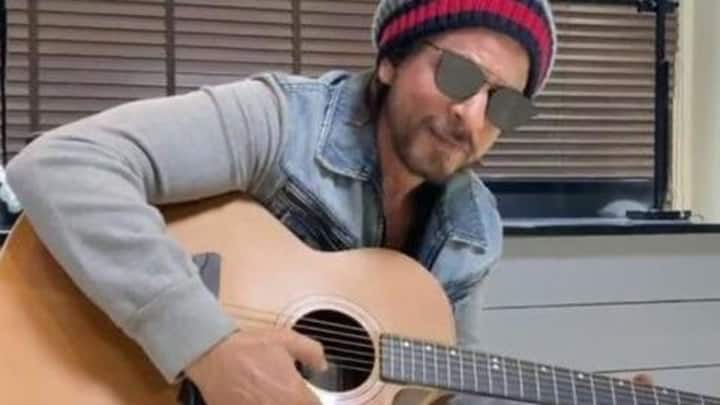 As it turns out, Shah Rukh Khan's films had numerous messages promoting social distancing and good hygiene all along, two things the world needs the most right now. Taking out time from his own quarantine period (and perhaps his guitar lessons), the entertainer in SRK rose to the occasion to bring us a super cool and filmy video, spreading awareness about the deadly COVID-19.
SRK shared the video on Sunday, amid Janata Curfew
On Sunday, as India observed a 14-hour self-imposed lockdown, SRK shared a rather long (but thoroughly entertaining) clip on Twitter to spread awareness about the symptoms of coronavirus and the precautionary measures that we must take against it. Donning a Bob Marley-ish cap, SRK looked dapper as he informed fans about the coronavirus myths, symptoms and precautions, while being his usual witty self throughout.
Coronavirus is taking over our minds and hearts, SRK said
Starting off the video, SRK hints that he has picked up a new hobby as he reaches for a guitar and then clumsily drops it (on purpose, obviously). "Coronavirus is taking over our minds, hearts and bodies of course," he admits. He then looks to "re-iterate the basics" about the virus and its spread, using clips from some of his own iconic movies.
Not 'loveria kind' of fever, Khan warns while explaining symptoms
Listing symptoms of the disease, Khan informs they are: 1) Fever (but he's quick to point that he isn't referring to "loveria kind" of fever that he suffers from in the iconic Raju Ban Gaya Gentleman song, but an actual one, which he explains using a clip from Kal Ho Naa Ho. 2) Fatigue. 3) Sore throat, which he describes using a scene from Chennai Express.
Avoid large groups, self-quarantine, and reduce touching, said SRK
Thereafter, talking about the precautionary measures, SRK advises fans to: 1) Avoid large groups, an advice that his character admittedly never followed in Raees. 2) Self-quarantine at home, which he explains using a clip where his dwarf character Bauaa Singh is sitting in the corner of an empty room. 3) Go easy on touching oneself and the others, "no matter how beautiful you are".
Dodge coughing, the 'Main Hoon Na' way, suggested SRK
Also, referencing to the Chaiyya Chaiyya song where he danced atop a moving train (literally), SRK advised fans to avoid public transport. He also urged viewers to regularly wash hands, but without wasting water. And, SRK suggested fans to dodge sneezing/coughing from people around, quite like his character Ram would do to save himself from the notorious Professor Rasai's coughing in Main Hoon Na.
'Inshallah, we shall overcome this'
Toward the end of video, SRK advises viewers to wear a mask, but only if they're infected or showing symptoms of the virus. However, he cautioned fans to avoid the kind of masks he donned in movies like Baazigar. "Inshallah, we shall overcome this," he says before again picking up the guitar to play Deep Purple's Smoke on the Water (he's actually learning it!)
InshaAllah #JantaCurfew will help against the spread of virus, though we may have to do this again. The clapping brought so much cheer. So a reminder of safeguards, with some cheer... Pls take it in the right spirit. To all relentlessly working today - Extremely Grateful. Thx! pic.twitter.com/2wfaXPlFVF

— Shah Rukh Khan (@iamsrk) March 22, 2020