When 'National Jiju' Nick upset Priyanka by not kissing her
When 'National Jiju' Nick upset Priyanka by not kissing her
Nov 30, 2018, 01:12 pm
3 min read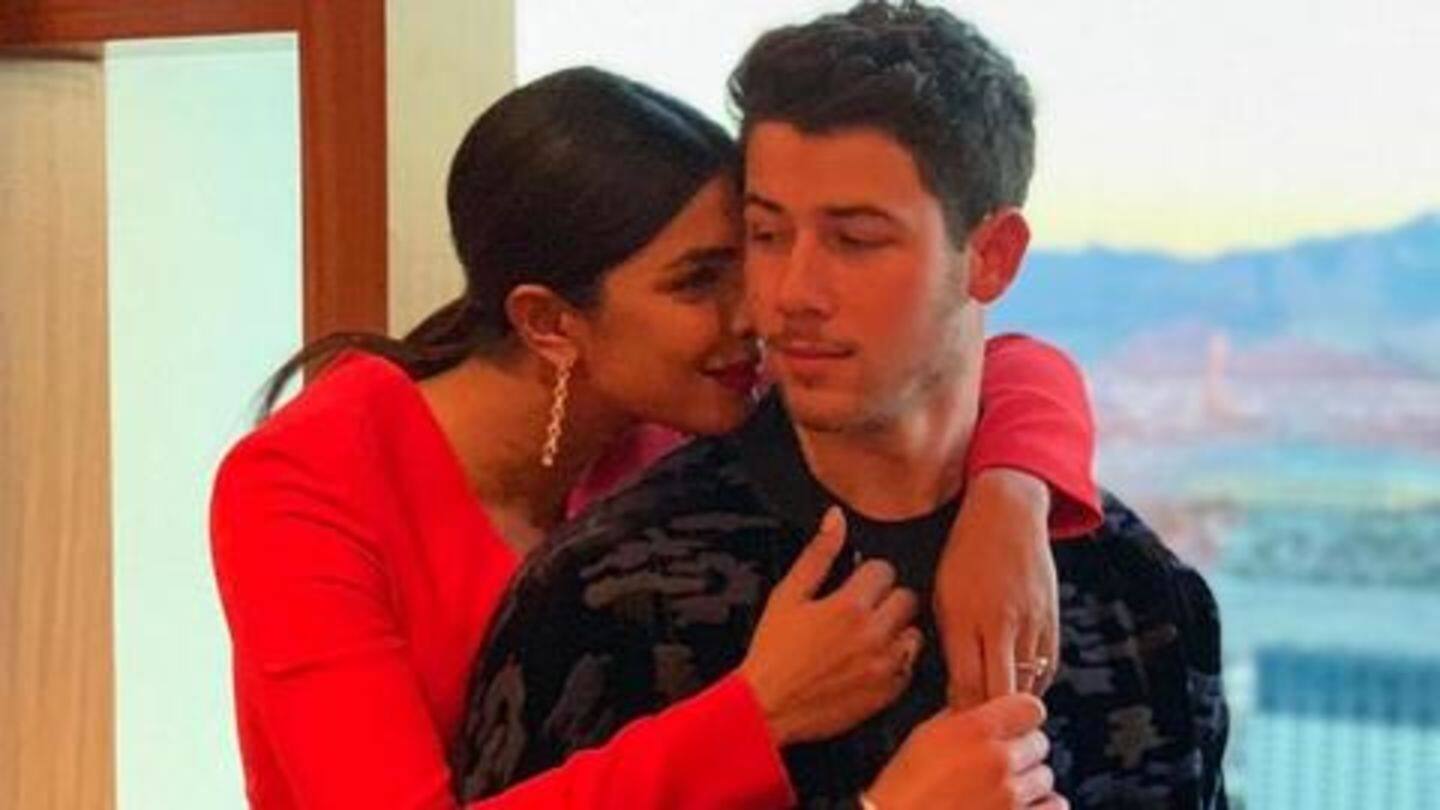 Priyanka Chopra and Nick Jonas are only days away from their wedding, which has ensured Jodhpur's Umaid Bhawan, where the ceremonies would happen, gets all the attention. But before the global couple exchanges vows, they sat down for a chat with Vogue and revealed unknown sides of their relationship, how they hit off, with 'national jiju' Nick impressing Indians. Here's what they said.
The texting started way before 2017 Met Gala
While Nick and Priyanka's 2017 Met Gala appearance started rumors, the couple revealed the texting started much before that. In fact, he texted Graham Rogers, Priyanka's Quantico co-star saying, "Priyanka. Is. Wow." Nick then sent a text to Priyanka on Twitter saying some friends believe they should hang out. The actress told him her team can read the messages, and Nick got her number.
Nick got down on one knee because he was 'smitten'
What is not known to many is that at Vanity Fair Oscars Party, Nick got on one knee. Not paying attention to the scores of people present, he told Priyanka, "You're real. Where have you been all my life?" His gesture even shocked his brother Joe and his fiancee, Sophie Turner. "We're like, Look at this little smitten, drunk kid right now," Joe said.
While leaving her home, Nick didn't kiss her
Priyanka then invited Nick to her apartment, where her mother Madhu was watching TV in a nightgown. They stayed there for a couple of hours, and as he was leaving, Nick patted on Priyanka's back. "There was no kiss. There was nothing," Priyanka said. In his defense, Nick said her mother was in the house and termed it 'a respectful first night'.
Three dates later, Nick knew he wanted to marry her
By date number three, Nick knew he wanted to marry Priyanka. They met at Chateau Marmont, and as Priyanka walked in Nick said he felt a sense of peace. He told his mother about his plans and then proposed to her in Crete, Greece, during Priyanka's birthday trip. He popped the question after midnight, wishing she says yes.
For 45 seconds, Priyanka didn't say anything
"I got down on one knee, again, and I said: Will you make me the happiest man in the world and marry me?. No joke- she took about 45 seconds. Forty-five seconds of silence," Nick revealed. Priyanka said she was speechless.
Then at roka, Nick swayed Priyanka again
Nick slid the ring in her finger while saying, "I'm going to put this ring on your finger now unless you have any." The couple then had a roka ceremony in Mumbai, and Priyanka loved Nick's dedication. "The prayers are in Sanskrit. Even I can't say them. But he did it in Sanskrit. The Indians were so impressed with their National Jiju," she said.
Priyanka says guests will need vacation after wedding
Their wedding will be over the top, Priyanka revealed. The Church wedding will be officiated by Nick's father, and there will also be a ceremony as per Hindu rituals. "People will need vacations after this wedding," Priyanka quipped. She said the ceremonies would bring two different cultures together, and added Nick's mother thinks she was an Indian in past life and 'rocks a saree'.
Nick can't wait to get on a horse
Keeping up with Indian traditions, Nick will ride a horse. When Priyanka asked how he felt about the idea, he said he was ready and 'can't wait'. Will we see him dancing to Tenu Leke Main Jaawanga? We hope he does.