Models with 3 breasts grace the Milan Fashion Week ramp
Models with 3 breasts grace the Milan Fashion Week ramp
Sep 25, 2018, 06:35 pm
2 min read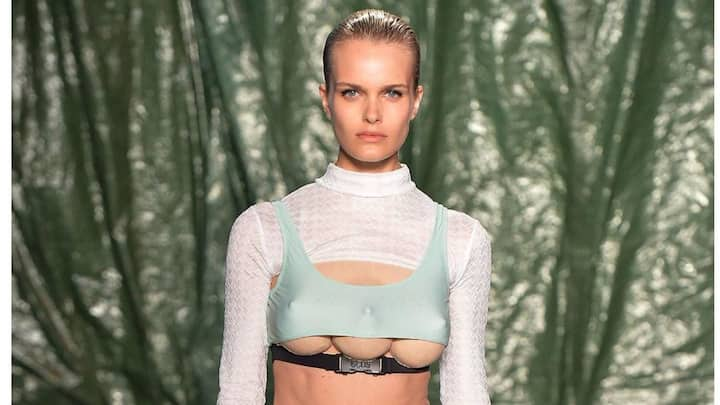 If you're still drooling over Sonam and Anand Ahuja's look in the Milan Fashion Week, get over it and shift your focus to designer Giuliano Calza's brand GCDS. GCDS, which stands for "God Can't Destroy Streetwear", pushed all boundaries while debuting the spring 2019 look, on the runway, by sending a few models down the catwalk with a fake third breast.
Inspired by ALIEN from Schwarzenegger's 1990's flick 'Total Recall'
The 3-breasted models will immediately remind you of the 1990 flick 'Total Recall', in which a three-breasted "alien" prostitute flashes at Arnold Schwarzenegger's character. These three-breasted models were a part of a theme based on a dystopian future, which designer Giuliano wanted to act like a 'wake-up call'. The collection also featured other elements using metallic foil and cartoon-inspired looks.
"I want my show to be a wake-up call"
The designer, Giuliano Calza told Women's Wear Daily that the collection was inspired by the idea of a 'dystopian' future. "We're a young group here and I wanted to talk to people our age about the future and get them thinking about plastics, water shortage and the environment. Full sustainability is impossible, and I wanted this show to be a wake-up call."
What has dystopian future got to do with 3 breasted-models?
Even though this isn't the first time GCDS has used breasts. Last year, it used crop tops to reveal racy "underboob". This year Giuliano said, "apart from dystopian future, this is also a political statement, in a moment where culture and art need more feeding than ever, three breast might be useful." Okay, but what has a third boob got to do with it?
Fashion week and weirdness goes hand in hand
If you think, these 3-breasted models were weird, check out Vagina Mohawks in February's New York Fashion and Gucci's models carrying their own severed head in February's Milan fashion week. Now next time you call yourself fashionable, don't forget these weird/spooky statements fashion made!