#ThugsOfHindostan: All looks revealed, whose did you like the most?
#ThugsOfHindostan: All looks revealed, whose did you like the most?
Sep 24, 2018, 04:07 pm
3 min read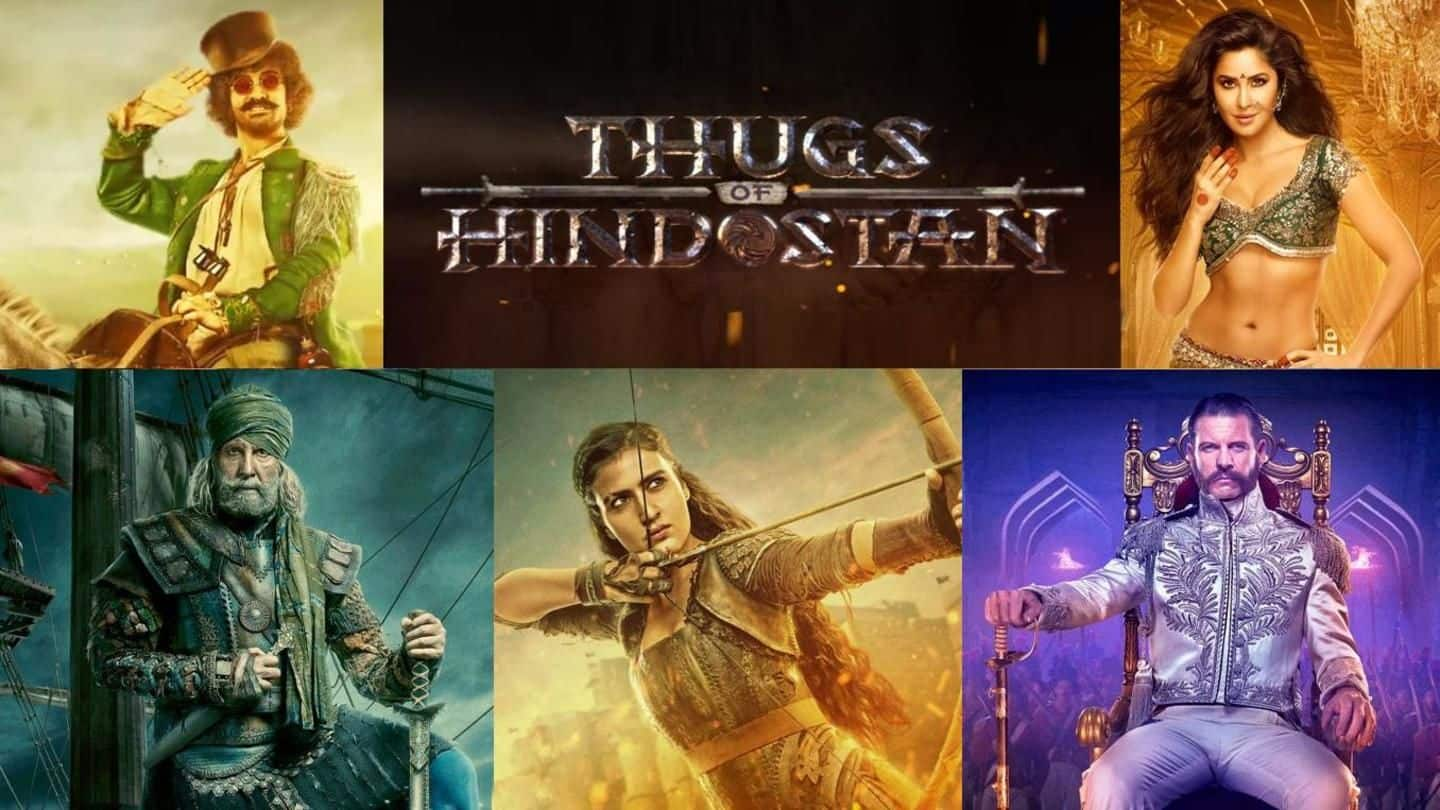 'Thugs Of Hindostan' is unarguably one of 2018's biggest movies. The scale on which it was shot, the cast, and the VFX involved, all have made it larger than life. With Aamir Khan's look from the movie which released today, the list is now complete. We know how all characters will look in this Vijay Krishna Acharya directorial. Whose look did you like the best?
Amitabh Bachchan as Khudabaksh, master of thugs
Amitabh Bachchan will play the role of commander Khudabaksh and his fierce looks as the master of thugs was spellbinding. Big B rocked his thug avatar and his never-give-up spirit was evident in the poster. We could see a glimpse of Khuda Gawah's Badhshah Khan in Khudabaksh. So will his portrayal trump the much loved Badhshah Khan? Only time will tell.
Fatima Sana Shaikh as fearless Zafira
After impressing the audience in 'Dangal', Fatima is all set to impress us as Zafira in 'Thugs Of Hindostan'. She is a fearless warrior thug who aces the combat of bow-arrow and doesn't spare anyone crossing her way. Although she aced the wrestler look in 'Dangal', Fatima looked just about average in this one. We hope the movie has more surprises.
Llyod Owen as John Clive is the villain of TOH
British actor Llyod Owen is all set to become the new face of cruelty in his role of John Clive in 'Thugs of Hindostan'. We got menacing vibes from his uniform and slick hair. Reportedly, Clive is cruel, merciless and won't let thugs have their way easily as he heads the British Army. Not only thugs, the barbaric commander gave us sleepless nights too.
Katrina Kaif as Suraiyya will set the screen on fire
Katrina Kaif plays the gorgeous Suraiyya and she did make everyone skip a heartbeat with her look. She is a feisty thug and a stunning dancer who holds the talent to leave you mesmerized with her sultry moves. However, her look did have glimpses of her 'Chikni Chameli' avatar. Nevertheless, she looked stunning. Also, those abs! How does she do that?
Aamir Khan as quirky Firangi
Aamir Khan, who loves experimenting with his looks, chose a quirky avatar for 'Thugs Of Hindostan' where he plays the role of Firangi. His mischievous smile hides several mysteries and his freakish attire is perfect for a pirate. Aamir with his 'rangeela andaaz' and cheerful 'mijaaz' has managed to stand out of the cast and has won the hearts. Don't you think?