Troll insults Mandira Bedi's adopted daughter, she gives savage reply
Troll insults Mandira Bedi's adopted daughter, she gives savage reply
Apr 15, 2021, 12:37 am
2 min read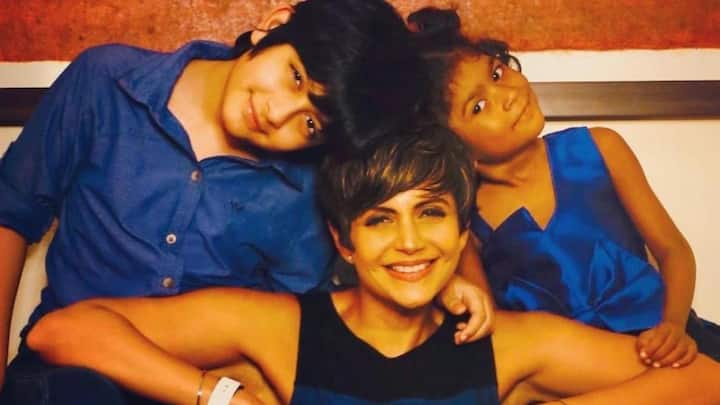 Mandira Bedi got back at a troll after he said some harsh words about her daughter, Tara, who was adopted in July last year. It so happened that the Shanti actress had shared some clips featuring her children, Vir and Tara recently, under which a social media user left insulting and derogatory comments targeting Tara. Bedi didn't hesitate to call the troll out publicly.
'People like this need to be given a special mention'
In some recent Instagram uploads, Bedi had shared clips of enjoying a fun swim session with her family, including her children. A user then commented: "Madam from which slumdog centre did you adopt your prop daughter? (sic)" Sharing screengrabs of the same, Bedi wrote, "People like this need to be given a special mention @bollywoodforevaa. You got my attention, you piece of shit (sic)."
Bedi called them 'cowards' who hide behind 'shield of anonymity'
In her next Story, she posted another screenshot, highlighting that the same user had called Tara a "street kid" who looked "completely out of place." In her savage reply, Bedi said, "He calls himself Rajesh Tripathi, which definitely isn't his name, because sickos like this are the biggest cowards too, who only know how to wag their tongues behind the shield of anonymity."
Tara, then 4, was 'like a blessing from above'
Ever since Bedi and her husband, filmmaker Raj Kaushal introduced Tara as part of their family last October, the fitness enthusiast often shares fun clips and heartwarming bonding videos with the child. Last year, Bedi had announced that Tara was four-year-old and that she had come to them "like a blessing from above." The couple is already parents to a 9-year-old son named Vir.
Here's when Arjun Kapoor had slammed a troll satisfactorily
Earlier, Arjun Kapoor shot back royally at one such "keyboard warrior." Back when he was promoting Namaste England, a social media user said that he looked like a molester in a picture with co-star Parineeti Chopra. The actor asked the troll not to mention these terms "lightly," and pointed out at his "lack of basic human understanding." The user later deleted his tweet.