Indian beauties at Cannes: Aishwarya, Sonam, Deepika, Kangana
Indian beauties at Cannes: Aishwarya, Sonam, Deepika, Kangana
Written by
Pallabi C Samal
May 14, 2019, 03:39 pm
4 min read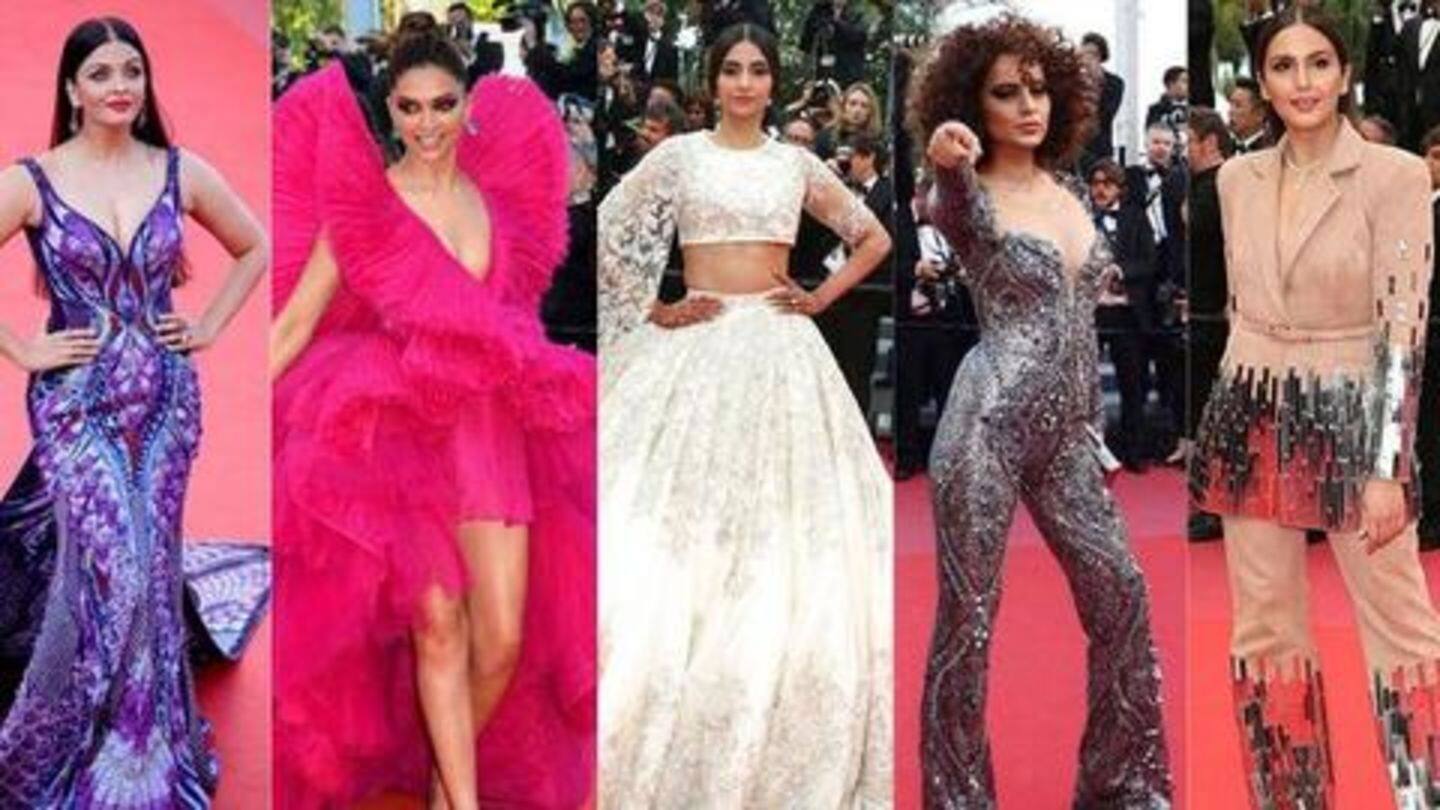 Several Bollywood actresses are now in talks with their stylists, nutritionists and gym instructors, because they have a red carpet to grace soon. This red carpet would be of Cannes Film Festival that will be held from May 14 to 25, and actors like Aishwarya Rai Bachchan, Sonam Kapoor, Deepika Padukone, Kangana Ranaut, will be attending the event, but possibly on different dates.
Will Aaradhya accompany mommy Aishwarya to this year's Cannes?
Aishwarya has become a Cannes regular ever since her film Devdas was chosen for the film festival in 2002. This year, she will most likely be attending the event on May 19 wearing an Ashi Studio creation. The 45-year-old actress will be representing a French cosmetics company. Last year, she was accompanied by her daughter Aaradhya. Whether that would be repeated isn't clear yet.
Sonam has started working out hard for her Cannes appearance
Sonam Kapoor, known for her chic fashion choices, is expected to be present at the 72nd edition of the French Riviera on May 20-21. Last year, she attended the event just days after getting married to Anand Ahuja. For this year's appearance, she has already started working out hard, and is knocking off the extra fat she has gained during her recent London vacation.
Deepika's Met Gala appearance has upped our excitement
Deepika Padukone left a strong impression with her appearance at this year's Met Gala with her bold Barbie doll look, and now she's gearing up for Cannes. Like Aishwarya and Sonam, Deepika will also represent the same cosmetics company, and will be attending the event on May 16. The Bajirao Mastani actor will, however, be reaching there a few days earlier for some work.
Kangana's dress to 'have drama,' will reflect theme 'Live Victoriously'
Another much-awaited Cannes appearance is of Kangana's, who made her debut at the film festival last year. This year she will attend it from May 16-18, and the Manikarnika actress said that her dresses will reflect the theme 'Live Victoriously,' tagline of the liquor brand she is representing. She has opted for a saree that "will have drama," and yet "reflect our rich heritage."
Kangana, stylist, designers Falguni and Shane Peacock creating unique saree
"As an Indian actor, I've the responsibility of endorsing our weavers. My stylist Ami Patel and I have been brainstorming for weeks." "We, along with designers Falguni and Shane Peacock, are creating a unique saree. The idea is to bring the forgotten weaves to the fore so that the world is more aware of our rich fabrics and culture," Kangana pointed out.
Huma Qureshi will also be attending Cannes this year
The vodka brand that Kangana is representing at the event will also have Badlapur actor Huma Qureshi as one of its faces. Huma will be seen gracing the red carpet around 19-20 May. "It was a pleasure to be associated with the brand at the Cannes Film Festival last year. I am thrilled to accompany the brand once again this year," Huma said.
'Cocktail' actor Diana Penty to make her Cannes debut
The liquor brand will have a third face in Diana Penty, who makes her debut at the Cannes this year. "I am excited to be invited by the brand to be part of the event this year and I look forward to celebrating the experience with the global icon of luxury in the country of its origin," Diana said in a statement.
Surprise entry Hina Khan will also be speaking at Cannes
One of the most surprising entries this year is of TV actress Hina Khan's. Hina will be marking her Cannes debut this year, and will be there for her short film, Lines on May 17. Not just that, she will also be a speaker at an event organized by the India Pavilion, along with Kangana, Sonam, Ekta Kapoor and Censor board chief Prasoon Joshi.