Priyanka, Deepika's looks at Met Gala are bold, yet unimpressive
Priyanka, Deepika's looks at Met Gala are bold, yet unimpressive
May 07, 2019, 12:48 pm
4 min read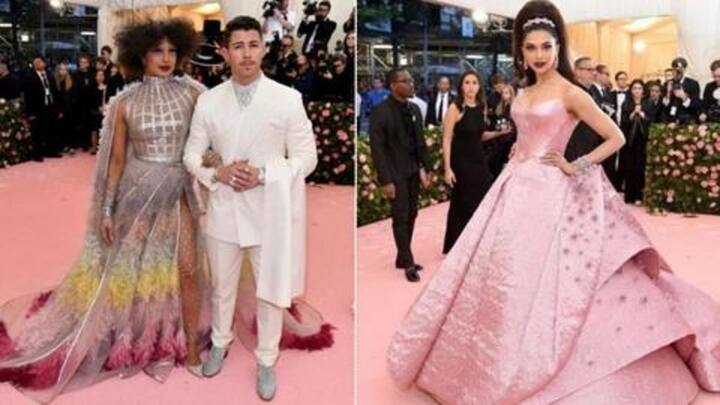 Bajirao Mastani actors Deepika Padukone and Priyanka Chopra attended the Met Gala yesterday held in New York. While Priyanka went for a bold look this year as well, Deepika notched it up compared to her last two appearances. Staying true to the theme (Camp: Notes on Fashion), the actors set the red carpet on fire with their extravagant looks, but looked unimpressive nonetheless.
Priyanka looked like Mad Hatter, Glenn Close in '101 Dalmatians'
Priyanka appeared with her husband Nick Jonas, and though many lauded her look, we feel she looked like Glenn Close in 101 Dalmatians or Johnny Depp's Mad Hatter. She wore a Dior's haute couture dress, which had a feathered trail with yellow, pink, maroon and burgundy feathers. The dress had a slit through which the 36-year-old flashed her legs, wearing sheer and shimmery stockings.
Priyanka's hair looked like an unmanageable afro, Nick sported mustache
Not just her dress, Priyanka's makeup too made waves. She wore a thorny towering silver crown, a radium bindi, Chopard's earrings, silver-frosted brows and lashes, maroon eyeshadow, her hair like an unmanageable afro, and deep berry color lipstick. Even her hosiery was silvery, polka-dotted, and matching. Nick, meanwhile, wore Dior, and sported a fake thin mustache, and looked like an Italian mafia.
Deepika, this year, went bolder, wore voluminous pink gown
Deepika, on the other hand, wore a voluminous pink gown by Zac Posen with bouffant hair, completing it with a pink hairband. Her gown was made of metallic pink lurex jacquard fabric, which was shiny, had a sweetheart neckline, wavy design and a gorgeous train. Her dress matched the pink carpet, accentuating her look. She wore Lorraine Schwartz-designed large earrings and a silver bracelet.
Deepika's last two appearances were simpler than this year's
Her makeup was bolder this time, and she wore a dark red colored lipstick and purple eyeshadow. Her look reminded all of a Barbie doll. She appeared solo, just like her last two appearances, where she wore a white backless gown by Tommy Hilfiger in 2017 and a beautiful red one off shoulder Prabal Gurung gown with a side slit in 2018.
Many thought Nick looked like 'Game of Thrones' Petyr Baelish
While both Priyanka's and Deepika's looks were appreciated by fashionistas, social media came up with all sorts of hilarious responses. Some said Priyanka looked like Mad Hatter, others said she was with her accessory (Nick). Some even said that Nick looked like Petyr Baelish (GoT).
Sophie Turner, husband Joe Jonas matched colorful outfits
Talking of Game of Thrones, it was definitely hard to miss Priyanka's sister-in-law Sophie Turner's eye-catching look. She was accompanied by her husband, singer Joe Jonas, and the two matched colorful outfits. Sophie even put silver glitter on her hair. What's the obsession of these Jonas sisters with silver, we wonder! Not just them, there were others who shocked us with their outrageous looks.
Katy Perry was a chandelier, Jared Leto's head appeared double
Singer Katy Perry appeared looking like a chandelier, and Suicide Squad actor Jared Leto carried his own fake, severed head. Lady Gaga, one of the five hosts of the event, wore a fuchsia dress with an enormous train initially, but later stripped down to her underwear. My heart will go on singer Celine Dion looked stunning, though she admitted to not understand the theme.
Celine's outfit weighed over 9kgs, took 3,000hrs to create
She wore a fringed ensemble by Oscar de la Renta and matched it with a sparkly crown. According to media reports, the outfit, inspired by the Ziegfeld Follies, took almost 52 master embroiderers some 3,000 hours to create. Moreover, it weighed 22 pounds (9.9kgs), and impressed the singer so much that she wants "to sleep in it," and doesn't "want to take it off."