Kolkata: 7 bridges labeled as 'most vulnerable' by PWD
Kolkata: 7 bridges labeled as 'most vulnerable' by PWD
Written by
Garima Bora
(Sourced from PTI)
Sep 14, 2018, 12:53 pm
3 min read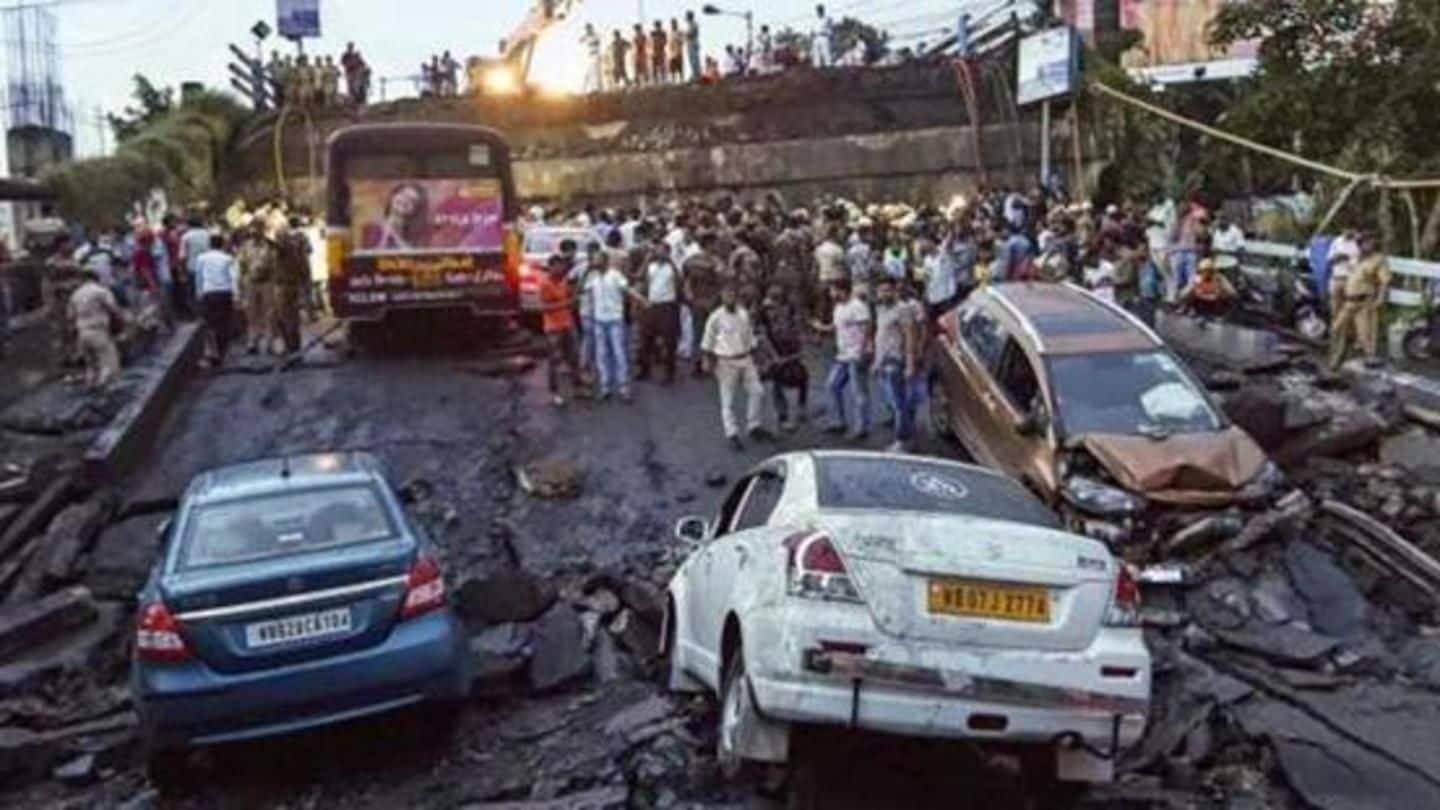 In the wake of the Majerhat bridge collapse on September 4, the West Bengal Public Works Department (PWD) has identified seven bridges in Kolkata out of the 20, which the PWD has classified as "distressed" structures, as the "most vulnerable" requiring urgent repairs. These are Bijon Setu, Gouribari Aurobindo Setu, Belgachhia bridge, Tollygunge Circular Road bridge, Dhakuria bridge, Tallah bridge, and Santragachhi bridge.
PWD suggests restrictions on goods-carrying vehicles on bridges
"Load-bearing capacities of these bridges were carried out and depending on that report, we have suggested to the police to impose restriction on goods-carrying vehicles to prevent further deterioration of the condition of the distressed structures," a PWD official said.
Heavy vehicles continue using bridges despite the ban imposed
Kolkata Police has already banned movement of goods-carrying vehicles on the first four bridges and is considering applying the same for the remaining ones, a Kolkata Traffic Police official said. However, overloaded vehicles still use the bridges, especially at night, leading to traffic due to which the trucks remain stranded on the structures. This might lead to another mishap, said the PWD official.
13 more bridges to be inspected by PWD
The department is carrying out an inspection of the remaining 13 bridges following which they either will be labeled as "vulnerable or relatively safe". The load-bearing capacity of Dhakuria bridge and Tallah bridge are also being tested "to decide on the type of vehicles whose movement may be restricted," the PWD official said. Separate surveys are being conducted at Sukanta Setu and Karunamoyee bridge.
Sukanta Setu, Santragachhi bridge require immediate repair work: Officials
"Sukanta Setu (connecting Jadavpur with Santoshpur) has developed cracks in some places and requires repair work. But there's a need of a survey to ascertain the extent of damage," the PWD official said. The other "most vulnerable" structure, the Santragachhi bridge "requires immediate repair on an urgent basis," he said, adding, it requires a separate plan "as it's used by several hundreds of trucks."
PWD says repairing cost will depend on individual bridge's condition
Talking about the budget that is required for carrying out the repair work at these bridges, the PWD official hinted that it could run into several crores because the restoration work would differ from bridge to bridge. After estimating the cost, the state government would float a tender and it would be done in "a very short time", the official added.
Official says bridges require constant monitoring, which was ignored
Commenting about the possible reasons why bridges collapse, the official said, "People have forgotten that bridges require regular monitoring apart from auditing and maintenance. But these critical parts were ignored and hence bridges have reached such a distressed state." Three were killed while 24 others injured in the September 4 collapse of a portion of Majerhat bridge, which connects Kolkata with the heavily-populated Behala.