Ambala: 'Let's have a date,' says 'Yamraj' to helmet-less drivers
Ambala: 'Let's have a date,' says 'Yamraj' to helmet-less drivers
Written by
Pallabi C Samal
Jul 21, 2018, 06:32 pm
2 min read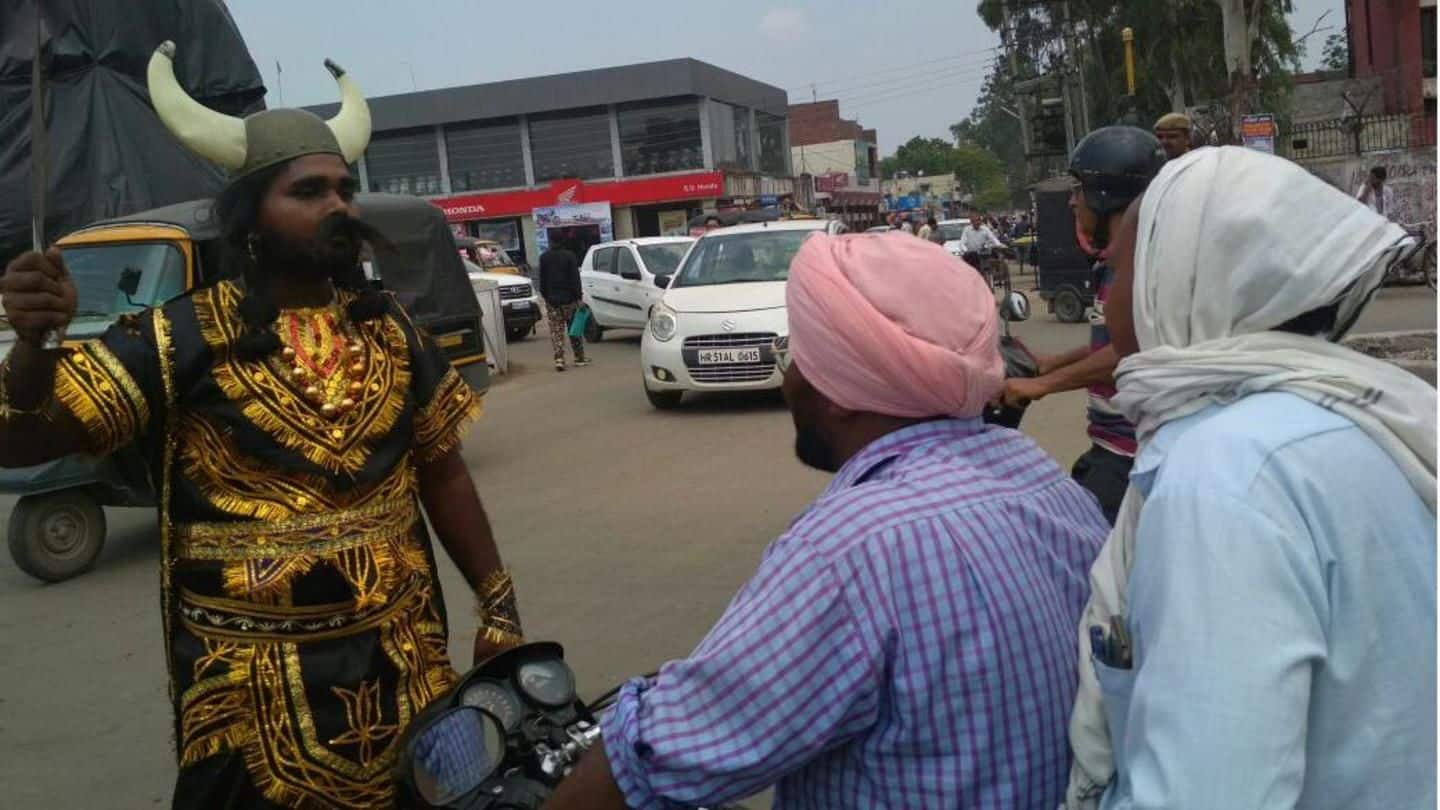 Yamraj is busy roaming around Indian cities nowadays. After Bengaluru, the God of death has now paid a visit to Ambala, a city in Haryana, running behind people who didn't have their helmets on. Interestingly, Ambala's ex-deputy mayor Sudhir Jaiswal was also caught by him. Surprised? Well, it's all an act directed by Ambala traffic police, to highlight the importance of traffic rules.
He ran behind or stood in front of motorists
Donning the quintessential black-golden dress and golden head-gear complete with a weapon in hand, 'Yamraj' was seen walking on the streets around 11.30AM. A couple of police officials were seen talking to him, probably giving him instructions about his act, and then he was good to go. He at times ran behind or stood in front of motorists, saying, "No helmet? Welcome to Yamlok."
"By wearing helmet, they aren't doing us a favor"
Ambala traffic in-charge Manish Kumar, the man behind the initiative, said their intention wasn't to scare people, but to tell them "by wearing helmet, they aren't doing us a favor." "Taking a detour to avoid action isn't exciting, but poses a big risk to them," he said. Ambala traffic police also conducts Raahgiri (India's first sustained car-free citizen initiative) twice a month, he added.
Ambala locals welcomed the idea, appreciated the initiative
The initiative caught steam with people, all of whom were very appreciative of the police force. "There are many people who do not obey traffic regulations. Unfortunately, I too landed in a situation today," said Jaiswal, who was one of the offenders. "I'm a forgetful person but I've promised Yamraj that I'll put on a helmet from now on," he adds.
Incidentally, 'Yamraj' has visited earth for similar reasons earlier too!
Using Yamraj to drive home the importance of traffic-rules is a tried-and-tested one, but works every time. Prior to Ambala, Gurugram, Noida, and Nagpur Police had done such acts. Nagpur Police tweeted a video showing 'Yamraj' seated behind a motorist (who is not wearing a helmet). After a while, the violator sees a placard where it's written, 'I've my helmet; what about you?'