Anna Hazare is back in Delhi with his anti-corruption protest
Anna Hazare is back in Delhi with his anti-corruption protest
Mar 23, 2018, 02:56 pm
2 min read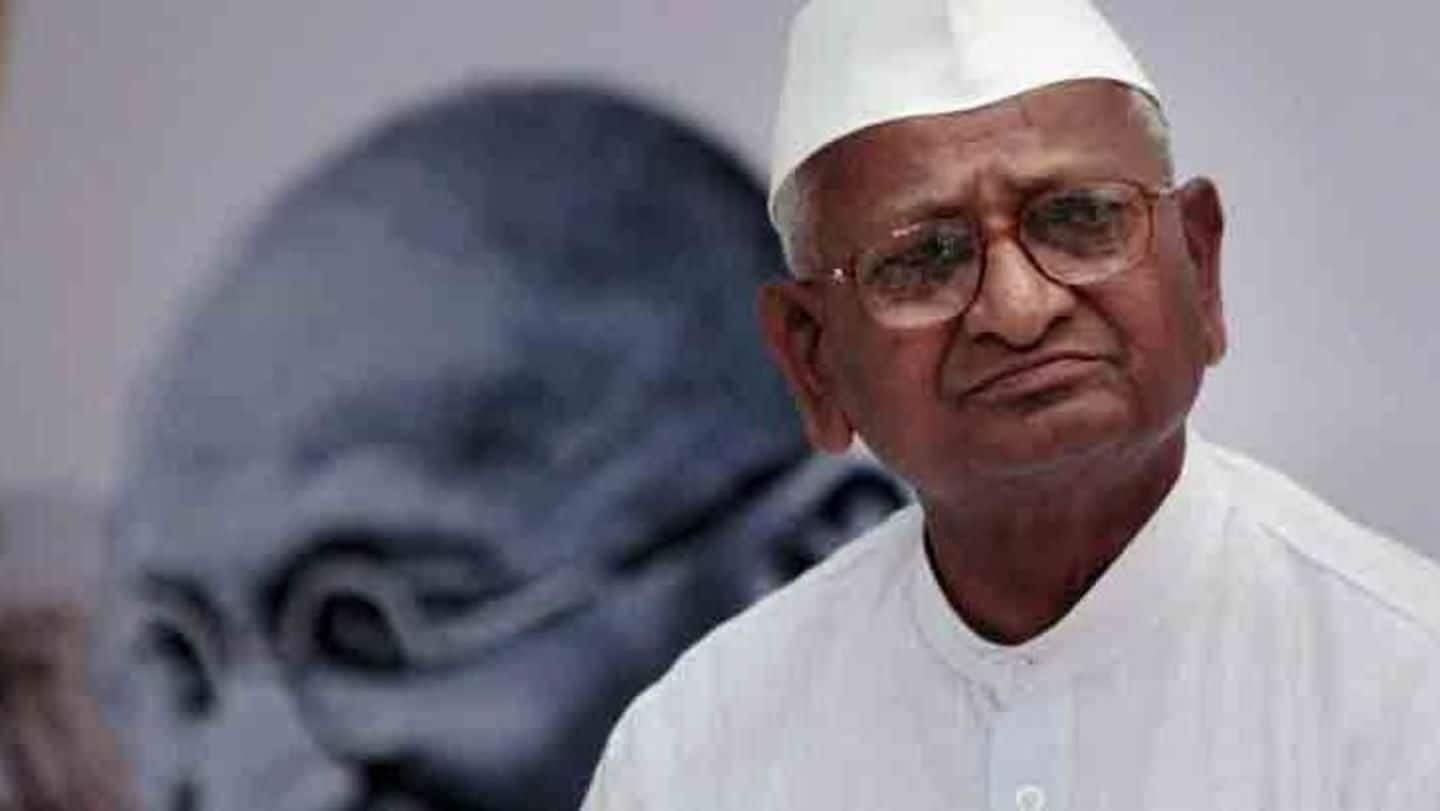 Seven years after his hunger strike shook the then UPA government, anti-corruption activist Anna Hazare is back at Delhi's iconic Ramlila Maidan. He has launched an indefinite hunger strike for the same demands: setting up of a Lokpal at the Center and Lokayuktas in the states, and implementation of the Swaminathan Commission report.
Anna Hazare talks to media
You cancelled trains carrying protesters to #Delhi, you want to push them to violence. Police Force deployed for me as well. I wrote in many letters that I don't need police protection. Your protection won't save me. This sly attitude of the government is not done: Anna Hazare pic.twitter.com/Ue91oXsnzG

— ANI (@ANI) March 23, 2018
Hazare was a school-dropout fighting to protect poor from landlords
Born in June 1937, Kisan Baburao Hazare alias Anna was a Class 7 dropout flower-seller in Mumbai, who fought landlords' goons threatening the poor out of their shelter. After 12 years of army service during which he said he underwent an awakening, he returned to Ralegan Siddhi, his birthplace, to work for the poor. In 1991, he launched the anti-corruption Bhrashtachar Virodhi Jan Andolan.
Hazare spearheaded a mass movement for Lokpal
After spearheading several social campaigns, including the one which led to the RTI Act, he began an indefinite fast in Delhi on April 5, 2011, for a Jan Lokpal Bill. Hundreds, including well-known people like Medha Patkar, Arvind Kejriwal and Kiran Bedi, joined him daily. Protests spread to several cities, including Bengaluru, Ahmedabad, Guwahati, Shillong and more. The government finally relented on April 9.
The Lokpal and Lokayuktas Act, 2013
It took several more protests to finally implement the Lokpal Act in January 2014. However, despite becoming law, there's still no Lokpal in place. The government has attributed it to procedural requirements to select the Lokpal.
Organizers expect thousands to attend the protests in Delhi
Hazare is now launching another round of protests. He visited Rajghat before moving to Ramlila Maidan, an aide said. A meeting between Hazare's close aides and farmers was held yesterday. March 23 was chosen as Bhagat Singh, Rajguru and Sukhdev were hanged by the British today. He has decided to continue despite last-minute intervention by Maharashtra ministers. Organizers expect thousands to attend the protests.
'Main Anna Hu' caps seen in Delhi
Delhi Traffic Police issue advisory
Meanwhile, Delhi Traffic Police have issued an advisory urging commuters to avoid the routes near Aruna Asaf Ali Road, Darya Ganj, Delhi Gate, Ajmeri Gate, Paharganj, New Delhi Railway Station, ITO, Minto Road, Rajghat, Vivekanand Marg and JLN Marg.