AP shuts down over special category status demand
AP shuts down over special category status demand
Apr 16, 2018, 05:08 pm
2 min read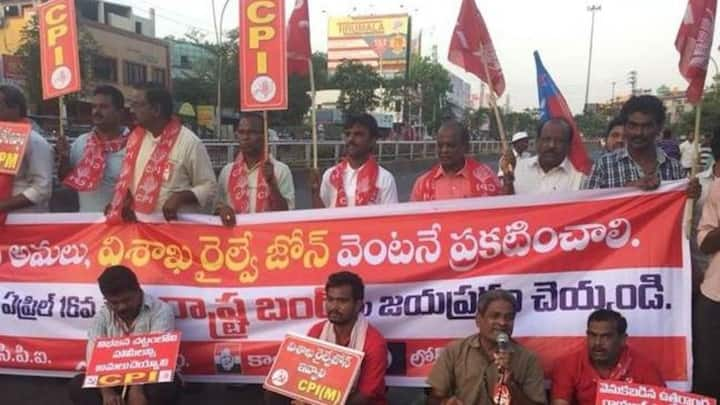 Andhra Pradesh (AP) observed a state-wide bandh today over its demand for special category status. The bandh called by the Pratyeka Hoda Sadhana Samithi was supported by the YSR Congress, Congress, Left parties and others. Activists blocked roads in Vijayawada, Visakhapatnam, Rajahmundry, Guntur, Nellore, Kakinada, Srikakulam, Kadapa and Chittoor. Barring minor incidents, the bandh was largely successful, despite the CM opposing it.
All businesses except essential services stop operations
The AP Road Transport Corporation was badly hit; as protestors squatted at depots, the day's losses ran up to Rs. 9cr. All shops downed shutters, cinema halls suspended shows, and hotels remained closed. Only hospitals, milk booths and other essential services continued operating. Central and state government offices functioned too, but attendance was low. Educational institutes remained closed and examinations were postponed.
Minor incidents of violence at some places
Stray incidents of violence were reported from some places. In Tirupati, protesters set fire to a motorcycle outside the town bus terminus. Additional police forces were deployed to ensure peace. In a few places, agitators were taken into custody.
Why is the CM not supporting it?
The ruling TDP has supported the cause, even withdrawing its ministers from the NDA fold after the Center refused special status. But CM Chandrababu Naidu opposed a bandh, saying they hamper development. However, YSR Congress leader Ambati Rambabu said, "When Naidu was the opposition leader, he had called for bandhs on many occasions, but as a CM he is now opposing them (bandhs)."
'Special category status': The trigger for the bandh
Special category status isn't a constitutional provision. But since some areas are historically disadvantaged compared to others, the Center assists these states with funds. These were allocated by the now-disbanded National Development Council. The Central government allocates 30% of expenditure to these states. For centrally-sponsored schemes, they get 90% funds as grant and 10% as loan. General-category states get 30% grant and 70% loan.
Will a day-long hunger strike by the CM bring results?
The TDP, while it didn't support the bandh, has tried disrupting the Parliament and proposing no-confidence motions against the government, but nothing has worked till now. Naidu has announced he would sit on a day-long hunger strike on April 20 for the cause.