Will Bipin Rawat be India's first Chief of Defense Staff?
Will Bipin Rawat be India's first Chief of Defense Staff?
Aug 15, 2019, 06:59 pm
3 min read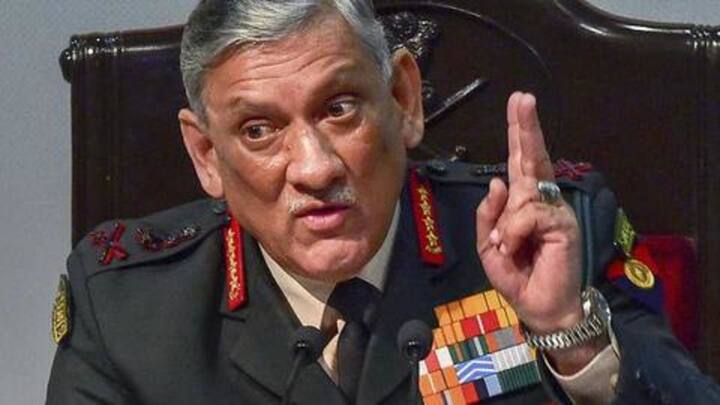 From the rampart of Red Fort, Prime Minister Narendra Modi announced on India's 73rd Independence Day that the nation will soon get a Chief of Defense Staff (CDS) for better coordination between all three legs of forces- Army, Air Force, and Navy. And if speculations are anything to go by, Army Chief Bipin Rawat could be India's first CDS. Here are more details.
The idea was suggested in 1999 but wasn't implemented
In a report, the Kargil Review Committee, formed to assess security lapses which started the war, had suggested that India needed a CDS. However, the idea was put on a back-burner, as subsequent governments failed to reach a political consensus. But with the major announcement, PM Modi showed he has had "enough". He said India needs to change with the rules of the game.
CDS will quell differences and interact with government too
In 2016, former Army Chief General NC Vij explained that a CDS can "reconcile possible differences in service-specific opinions". "The case for a CDS has been built around the argument that it's necessary to have a professional body of the highest standing to facilitate 'jointmanship' and render single-point military advice to the government on matters of national security," his article for India Today read.
Rawat, who is retiring in May, could be first CDS
Apparently, the CDS will be a five-star rank officer, who will head all the three services. However, the duration of CDS' tenure is yet to be decided. He will be tasked with streamlining defense spending to cater to national security. The 26th Army Chief, Rawat, who is due to retire in December 2019, could be given this prominent post.
A committee will submit its report in three months
Further, an HT report said an "implementation committee" has been formed to advise the government on "modalities" of forming the CDS. The committee will submit its report in November. "Issues like foreign cooperation, tasking, and posting of defense attaché, training, managing of forces all of which are handled separately by the three forces will surely come under the CDS," a senior official said.
CoCS is likely to be discontinued
Interestingly, the current headquarter of the Integrated Defense Staff (HQ IDS), formed immediately after the 1999 Kargil war, will be the CDS' secretariat. Former IDS Lieutenant General Satish Dua called the formation of CDS a "game-changer". In all likeliness, the post of Chairman Chiefs of Staff Committee (CoCS), tasked with keeping Defense Ministry abreast with military matters which require ministerial interference, will be discontinued.